Black Friday Early Access Winners Announced!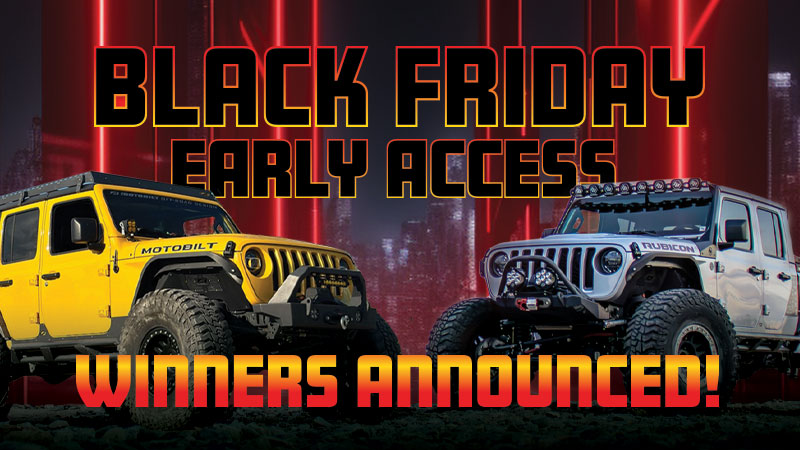 Congratulations to the lucky EARLY ACCESS WINNERS to our Black Friday Deals! You're about to embark on an exclusive shopping experience with Motobilt, where you'll get first dibs on the most sought-after off-road gear and accessories. With up to 40% off sitewide, your rigs are in for a major upgrade. Get ready to shop the best deals before anyone else and gear up for your next adventure. Stay tuned for your head start on savings! 🎉🚙💨
Winners have been contacted by email and will have access at midnight 11/9 to start shopping!
 50 EARLY ACCESS WINNER!
| | | | | |
| --- | --- | --- | --- | --- |
| Colten G | Marilyn L | Damian T | Rob M | Zachary Z |
| David G | Ed G | Rodrigo Q | Adrian V | hitman_jku |
| Adan R | Shawn S | Greg S | Marc L | Charley R |
| Charley G | Matt W | Garrick  G | Matt S | Daniel M |
| Derrick S | Christopher B | Chris W | Matt S | Reese H |
| Tra P | Keith N | Brian L | Daniel E | Jorge C |
| Ben B | Tim P | Brian M | Shane H | Joshua B |
| Jeff C | Wayne B | Nick H | Edward A Jr | Edgar M |
| Charles W | Derek W | Brandon T | Walter G | Tracy N |
| Jesse D | Scott V | Leonardo M | Brandon D | Matt C |
---