Motobilt Invades Jeep Beach Daytona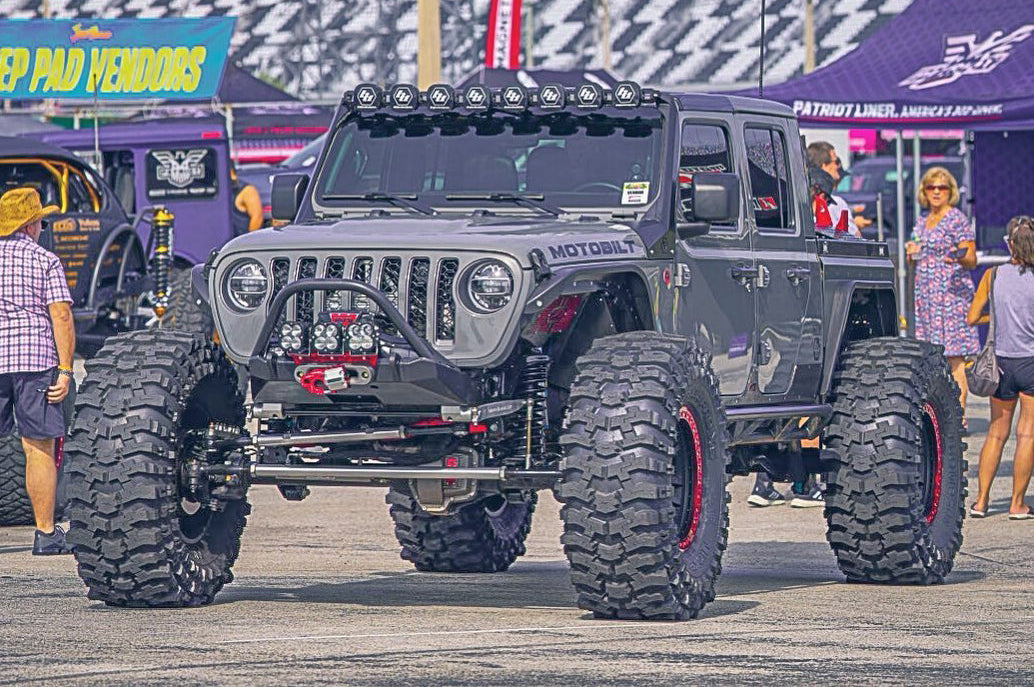 Jeep Beach is about having fun in the Jeep community.  Jeep Beach is about having fun in the Jeep community. Whether you are cruising the beach, the strip, or vendor row you will be surrounded by Jeepers. Jeep Beach gives you the opportunity to see how Jeepers from around the world build and trick out their rigs. From sound systems that shake the ground to giant tires that rip through the dirt, there is something for every Jeeper.  
The Motobilt crew arrived on the scene Thursday night at Ormond Garage for one heck of a great party. We teamed up with Bruiser Conversions who is known for their V-8 and diesel conversions and JKLand who is a premier off road shop that specializes in high quality Jeep builds. There were hundreds of people who showed up for some great beer, food, and prizes. While many didn't want the night to end we had to close down and get ready for the vendor show.
On Friday and Saturday we were inside the Daytona International Speedway with RockStar Garage, Dirty Life Wheels, Patriot Liners, Bruiser Conversions, and Mickey Thompson Tires. We brought along four of our Gladiator builds to showcase the products we manufacture in house at the Motodome.
Thousands of Jeep enthusiasts poured in the gates and made a B-Line to check out all of the amazing builds and so did we. It was quite the scene as we perused the vendor alleys ourselves and discovered many Jeep builds that were modeled after our own in-house builds, along with an overwhelming amount of Jeeps running our Motobilt products. It was incredible to see so much support from our MotoFans as they ogled the builds in our booths. This is an incredible event and we are looking forward to our upcoming events out on the trail or the beach.
---