Top 5 Leading Gladiator Mods for 2023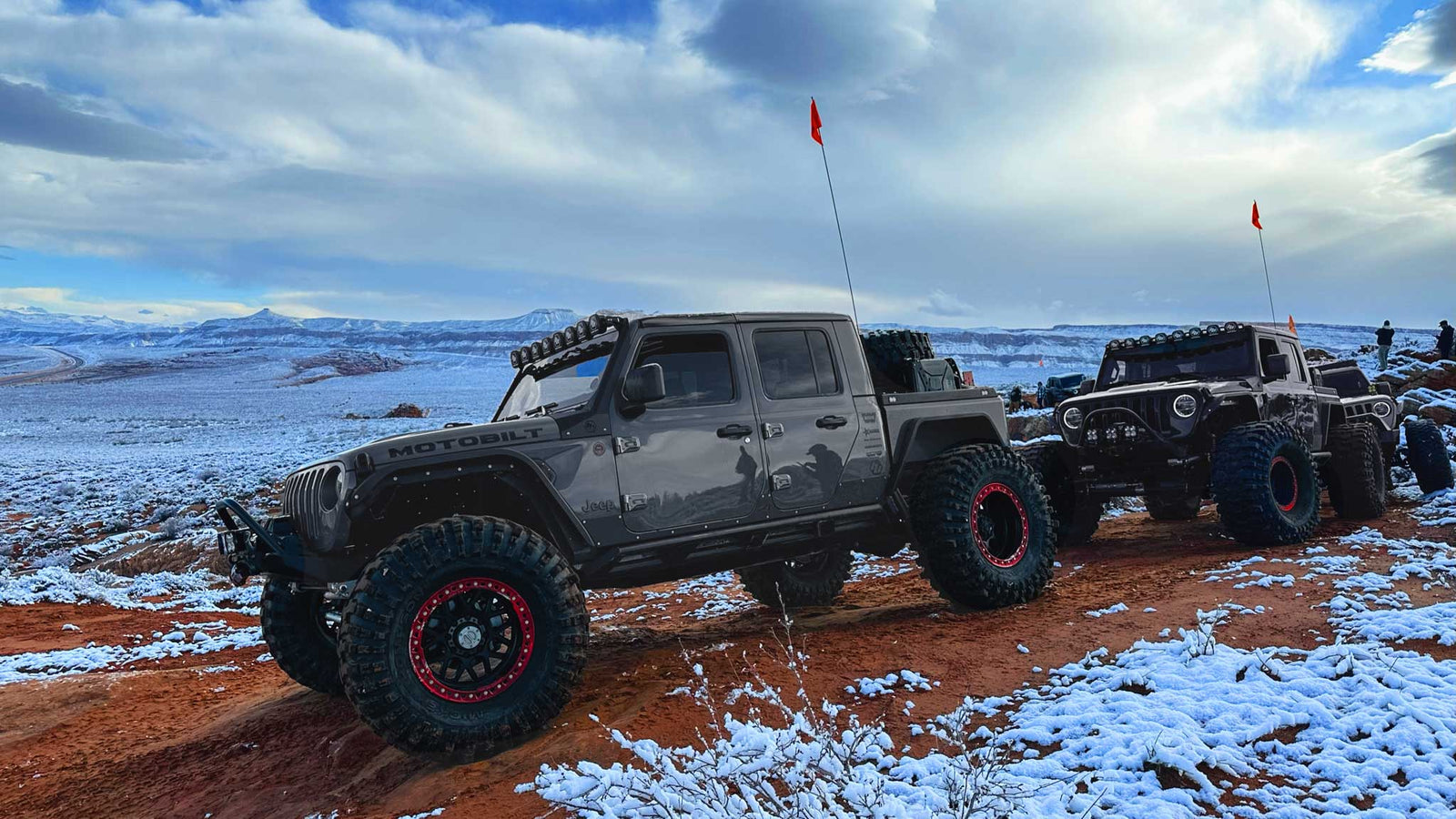 Stay ahead of the rest with the best of the best. If you haven't checked out the last modification blog, you might want to start there because this 2023 modification list is meant to grow off the modifications from last year. Click here to be redirected.
Top 5 things to do to your Jeep Gladiator in 2023.
1. Take the doors off
The feeling of an open air Jeep with the doors down is wonderful but hauling the heavy factory full doors is such a pain.  The new Motobilt half doors look great, provide that open air feeling and are easy to handle with their light weight aluminum construction. Once you replace them with the Motobilt Aluminum Half Doors you'll be falling in love with the quality and storage space.
Not to mention it just looks dang good. 

2.

Install a set of frame mounted rocker guards along with body armor.
If you ever wheel your Jeep, then you know the peril of an unprotected rocker.  A set of Motobilt body armor is not only for a cool custom look but to strengthen the rocker. The factory rocker is made from sheet metal that is flimsy and highly susceptible to damage, but the Motobilt body armor is constructed of steel DOM tube these rockers are unlike any other with their mounting brackets providing 60% more contact area on the frame and 40% more at the tube for the ultimate in protection, these frame mounted rocker cannot be beat - you can try to bash them but they will take any and everything you throw their way.
3. Bed protection/storage – Molle panels
Whether you are carrying tools, recovery gear, or just about anything else we have a storage solution for your Jeep.  Trying to make everything fit is just one challenge, the other is to have it securely organized.  That's where the Motobilt molle panels and chase rack come in play.  Both offer multiple options to secure your gear in just about any orientation.  Check out the options below for our many options.
4. Bed Racks
Sometimes a panel is not enough for that larger gear such as a tool box, cooler, or large storage container.  This is where the Motobilt cargo racks really shine with the ability to be mounted in many configurations on your factory or bobbed bed.  Haul more gear and know that it will stay in place with the multiple tie down locations. 
5. Fuel Mounts
You never want to be caught without fuel, having an extra can or two can be life saving in some situations. Be sure you store your fuel safely with our Fuel Cell mounts. Designed to keep your fuel in place and from flying all over the place incase of a turn over. 
Bonus!
6. Get it dirty & Smile a lot
---