Bad ass inside sales rep wanted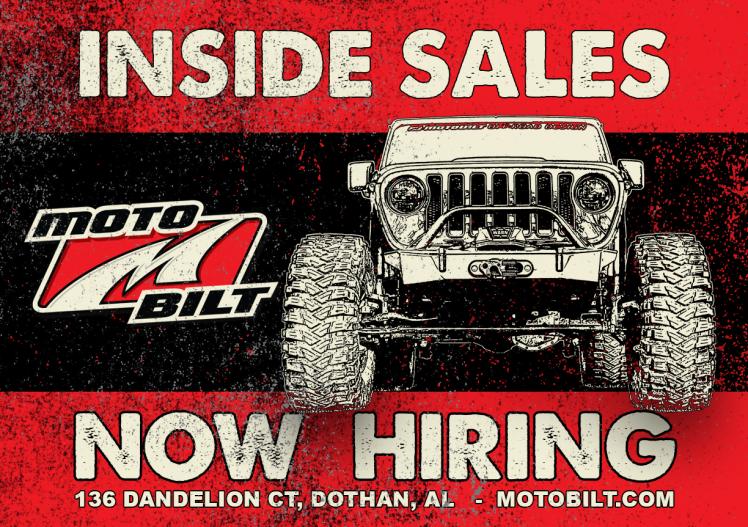 Have you ever wanted to work with celebrities?
Do you think you have a voice for tv?
Do you have a face for radio?
If you answered yes to those questions, we may have the job for you!
What's the catch?
This INSIDE SALES position requires you to talk about Jeeps, Jeep parts, Jeep life, Jeep bumpers, Jeep suspension and all things Jeep for approximately 40 hours a week. Oh, and you may have to attend some Jeep events from time to time. Do you like to ride jeeps, drink beer and cuddle? That's a plus too!
Not a Jeep person? That's ok, I'm sure your Prius gets a whopping 39 mpg.
Ok, so you're still with us. You've got a Jeep or four in the driveway. Keep reading. I promise we are getting to the point.
Motobilt, located in Southeast Alabama, is a boring place to work. Dan DuBose is a difficult guy to work for. This south Alabama heat and mosquitos (Alabama state bird) make the 100% humidity look GOOD.  But, we have a lot of fun at work, Dan is hardly ever here and we are only an hour and a half from the world's most beautiful beaches.
Now, let's talk about this INSIDE SALES part. That's why you're still reading right? It really is a job. It would require you to answer the phone "Motobilt" a few dozen times a day and answer questions about our awesome parts. Did we mention our parts are awesome? They are! Have you SEEN our website? Have you caressed our steel bumpers? Have you tried to demolish our diff covers?
I know you are thinking, INSIDE SALES, is there any selling involved? Of course! Even though our parts basically sell themselves, we need someone driven, motivated, organized and knowledgeable to give them a little extra uumph. If you have a lot of friends in the Jeeping community, you could take advantage of your friendships and fill your monthly quota that way. We wouldn't judge.
Now, we aren't in the cave age. You have to be able to use Quickbooks, Microsoft Office and a rotary dial phone in case of emergencies.
Now that we've convinced you that you are the perfect person for this position, we need to know a little about your past. No, we don't need to know who your third grade teacher was, we just want to know about your prior sales experience. So, if you know how to use e-mail (job prerequisite #42), email your resume, cover letter and salary requirements to hunter@motobilt.com. If you don't hear back from us, you probably drive a Prius.
---