Beeftallica is Pure Beef with Motobilt Products. You Need to See This Build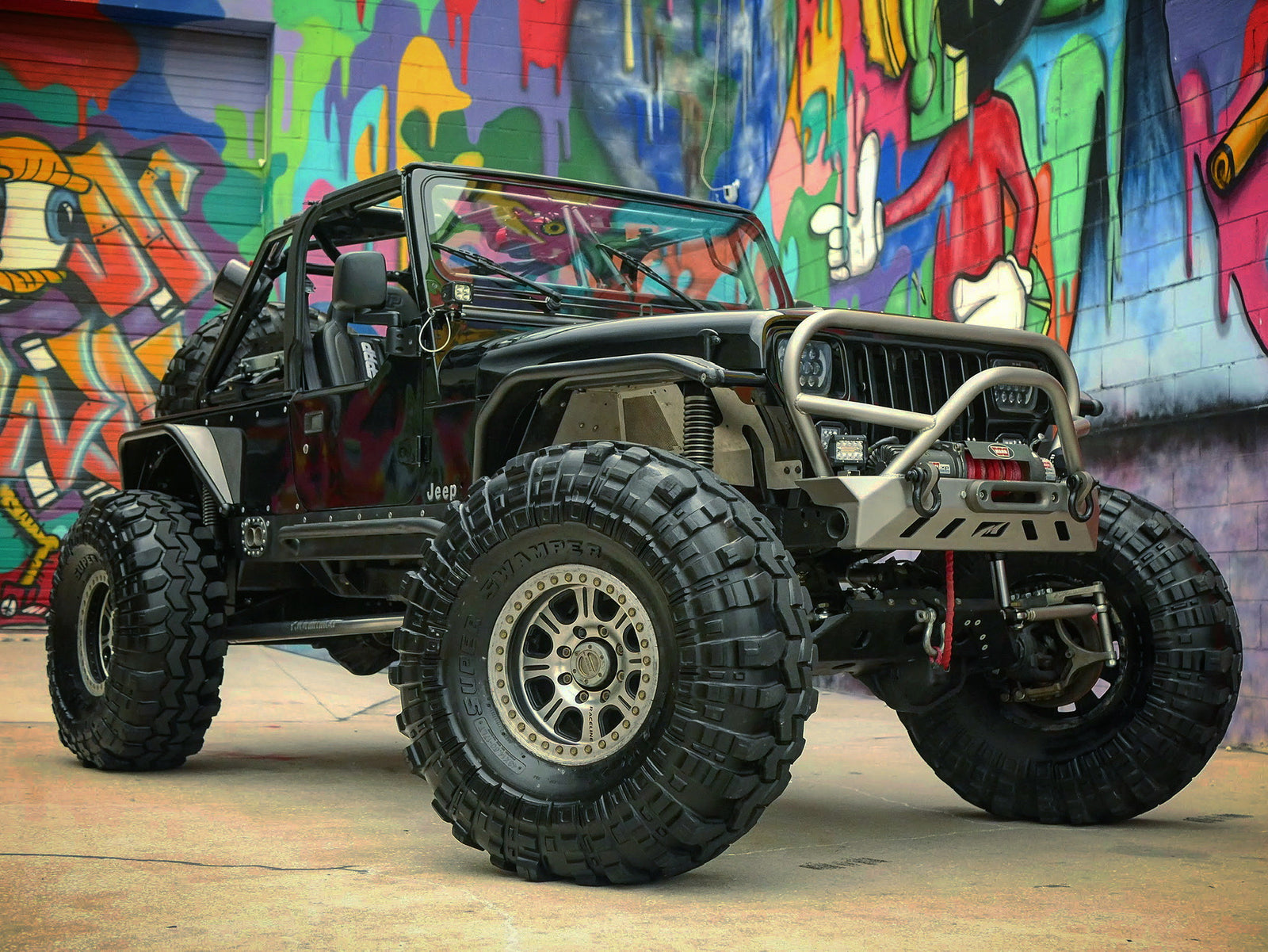 Guess post by John Ellison
On July 27 2004, the Just Empty Every Pocket itch began when I bought my Jeep. Coming from the import scene it was a 180 degree difference. At the time of purchase she had 32" A/T's, 4" Rough Country lift, and a 4BBL 305ci small block Chevy with a 700R4 transmission.
On my first wheeling trip to Uwharrie National forest in 2005 I quickly realized carburetors are no fun off-road. This led to the first big project of swapping out the 305 for a L98 Tuned Port Injected 350 out of a 1992 IROC Z28. It remained that way for a while moving to Florida and starting a family, and relegated to under a tarp for a couple years.
 In 2011 met some new wheeling buddies and the itch was back. I swapped over to an 8.8 rear axle with SOA and 35's. Wheeled that for a while had a few breaks and decided it was time for tons. Threw in a 79 Ford Dana 60 and 03 AAM 10.5 on 37" Toyo's. Wheeled that way for a short period until I found some 40" Creepy crawlers. Found out quickly that the leaf springs just did not last very long with the 40's.  In 2018 decided to cut it in half extend the frame and body 15" to LJ length and 4 link the front and rear using the Motobilt 4 Link Suspension Mount Skid System for Jeep YJ. The kit has worked flawlessly with the 117" wheelbase. I used the Motobilt High Clearance Rear Fender Tops for Jeep CJ / YJ to help fit 16" ORI's in the rear under the tub.
First trip out after the 2 year build I rolled 2-1/2 times at Choccolocco on the Cherry bomb V-notch. The Motobilt Crusher Series Front Bumper w/ Grill Hoop & Bull Bar for Jeep YJ / TJ /LJ helped keep damage to a minimum up front. I have been on quite a few wheeling trips since then and the Jeep has handled everything I have thrown at it including Rattle rock at Windrock. Currently swapping out the TPI 350 and 700R4 for a L96 6.0L and 6L90E.
---
We appreciate John taking time to tell us about this bad build. You can see it on Instagram by going to @beeftallica. We got an update from him on the build as well:
"Just recently finished up an L96/6L90 swap and I made my own gate plate for the sidewinder shifter to work with the 6L90 and tap shift. Pretty stoked with how it came out." 
---