Contest - Pre-Launch of the JT Gladiator Skid Plate System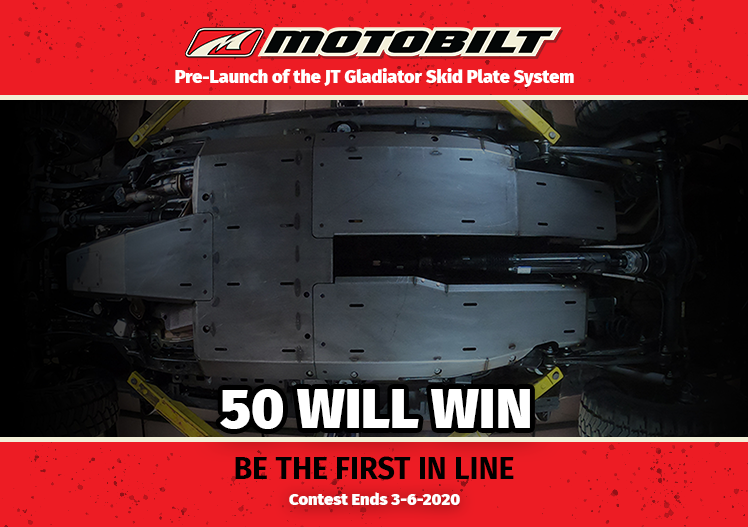 *This is an old article and the event has ended.
Motobilt has been hard at work getting many new product designs ready for production.  The full skid plate system for the Jeep Gladiator is already in production.  The skid plate have been laser cut on our new 10K fiber laser and are now being formed in our press brake department. They should be in welding by tomorrow morning. The Motobilt part number is MB1106.  Retail pricing in the skull skid system will be $1299.00.  
So how do you get to be first in line and SAVE BIG?  Motobilt launched a Vyper campaign for those excited about this product.  The campaign through a contest gets the people in front of the line an awesome discount. To begin the process CLICK HERE to go straight to Vyper and read the details. No purchase is required to enter.  
The Jeep Gladiator JT has been making headlines all over the internet.  Motobilt has been busy working on product for the Jeep JT platform.  Our Jeep JL front bumpers work on the Gladiator. The Motobilt Crusher Front Bumper has been a popular item among Jeep Gladiator owners. The Motobilt Jeep Gladiator Molle Bed System was released a few weeks ago to raving reviews.  We are working on a new Gladiator JT rear bumper and hope to be posting teaser pictures in a few short days. 
So, what are you waiting on?  You do not have much time to enter the Vyper contest.  Go enter now.  If you don't you will be kicking yourself for not saving and getting to be one of the first to receive the all NEW Motobilt Gladiator Full Skid Plate System. 
---