Governor Kay Ivey Visits the Motodome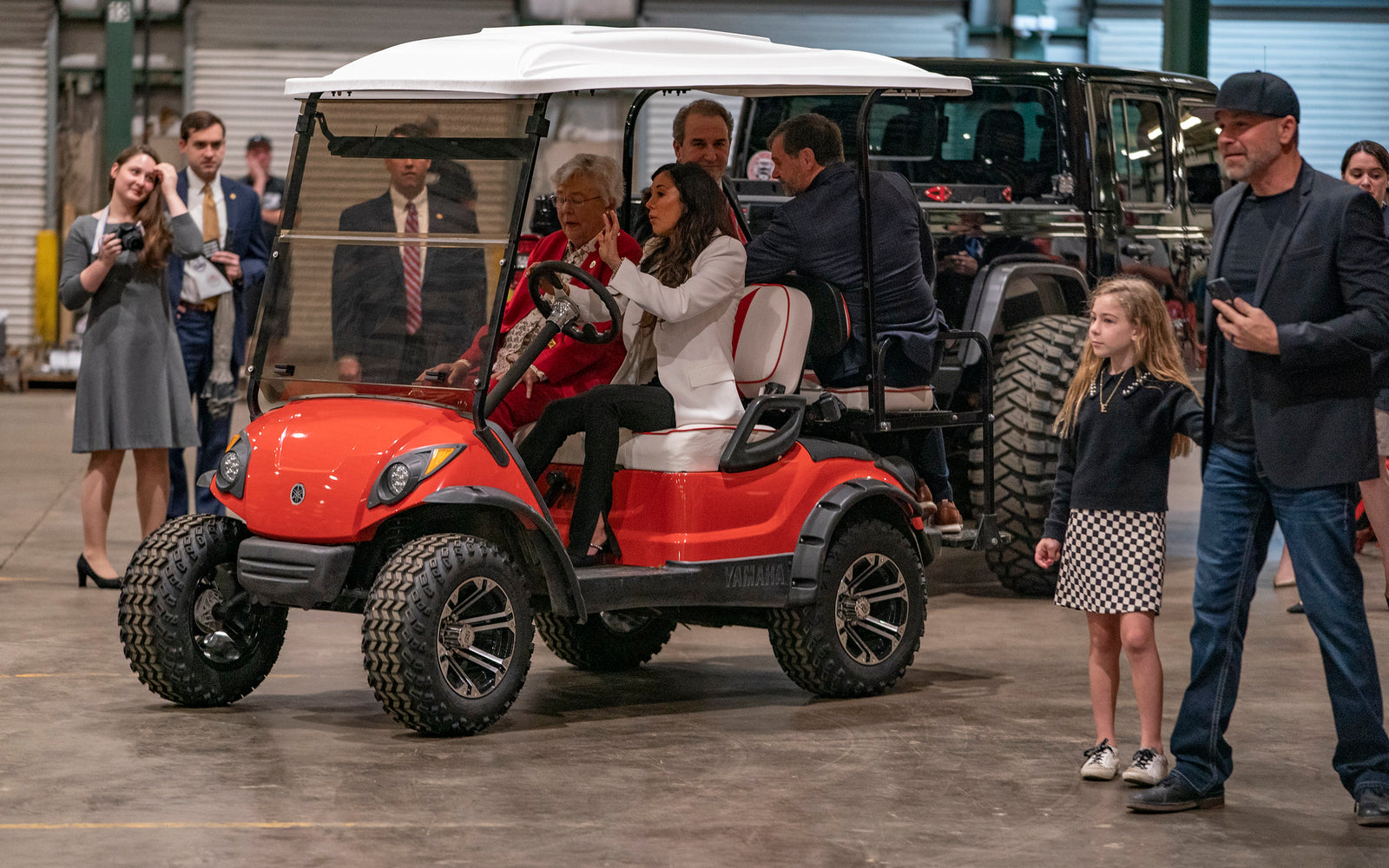 Alabama Governor Kay Ivey showed her support for small businesses Friday by touring Motobilt and Brauer Aerospace.  It was an honor to know that we, as a small business, have the support of the Governor.  We enjoyed being able to welcome her to the Motodome.
The day began with the clouds rolling in and the sky getting dark. Governor Ivey came to Ozark to celebrate local businesses like Motobilt and Brauer Aerospace, and show what the small business community is capable of when it comes to building quality products and benefitting the community. 
CEO/Founder Dan DuBose and the teams of Motobilt and Anvil Industrial were both honored to receive Governor Ivey and her entourage. Motobilt has manufactured America-made aftermarket Jeep and off-road products for a decade, and to see that Motobilt's growth and influence in the Ozark community had reached the Office of the Governor was something that made every Team Member proud.
[Motobilt and Anvil Crew waiting for Kay Ivey.]
 Finally, Governor Kay Ivey Arrived.
[We welcome Governor Kay Ivey to Motobilt.]
---
Governor Ivey's tour of Motobilt began with a short meet and greet. Ozark Mayor, Mark Blankenship, began by welcoming Governor Ivey and thanking her for her support for our community and small businesses, alike.  Following the Mayor, Representative Steve Clouse voiced his appreciation before welcoming the President of Brauer Aerospace, Mike Brauer.  Brauer also spoke on his gratitude in all the help already provided for small business like us, and let Governor Ivey know how much of a joy and a pleasure it is to host her today.
[Dan DuBose.]
After Brauer, our Motobilt Founder and CEO Dan DuBose took the stage. Have you ever seen Dan so dressed up? We hadn't!
When Dan stepped up to the podium, he paused, looked around and said "Wow, this is pretty cool." Everyone laughed and he continued his speech, expressing his sincere appreciation to Governor Ivey, sharing how proud he was of the business, bragging on his wife, Hunter DuBose and his hardworking crew. 
Dale County Commission Chairman Steve McKinnon thanked everyone for opening up our facilities for today's tour before getting everyone hyped up for the remarks by Governor Ivey.
As the Governor took the spotlight, the entire audience stood in applause.  She looked around to everyone and waved before she began.
[Governor waving as we all welcome her to the podium.]
---
[left to right: Dan DuBose, Hunter DuBose, Emersyn Saniee, Governor Kay Ivey, and Kevin Harden (Anvil Managing Partner)]
Governor Kay Ivey focused her remarks on Motobilt and Brauer Aerospace, "a couple of home-grown companies" who are "showing off all that Alabama has to offer." She acknowledged Founder/CEO Dan DuBose as a pioneer in the Jeep and off-road community who has brought years of experience to the table with the creation of Motobilt a decade ago, and Motobilt products are now worldwide. The reach can be seen from the local community all the way around the world.
In Governor Ivey's remarks she noted that 'Made in Alabama' is committed to bringing back 'Made in America,' and Motobilt is doing just that: building high quality, American-made products for the Jeep and off-roading community, and doing it right here in Ozark, Alabama.
After the remarks, Governor Ivey toured the Motodome with Motobilt COO Hunter Dubose, who worked tirelessly to make this event as fantastic as possible, as well as ensure it went off without a hitch.
[Hunter showing Governor Ivey around.]
The Governor was able to view Motobilt's cutting edge technology, including our 10KW Fiber Laser,  CNC press brakes and production facilities where the Motobilt Team build American-made products.
[Hunter presenting Governor Ivey with a custom laser-cut gift from Motobilt.]
As the weather continued to roll in, for the safety of everyone, the tour was cut short by a few minutes, but it will be something we here at Motobilt won't forget for some time. Mayor Mark Blankenship has been a proponent of Motobilt for some time, and we thank him for this. To have our very own Governor of Alabama take the time to visit the Motobilt Team shows that we are truly making a difference. We love our Alabama community. We appreciate you, our customers, fans and followers and we will continue to manufacture quality Jeep bumpers, fuel cells, body armor, DIY builder parts and accessories, made right here in America and Alabama.
---