New! Motobilt Jeep JL Spare Tire Carrier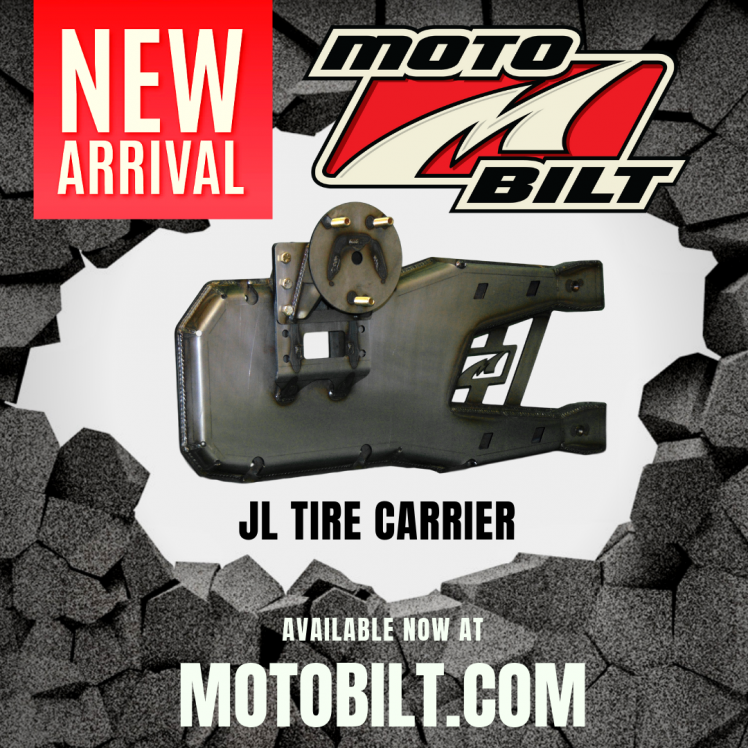 The new 2018 and up Jeep Wrangler JL is amazing.  Jeep made leaps and bounds in the refinement of the new JL but as every good Jeep owner knows there is always room for improvement.  Just about every Jeeper out there is going to put bigger tires on their rig and the new JL in no exception.  When your off road in the middle of no where you need to be prepared and one of the best things to keep with you is a full size spare tire.  That's easier then said when it comes to Jeeps with huge tires as they weigh so much more and then the donut sized spare in the back of the Honda.  You cannot bolt these large heavy tires to the factory tailgate with out the risk of damage to your brand new Jeep's sheet metal.  That's where the all new Motobilt Jeep JL Spare Tire Carrier comes in to solve all of your problems.  We designed, tested, redesigned, and tested again until we had the perfect tire carrier for your brand new Jeep Wrangler JL.
First off we used heavy duty 3/16" laser cut and cnc formed steel plate to build this stout carrier.  No aluminum here to fatigue or crack.  
We knew that every Jeep was going to be different and run all types and sizes of wheels.  Whether you have 20x10's on 35's or 17x9's with 40's, the Motobilt Jeep JL tire carrier is fully adjustable to fit your tire and wheel combination.
We also made your new Motobilt Jeep JL Spare Tire Carrier adjustable vertically too with multiple mounting locations.
With the Motobilt design all of the weight of your larger tires and wheels is transfered off of your factory tail gate and onto our heavy duty steel tire carrier.  You can rest assured that your new Jeep JL will be up to the task.  Another awesome feature is that the tire carrier operates with your factory door handle.  This is perfect as its a one handed on time operation that works just like the factory.  With our style of tire carrier you can re-use your factory bumper or an aftermarket bumper like the Motobilt one shown. 
To order one of these heavy duty, adjustable, no worries tire carrier for your Jeep Wrangler JL then just click here!
---