Project Red - the Motobilt Jeep JK Unlimited Rubicon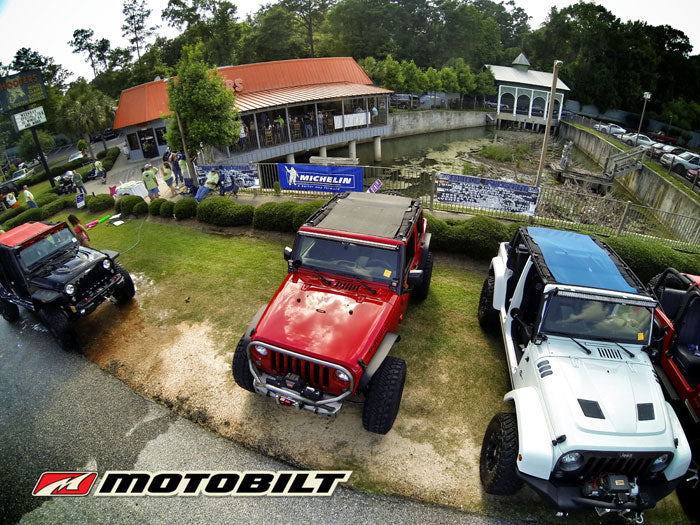 For those who know me well may understand the reason for a red Jeep JK. Years ago before starting Blue Torch Fabworks (I sold BTF in Sept 2009) I built a 4 linked red Jeep YJ that was way ahead of it's time and certainly for the area of the country I live in in the mid 1990's. I built the red YJ while still in college. It was built low on 40" cut boggers with a Dana 60 front and 14 Bolt rear axle. I sold the red YJ about a month after my son was born in 2001. I was done with Jeeps and thought I needed to be a grown up. Well that didn't last long because less than a year I came back and started a little shop called Blue Torch FabWorks which grew into much more than I ever imagined. Fast forward to present day. I sold BTF and thought I was done with offroading again and thought I needed to be a grown up again. Well that didn't work out too good for me because here I am starting a new shop called Motobilt and have the fire back in me to build awesome offroad vehicles and parts once again. I am looking forward to building full tube buggies and other projects in the near future. Before announcing the plan to start Motobilt I bought a new 2013 Jeep JK Unlimited Rubicon in black with black interior while still working over in Iraq for a while. Upon returning home I drove the Jeep with plans to build it. I was very busy getting Motobilt open and going and just never got into the Jeep. So I sold the black Jeep JK before doing any work to it. A few months later when things settled around the shop I began thinking about building a Jeep JK again. So.. I dialed up Steve White Motors again and had them deliver a this 2014 Jeep JK Unlimited Rubicon. This time I went back to red. Steve White Motors delivered Project RED to me on a Friday night at Motobilt. I have to admit when the red Jeep JK Unlimited Rubicon was delivered I was a little more excited than when Steve White Motors delivered the black JK to me. With keys in hand it was time to go to work on the new Jeep JK Unlimited. From the beginning I had a plan of what I wanted to do. I drove the Jeep for about a month in stock form with friends asking when I would start modifying the Jeep. For me it is important to have a solid plan before starting any project. Too often I see people start bolting on parts randomly with no end goal and they end up with a lot of useless crap bolted on. During this month I was gathering parts and getting ready.
I contacted some of my industry contacts to partner on various products. I got in touch with Matt at Trail-Gear to talk about the Creeper Beadlock Wheels for the project and got them on the way. Once receiving the wheels I dropped them off with Industrial Powder Coating in Headland, Alabama for some 10% gloss black powder coating. 10% means there is very little gloss. Some people consider this a "hotrod" black. I think the wheels turned out really nice with the red anodized Trail-Gear sectional bead clamps.
While the wheels were in the works Dave at Synergy Manufacturing worked with me to put together exactly what I wanted for suspension. In the beginning I was leaning to go with a long arm
suspension but I opted to stay short arm with the 37" tire size for better clearance. The Synergy Stage 3 Suspension on Project Red includes adjustable upper and lower control arms. This kit features adjustable rear shock mounts. The Synergy kit also relocated the front lower shock mounting location. The Stainless braided back lines are very simple to install and allow for the added wheel travel. The shocks are external res FOX Shocks built for the Jeep JK. The front steering stabilizer if an adjustable FOX Shocks stabilizer and I will say it is a death wobble stopper. Also from Synergy are many steering upgrades to help eliminate potential death wobble in the future. The track bar bracket raises the track bar bracket up and the steering drag link flip kit matches the angle. This is very important for bump steer. Correcting the steering is where many suspension lift companies and other offroad shops fall short. Too often people want to sell and install the cheapest suspension they can just to get the sale. I would rather provide and install product that will make the Jeep perform as it should and Synergy Manufacturing offers solutions to aid in this. We also installed a new heavy duty 4130 heat treated tie rod on Project Red for added beef. Other upgrades to the steering / suspension include a Synergy JK Steering box and sector shaft brace.
I bought the Jeep with a factory hardtop. I enjoy having a hardtop in winter months but it is not very practical to be taking on and off in summer months. I ordered a Bestop Trextop NX for the Jeep. I wanted this top for a few reasons. The back three windows are removable leaving the top on a safari style bikini top. This is very easy for out of town trips where I may need to replace the windows on the Jeep. The Trextop is also bowless so you don't have to deal with storing it when removed. My friends over at Spider Web Shade contacted me and asked if I wanted to run one of their screens on Project Red. My reply was absolutely. Mike responded that one was already in the mail on the way to me. The Spider Web Shade is a mess top / sun screen that covers the cab area. It does not require removal to install your soft top or hardtop. You can simply leave it on the Jeep. Many
peoples first thought when thinking of this top is to shade from the sun a little. That is a huge plus but the huge benefit to me is the reduced wind whipping around in the Jeep at highway speed. Of course we call have Jeeps to have wind in our hair and sun in our face. With the Spider Web Shade installed I can still have a conversion with my wife. Not to mention with the doors on and windows up I can still drive the Jeep on a dinner date with my wife and not blow her hair around too bad. So... Spider Web Shade gets an A+++
I thought about tires for a long time. I wanted something that would not break the build budget and not be too expensive that my customers could not relate to. I choose the Goodyear Kevlar MTR 37" tire for Project Red based on this and other reviews. It is a great driving tire on the highway and performs well on the rocks, in the mud, and on the sand. Not to mention I personally like the way the tire looks with the two different center tread designs in the tire. The front bumper is a bumper I designed and fabricated with this Jeep build in mind. I wanted a
Jeep JK Stubby Front Bumper
that was unique looking, strong, and well my own design. So I went to work in Solidworks and came up with this design. The front bumper was CNC laser cut and formed on a press brake. The tube work was added to the bumper for added protection and style. I have been building offroad parts for about 20 years now. My style is more clean and minimal. I don't think the tube work needs to be huge and attention demanding to look the best. The
grill hoop on the bumper is a part I have added to the website for purchase
. It wraps around the JK headlights and down. I have been asked what about the hood safety latch. The grill hoop does not interfere with opening the hood at all. The front bumper also features the Warn ZEON 10K winch. We will be installing a synthetic rope to be used with our
Factory 55 Flat Link
and Factor 55 hawse style fairlead.
The rear bumper design shares some of the same design ques. Minimal use of plate and keep king the bumper tight and compact. The rear bumper holds d-ring mounts that pass through the bumper and are welded on both sides of the bumper that same as the front bumper. The rear bumper has a center recess to allow clearance for the spare tire. The rear bumper does not have a receiver hitch in the bumper. I opted to use the rear frame mounted receiver hitch to help keep the price of the bumper down and affordable. The hitch can be removed if rear clearance is needed in an off-road environment.
Mounting a 37" tall spare tire on the back of the Jeek JK can be a chore. I contacted Teraflex about Project Red and they got their rear tailgate spare time mount on the way. This mount completely replaces the factory Jeep JK tailgate hinges with a heavy duty mount. From this mount a heavy duty tire mount attaches. A great feature of the Teraflex spare tire mount is the ability to bolt on other accessories like a Hi-Lift Jack Mount.
The LED Lighting on Project Red was provided by Lifetime LED. The
single row 50 inch LED light bar
provides more than enough light and gives a low profile clean look. The front LED cube lights are 2x3 design meaning they have 2 rows or 3 LED lights. I choose a flood pattern on these to provide wider coverage ditch lights. The proper way to use the windshield mounted cubes is to rotate them about 45 degrees out to light up the sides of the Jeep when offroading. The overhead 50 inch takes care of forward facing lighting. The
Jeep JK LED mounting brackets
for the 50 inch single row LED and the LED cube lights are both Motobilt designed and manufactured. You can find all of these products on our website.
---