Project Rock Bouncer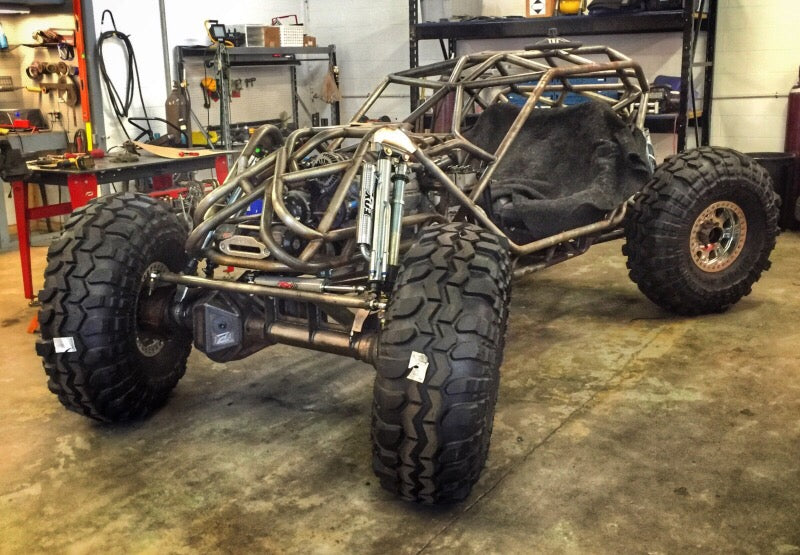 Over the years I've built a lot of different rock crawlers, Ultra 4, and more. Rock bouncers are a little different. When planning a custom buggy build the first thing to consider is intent. What do you plan to do with the vehicle. Rock bouncers are climbing very steep climbs, they have speed involved, they will be rolled over (often), and they have a distinct appearance.
A customer of ours wanted to build a rock bouncer. He purchased a chassis from someone who started a project and decided not to move forward. He purchased a Jimmy Smith chassis along with a long list of other parts to put together his dream buggy. I have to admit the Dana 80 center sections and Rockwell liters on the front and rear steer axles are impressive. When work began on the chassis it was clear we were going to have issues safely fitting our customer and some drive train changes to the chassis. The chassis came with a TH350 transmission mated with a NP205 transfer case. The customer opted for the ultimate in transfer cases, the Hero by Trail Worthy Fab. The new transmission was to be a Reid Racing Super Hydro Turbo 400 built by PCI. So the Motobilt crew went to work. We removed the roof from the chassis to make more room in the passenger compartment. In addition to height we needed more length. While the roof was off we stretched the chassis seven inches. With the chassis longer we had more roof for things like gas pedals and brake pedals to work with the oversized Corbaeu seats. The suspension was an issue as well. The front specifically because of the limited space around the engine. The customer is running front and rear steering in this buggy. In this case he is running a second power steering pump on the engine. The bracket set from Adam at Wide Open Designs places the power steering pump for the rear steer very low on the engine. The placement did not leave much room to work with for the upper front suspension links. The front lower links were completely boxed in on the chassis side for added strength. The front and rear axle trusses were designed in Solidworks and cut in house on our Lincoln Electric Torchmare CNC Plasma Table. We will go into more detail on the trusses.
---