Welcome Motobilt's New Design Manager, Michael Mihelich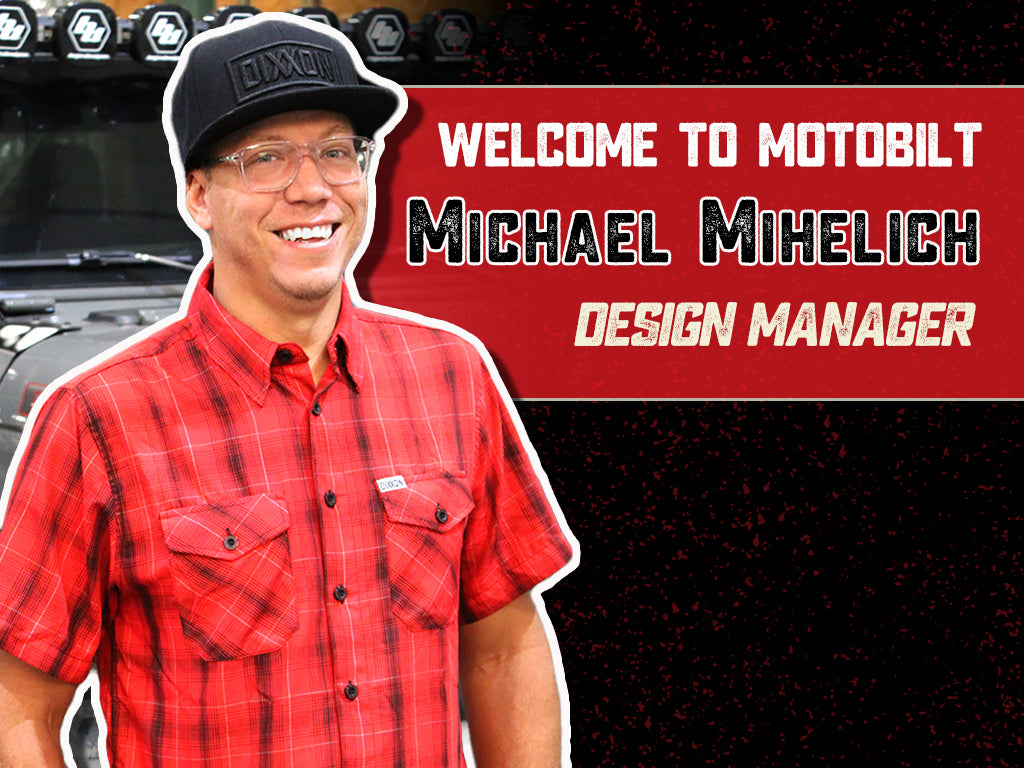 Everyone please welcome Michael Mihelich to the Motodome! Michael joins the team as the new Motobilt Design Manager. He will be working closely with the Design Team and Fabrication Team to bring more top-notch, Made in the USA Motobilt products for Jeeps, buggies, off-road vehicles and more. 
Micheal, welcome to Motobilt. Tell us a little bit about yourself. We'll start with where are you from?

South West Michigan born and raised, I have lived in several places across the country and currently reside in Chattanooga TN with my wife and our 3 daughters.

You strike me as a hands-on type or person. You see something you'd like to do, so you try it and see. What are some of the things you've tried that have become hobbies/career opportunities?

I recently started doing vinyl wrapping, my wife and I bought a couple motorcycles last year and one of the things we did was customize them. I wrapped both bikes and designed custom vinyl graphics for them.

What are some of your accomplishments in terms of your career over the last few years that you'd like to highlight?

20 years experience in welding / metal fabrication.
17 years 3D product design and development in Alibre/Solidworks/Inventor.
6 years ago started and grew an off-road aftermarket company focusing on branding and high quality products, the company was then acquired by a publicly traded co 2 years ago.

What brought you to Motobilt?

I have followed Dan since the BTF (Blue Torch Fabworks) days, and I really like what he has done with his team at Motobilt. I felt it would be a great opportunity to focus on where my passion lies, with product development and strong branding.

What are some things you want to bring to the drawing board at Motobilt and subsequently, the off-road industry?

Cutting edge products that don't compromise quality.

Thanks for taking a few minutes, Michael! Again, welcome to The Motodome.
We're stoked to have Michael on board. He brings a wealth of knowledge in many areas to the Team. You're going to want to keep an eye out for new Jeep and Off-road products from Motobilt in the days ahead!
---