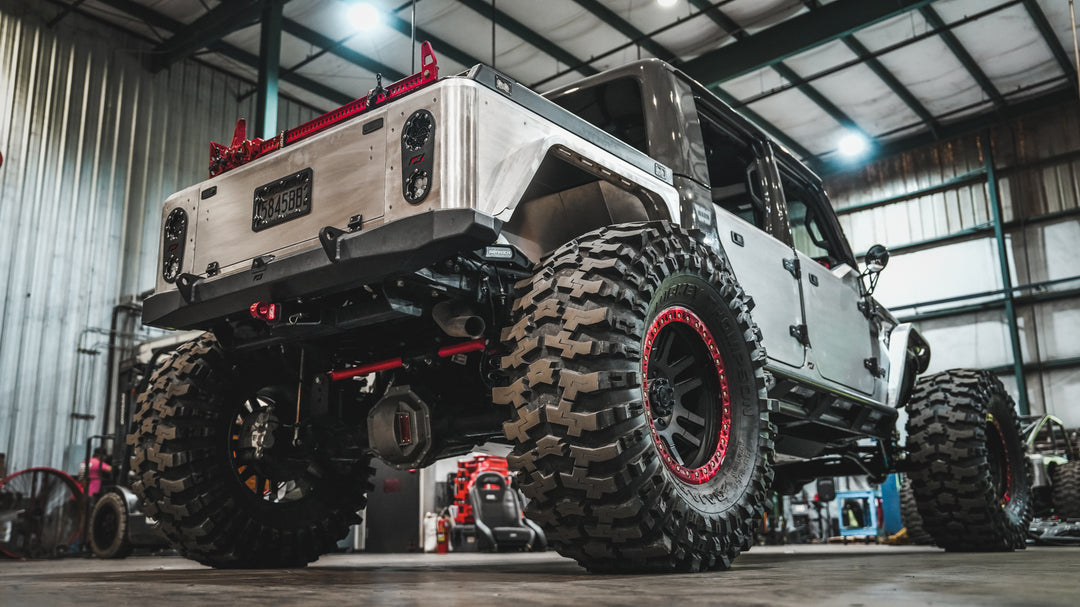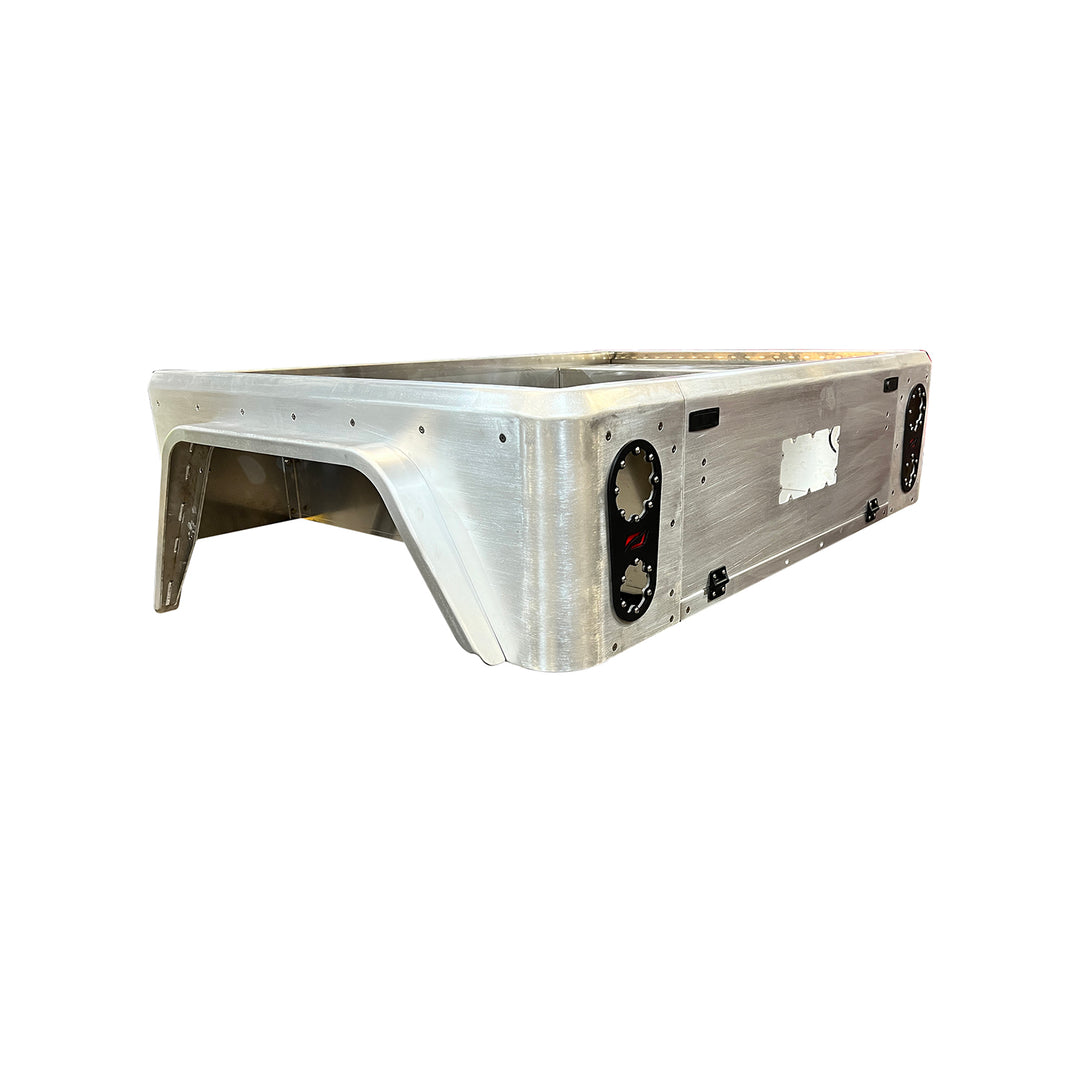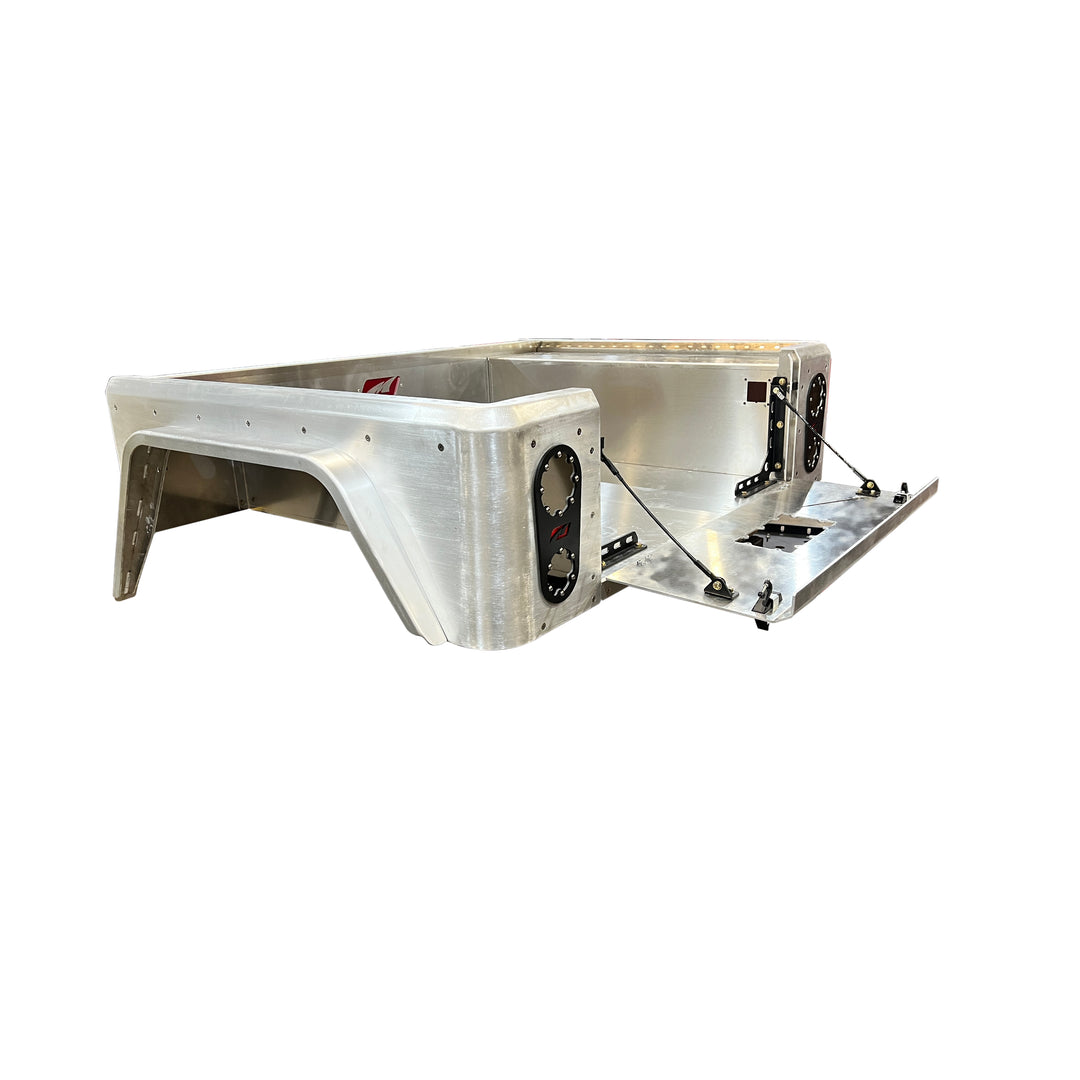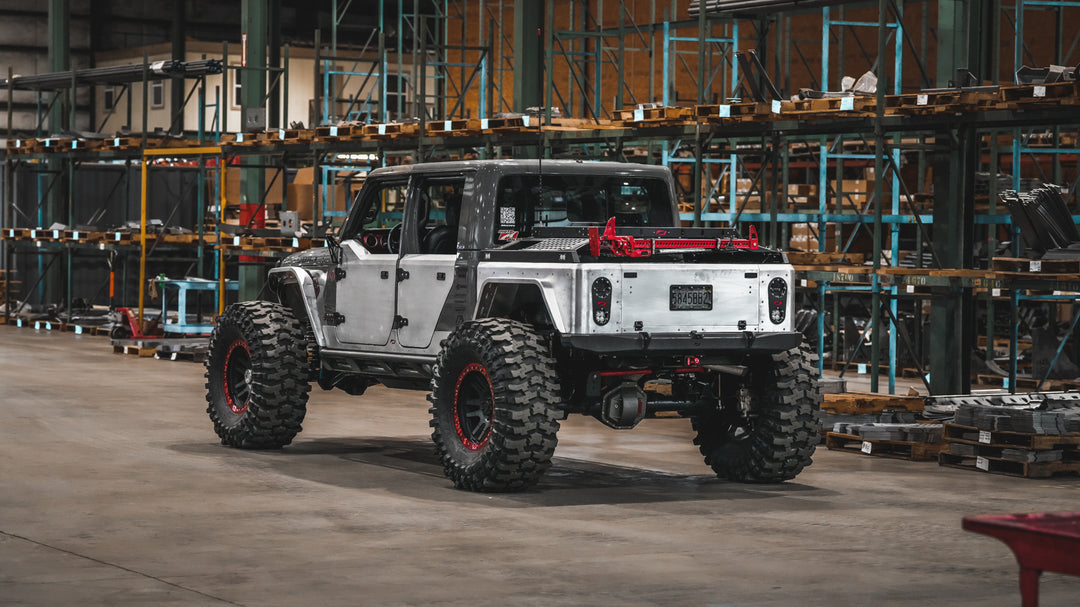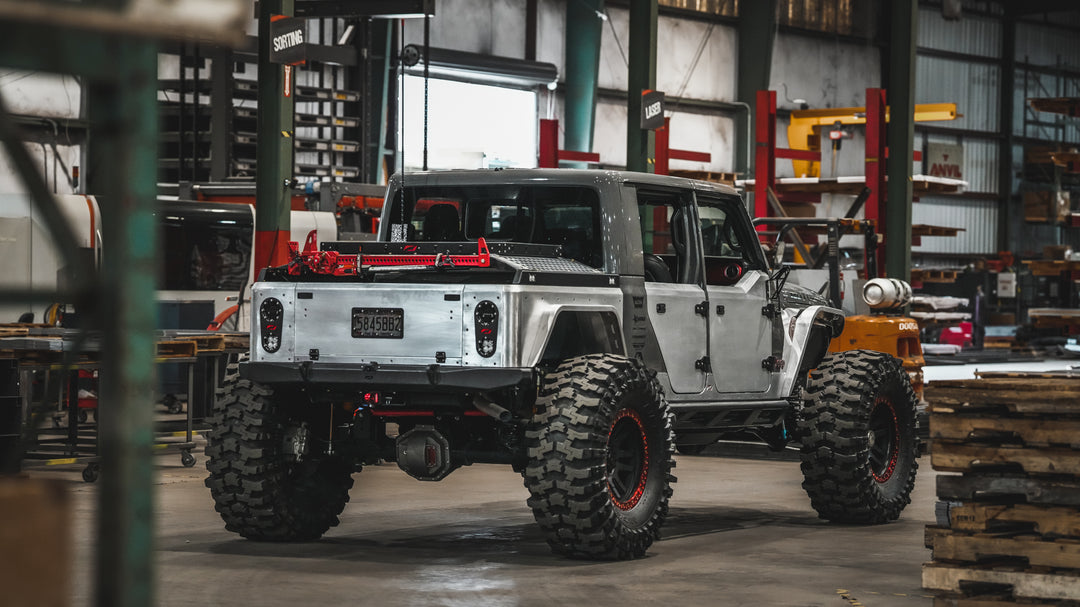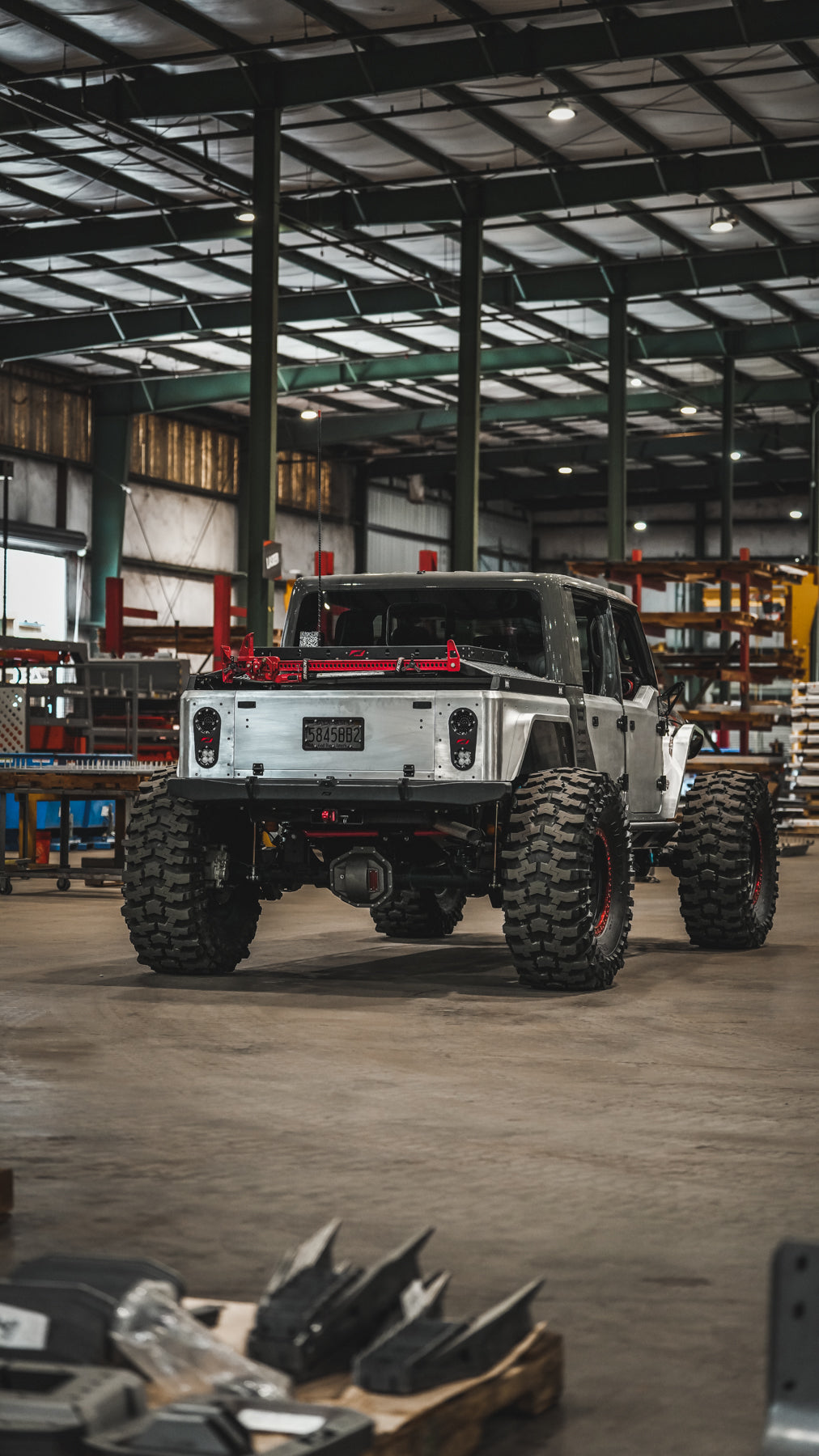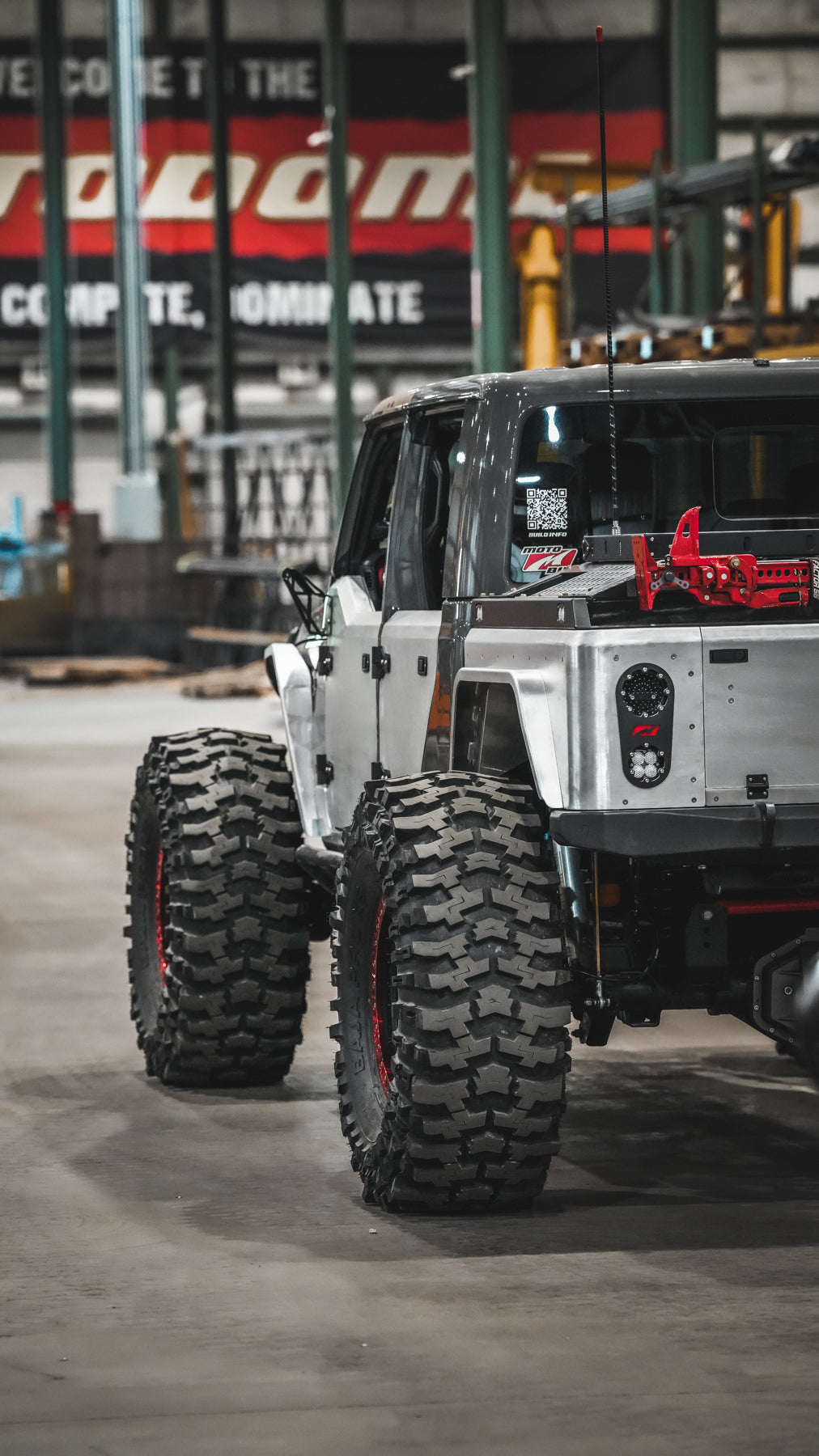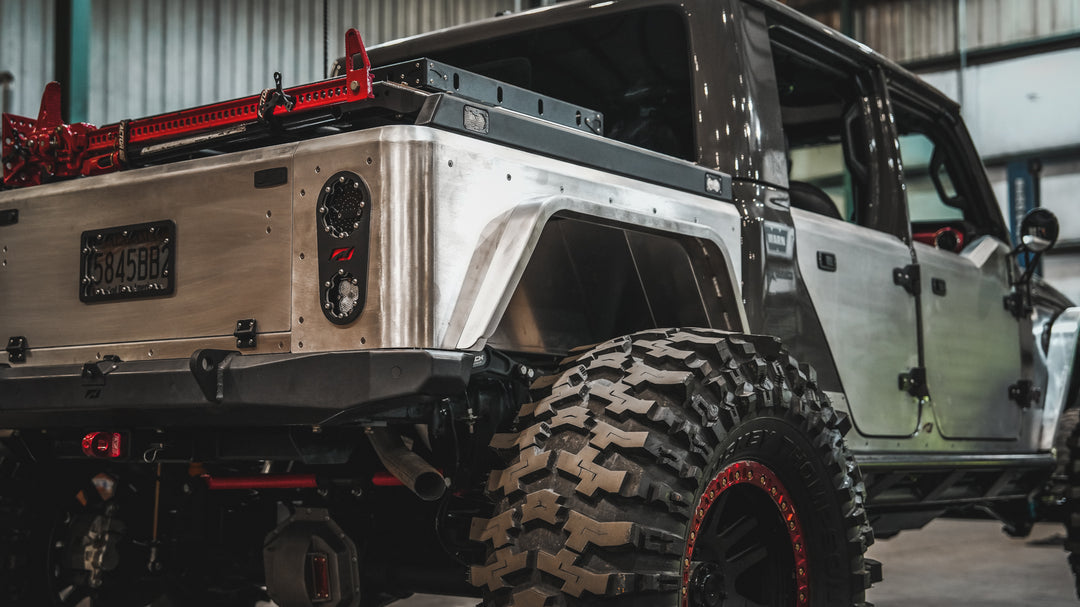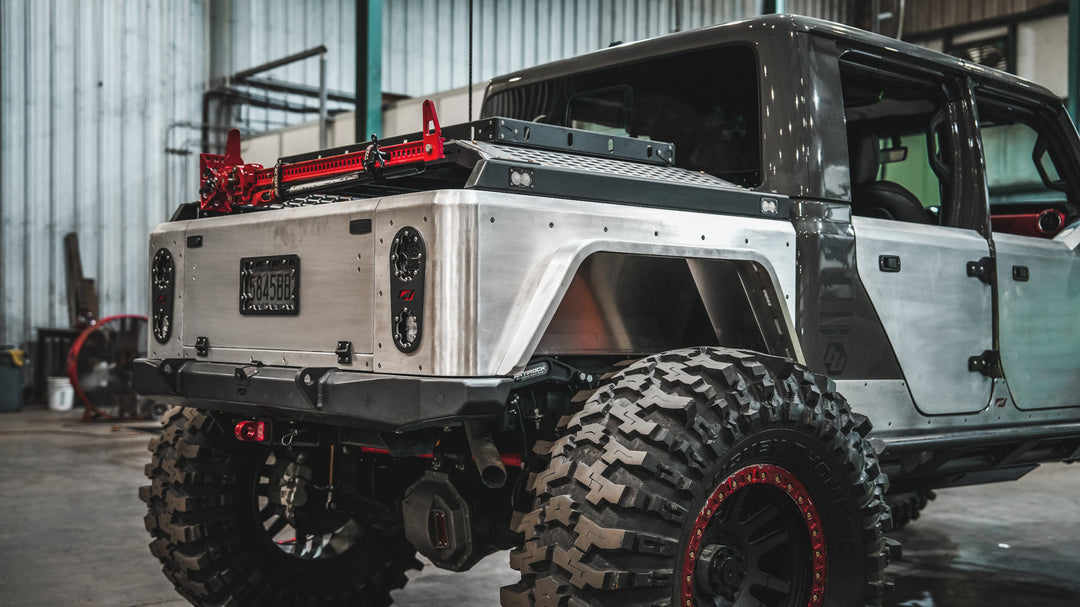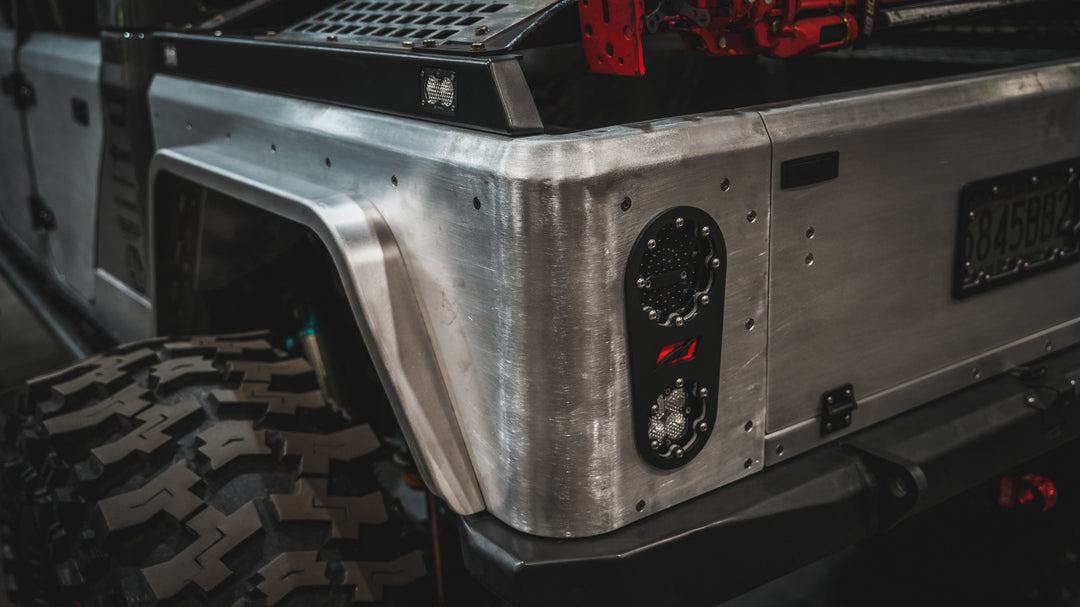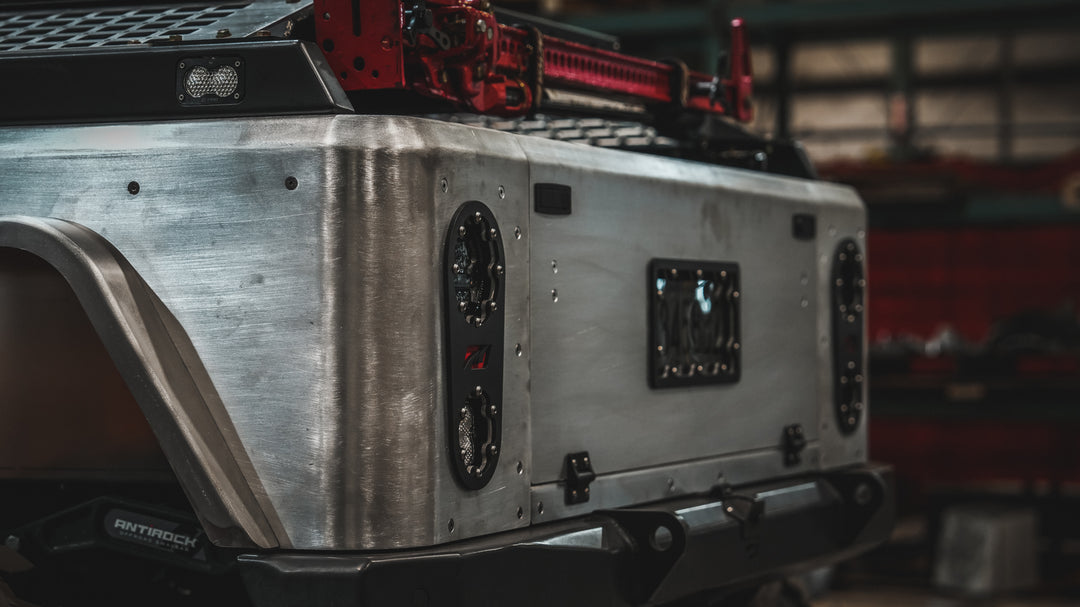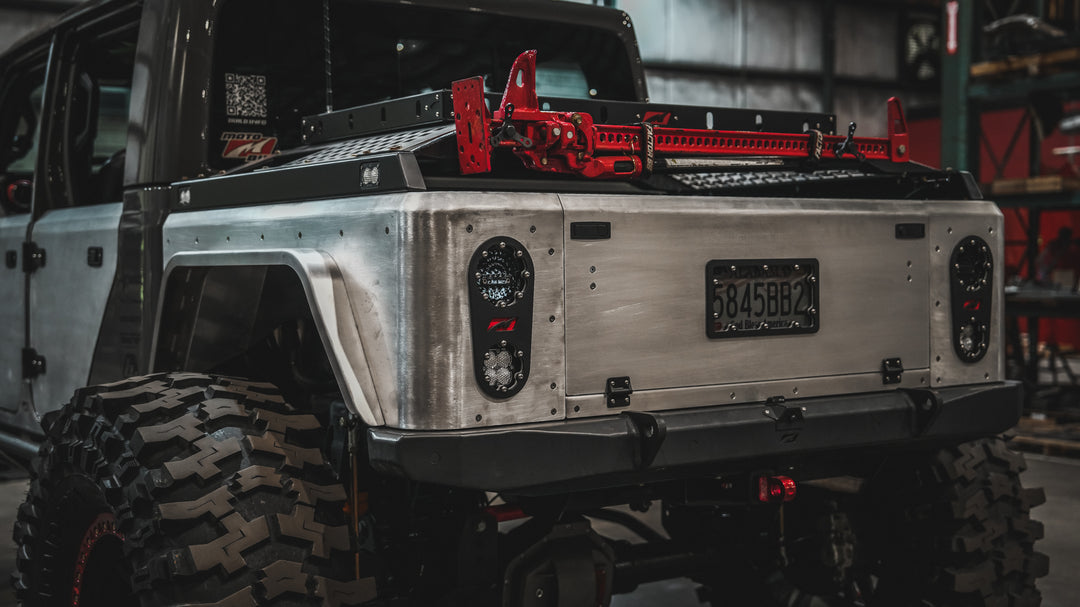 Aluminum Bobbed Replacement Bed for Jeep Gladiator
MB1178-A
---
In stock, ready to ship

Inventory on the way
Approach and departure angles are vital in off-roading.  The factory configuration of the Jeep Gladiator is great for some applications but when it comes to rock crawling, the factory Jeep Gladiator Bed overhangs the back of the Jeep and often drags on many obstacles. Since the release of the Jeep Gladiator 2020 model, off-roaders have cut and bobbed the factory bed to improve departure angle. Cutting the factory bed is not a weekend project to do on the driveway.  Often times it requires a professional offroad shop to shorten the factory Gladiator bed and, even with the factory bed bobbed there are durability issues with the tail lights and thin sheet metal. 
Motobilt has designed and manufactured the world's first production full replacement bobbed bed kit for the Jeep Gladiator. The bed is constructed of aluminum, eliminating the need for additional body armor.  The Motobilt bobbed bed is the body armor for the Jeep Gladiator.  We tucked the tail lights in to prevent them from being broken when you get into big rocks or trees. The Motobilt Bobbed Bed Conversion for the Jeep Gladiator comes with just about everything you need to make the swap at your home.  Basic hand tools can perform the Motobilt Bobbed Bed Conversion.  Below you will find a list of what is included in the kit as well as features and benefits.
Kit includes: main bed sides, floor panel, bulkhead and tailgate; each laser cut, formed and welded from heavy duty 3/16" aluminum plate for maximum strength to weight ratio. The inner fenders are fabricated from 11ga aluminum plate to provide additional gusseting and support adding to the overall strength.  The bed was designed to be much more durable than the factory bed, while saving weight over the Motobilt Bobbed steel version.  We have also provided mounting points for those wanting to build custom roll bars on the fender tops. The fenders are constructed from laser cut 3/16" aluminum while the bumper is constructed from laser cut 3/16" thick steel plate for ultimate durability. 
Features… the kit is packed with features for both functionality and form. Building a functional product sometimes lacks in form, but we wanted to ensure the bobbed bed kit performed off-road in style. The top bed rail features a slotted bolt hole pattern to allow for many options to be bolted to it easily. For instance, our cargo baskets will bolt on.  You can also directly bolt on lighting for off-roading or the campsite. The corners of the bed are formed up and over to provide strength for side impacts while adding a stylish bed rail. The tailgate holds your license plate and folds down. The kit includes flush latches, hinges, cables and rubber bumpers. The tail lights are recessed into the corners for extra protection. We include round pop-in style tail lights with reverse lights. Additionally, including in the kit are provisions to mount Max-Bilt or Offroad Only surface mount LED tail lights. The tail light mount also provides a place to mount additional lighting of your choice. We recommend using the Baja Designs Squadron cubes. Both the tail light and accessory lighting are trimmed with aluminum bolt-on rings. To ensure ultimate strength for side loads on the bed we have fabricated bed supports and a full length cross member to take all of the flex out of the bed structure.
The stock Gladiator frame is trimmed approximately 14-5/8" and the total savings in length is approx 18 inches versus the factory bumper and factory bed.
The kit ships to you disassembled and in raw aluminum form.  You will need to paint the steel bumper and other hardware and assemble the bed.  You can either assemble it and then have it painted or have the parts painted individually and then assemble.   If you are planning on painting / powder coating, Motobilt highly recommends the assemble and then paint method. 
Steel or aluminum for the Bobbed Replacement Bed? This is a question many will ask. In very hardcore off-roading situations where the bed will be contacting large rocks, trees, and other obstacles, the steel version will be more durable due to the nature of the materials used. However, this is not to say that the aluminum version will not hold up to abuse. The Aluminum Motobilt Bobbed Replacement Bed for Jeep Gladiator is a significant improvement over the stock bed, which is made of thin sheet metal. Our Replacement Bed, on the other hand, is made of 3/16" thick aluminum plate, making it more lightweight and corrosion-resistant, making it ideal for salty environments. If you have any questions about choosing between aluminum and steel, please feel free to contact our experienced sales staff, and we will be happy to assist you in making your decision.
THE BEST PART:
The cost of the bed kit is less than what most reputable body shops would charge to cut down the factory bed.  With that said, we put our factory Gladiator bed for sale on social media and sold it in less than 30 minutes for $4000. We recommend you do the same.  Consider putting your factory bed on eBay and/ or social media to upgrade to the heavier duty-and more stylish Motobilt bobbed bed conversion. In addition, if you have an aftermarket rear bumper you can sell that as well. 
 WHAT'S INCLUDED:
Complete Motobilt Bobbed Bed Kit for Gladiator
Tailgate Kit including latches, lanyards, hinges and aluminum license plate trim bezel
Tail Light Mount Kit with aluminum trim bezels
Round LED pop in tail lights
Resistors for factory non-LED tail lights
3/4" LED Side Marker Lights for those who need them
Off-road Only License Plate Lights / Third Brake Light
Relocation Parts for factory fuel filler neck
Roll Bar Plates for inner fenders
Bed Stiffeners
Front Cargo Tie Down Points
Backing Plate for front Motobilt logo cutout
Rear Bumper with sensor provisions and backup camera mount
Rear Bumper Frame Mounts
Rear Fenders
Block Off Plate for Gladiators not equipped with 120v bed plug
All Hardware needed for assembly and install
Provisions for either Gas fuel fillers or Diesel fuel fillers with DEF fluid filler
 FEATURES:
Bolt-on Installation (no welding required)
18" shorter overall (including bumper) than factory
Drastically increased departure angle
Light weight aluminum construction
Fold down tailgate with automotive grade cables
Rattle free adjustment latches with integrated rubber bumpers
Recessed LED taillights with reverse lights included
Mount for rear facing accessory lights
Recessed License Plate 
Rear Camera Mount
Uses factory fuel filler neck and cap.  No emissions concerns as the fuel system is not modified.
Aluminum trim bezels around taillights and license plate for a custom look
Rear Bed Stiffeners with tie down points 
Forward tie down points to secure your cargo
Integrated Slots along top bed rail to bolt on accessories
Larger wheel openings for large diameter tires
Heavy duty bolt on aluminum fenders
Heavy duty bolt on steel rear bumper
Rear bumper integrates rear parking sensors
Mounting plates for those wanting to fabricate a roll bar or headache rack
Bolt on zip tie tabs to help arrange wiring
19.5 cu ft of storage space under the bed rails
Complete assembly / install instructions 
BENEFITS:
Minimal rear overhang of body and frame 

means you can tackle much larger obstacles with substantially less risk of dragging the rear of the vehicle

Fast and easy bolt on installation

No modifications to the fuel or emission systems (some tabs will be trimmed from the filler neck)

Rear bumper park sensor compatible
Rear camera is located from the tailgate mount inside the rear bumper which provides more protection and will allow you to run without the tailgate
Recovery points in the rear bumper
Protected taillights 
Constructed from 3/16" thick aluminum to vastly reduce the chance of trail damage and to reduce weight.
Bolts to factory frame mounts 
Easy wiring for LED and non LED Gladiators 
Accepts large diameter tires
Reuses the factory 120v outlet in the bed
Compatible with either Gas or Diesel engine vehicles
SPECIFICATIONS:
Weight (Bed) 154 lbs
Weight (Fenders) 12 lbs
Weight (Bumper and mounting brackets) 70 lbs
Dimensions (Bed Exterior) 48.3" L x 64.5" W x 16.6" H
Dimensions (Bed Interior) = 45.6" L x 40.6" W x 14.9" H
Cargo Capacity 19.5 cu ft
WHAT'S NOT INCLUDED:
Tazer programmer to reprogram the factory computer to turn off lane assist sensors if factory equipped
Rear facing accessory lights (Example: Baja Designs Squadrons)
Kit is shipped bare aluminum. 
NOTE:  This is a permanent modification to your vehicle.  The factory frame will be shortened.  Check your local laws & insurance company before making modifications.  This system is NOT compatible with optional factory taillight blind spot sensors.  You can turn off the rear taillight blind spot features using a programmable Tazer.  The rear bumper is compatible with the factory rear park assist sensors. If you are towing then you need to add MB1190 receiver hitch to your order.
DOES NOT QUALIFY FOR FREE SHIPPING. 
Specifications
Instructions
If the instructions do not open then click and hold the button below and choose to download the link.