Everything You Need to Know About the 2024 Jeep Gladiator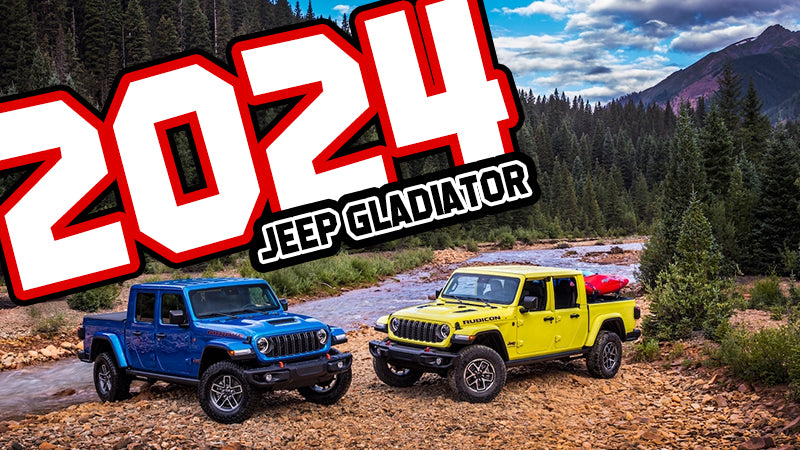 The 2024 Jeep Gladiator: Upgrades are nice.
The Jeep Gladiator, a favorite among off-road enthusiasts, has received a significant update for the 2024 model year. Drawing inspiration from the facelifted Wrangler, the Gladiator now boasts a range of modern features while retaining its rugged charm.
New Face, Better Interior
Unveiled at the Detroit Auto Show, the 2024 Jeep Gladiator showcases a revised front-end styling, reminiscent of its sibling, the Wrangler. The interior has been significantly improved, offering more comfort and technological advancements. Two new models, the Mojave X and Rubicon X, have been introduced, elevating the luxury quotient with leather upholstery and power-adjustable seats. These models also come with enhanced off-road features, including steel bumpers and a full-time transfer case.
Tech Upgrades
The Gladiator's interior now features a 12.3-inch touchscreen display powered by Stellantis' Android-based Uconnect 5 operating system. This system supports over-the-air updates, wireless connectivity to phones via Apple CarPlay or Android Auto, and even integrates Amazon Alexa as a virtual assistant. Jeep's Adventure Guides have also been added, providing trail enthusiasts with detailed guides for 62 Jeep Badge of Honor trails.
Performance and Power
Under the hood, the 2024 Jeep Gladiator is powered by a 3.6-liter Pentastar V6 engine, delivering 285 hp and 260 lb-ft of torque. While a six-speed manual transmission remains standard, there's an option for an eight-speed automatic. Notably, the 2024 Gladiator has bid farewell to its 3.0-liter EcoDiesel V6, aligning with the company's electrification goals.
Motobilt's Offerings for the Jeep Gladiator
For those looking to further enhance their Gladiator, Motobilt offers a range of products tailored for this vehicle:
Bumpers: From the Crusher Series Front Bumper to the Gladius Rear Bumper, Motobilt provides a variety of options to suit different needs.
Aluminum Products: Lightweight and durable, products like the Aluminum Rear Fender Flares and Aluminum Bobbed Replacement Bed are designed for the Gladiator.
Bobbed Bed Conversion: Motobilt is the authority on Bobbed Bed Conversion for the Jeep Gladiator platform. Their Aluminum Bobbed Replacement Bed, priced at $6,799.00, is a testament to their expertise in this area, offering a sleek and functional design for Gladiator owners.
Availability
Orders for the revamped 2024 Jeep Gladiator are now open, with the first models expected to hit showrooms by the end of the year. Pricing details are yet to be announced.
---
The 2024 Jeep Gladiator promises a blend of modernity and classic Jeep ruggedness. And with Motobilt's range of products, owners can further customize and enhance their vehicle to suit their off-road adventures.
---
---