Gobi, Michael, Motobilt and the trip to St. George Utah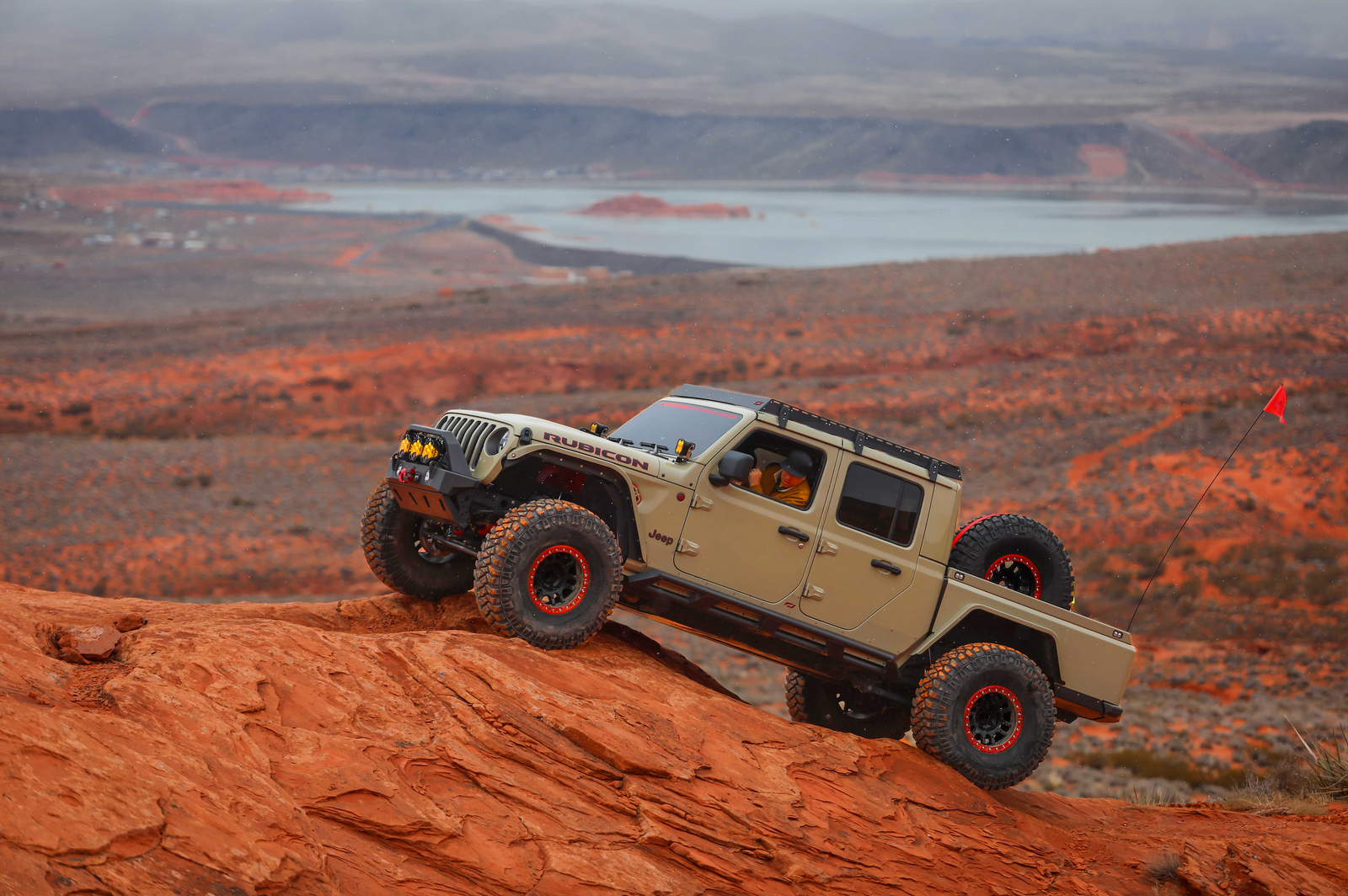 Anna: I interviewed Michael Mihelich to get his take on the most recent trip to Utah and to find out how the Motobilt Gobi Jeep faired. Micheal is the Design Manager here at the Motodome. Check out what he had to say below!
Anna: So you took your Gobi Jeep Gladiator cross-country to test out the Motobilt gear. Tell us where you went. Did you enjoy it?
Michael: I drove from Chattanooga, TN to St George, UT with a stop off in Farmington to break-in the Jeeps. The drive out there was easy with I40 running along the famous Route 66 most of the way. 
Anna: What was your favorite off road challenge?
Michael: Double Sammy was my favorite trail, however with the wet rain and snow it made every trail more difficult.
Anna: What are your top 3 favorite modifications to your Gladiator?
Michael: Without sounding too much like an ad the Motobilt Bed, Highline Fenders and Bed Mounted Tire Carrier have been my most favorite mods.The Motobilt Bed has been a great addition, with its added lockable storage and increased clearance it has proven to be invaluable. The Highline Fenders have allowed us to run a 40" tire with only 3" of lift. The Tire carrier came in quite useful recently when I needed to put the spare on, it was quick and easy to swap.
Anna: How did the full length replacement bed do? Did you notice a difference in how the JT handled, given the weight of the full length bed?
Michael: Vehicle handling has been relatively the same, I only notice a difference when hauling dirt bikes as it will squat the Gladiator a little bit. The bed held up great and with its increased departure angle I was able to keep from dragging it most of the time.
Anna: If you didn't have any modifications, do you think the Jeep would have fared as well?
Michael: Absolutely not, Sand Hollow is a technical OHV area and a stock Gladiator would have drug its rear bumper all over the trails.
Anna: I heard you drove all the way back to Alabama in your Jeep, how was that? Is it as comfortable on road as it is off road?
Michael: Yes, I drove all the way back home. On my way home I took the time to enjoy some of the beautiful areas that I came across, most of which were in Arizona, the Kaibab Forest, Dominguez Escalante Expedition Monument, Cliff Dwellers Stone house and the Historic Navajo Bridge crossing the Colorado River. I was going to make a stop close to the Grand Canyon but the Grand Canyon Hwy in Kaibab forest was closed for winter. Once I made my way back to I40 in New Mexico I pretty much stayed there. I did try to stop at the Cadillac Ranch outside Amarillo but it was too dark to see anything so I kept driving home. The Jeep fairs well offroad and on-road, 40 inch tires allow it to go over large potholes without much discomfort.
Anna: What tires are on your rig and are they really road safe?
Michael: 40x13.5 r17 Mickey Thompson Baja Legend MTZ, I have put approximately 10000 miles on these tires both on and off road and they have yet to let me down.
Anna: How would you compare the Gladiator to previous Jeeps you have owned?
Michael: My last Jeep was a similarly built JLU Rubicon, the Gladiator has a longer wheelbase, so it does wheel a little differently, you have to plan your turns a little more and set up for obstacles differently. The added ability to haul things in the bed is what drew me to the Gladiator platform as it allows our family to enjoy other activities as well, mountain biking and dirt bikes being at the top of the list.
Anna: Do you have any additional thoughts/comments you'd like to add?
Michael: I am very grateful to be able to get out and see what our country has to offer as far as the beauty that is everywhere. 1 out of 6 people don't ever leave their home state let alone get to travel far outside it. I am truly grateful to be able to experience it and hope that more people do the same.  
---