Motobilt at Easter Jeep Safari 2023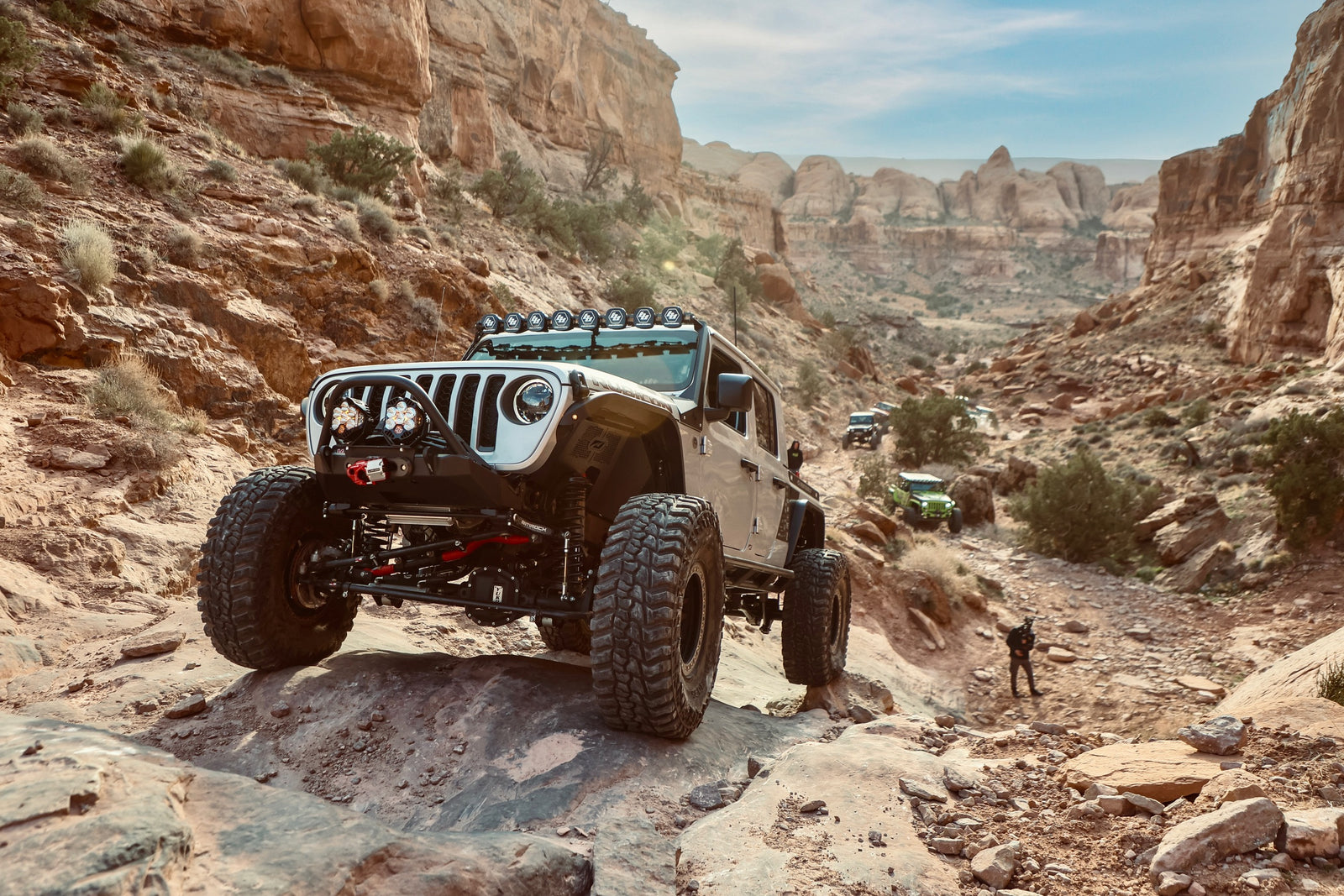 Red Rock 4 Wheelers 57th annual Easter Jeep Safari brings offroad accessories manufacturers, people from all walks of life and from all over the world to Moab, Utah for a week of adventure and off-roading fun. This year our new West Coast Sales Manager, Aaron Mercer, attended EJS in our latest Motobilt Jeep build, a 2023 Jeep Gladiator Rubicon with our bobbed bed kit.
The EJS adventure started early for us at Motobilt though as we took delivery of our new 2023 JT Rubicon 2 weeks before the start of EJS. It was all hands on deck for this project, so I flew out to Motobilt HQ in Ozark Alabama to assist Bender and Kurt on getting this project rolling. With their skills, determination and the help of our various build partners we were able to roll out of the shop the morning before EJS.
That Friday morning I immediately started the long trek from South Eastern Alabama to Moab Utah, a trip that was expected to be at least 30 hours of driving towing the new event setup. Along the way I stopped to see our friends over at Patriot liner in Louisiana to have the bobbed bed's interior bed lined. Their team did a fantastic job lining the bed and had me out the door to continue the drive.
Out of steam, my first rest stop took place in central Louisiana where I was able to get a few hours of shut eye. Feeling refueled with the help of some Rockstar Energy and some rest, I set my sights on getting to New Mexico at the very least. Texas took up most of the day and I encountered some high winds around Amarillo that slowed my pace slightly. Trudging on, the winds died off in Eastern New Mexico and with it, my pace picked up. That night I was able to push past my goal and landed in Farmington, New Mexico for some more rest.
That next early morning had me excited to be within a few hours of Moab and my mind was racing with all of the activities to take place. Upon my arrival I met up with some friends of Motobilt for a quick late afternoon run of Hell's Revenge to give the new JT a shakedown on the Rocks. Having done Hell's Revenge countless times in my LJ, and even JKs and JLs, the JT platform was completely new to me, especially with our bobbed bed. The new build, however, completely ate Hell's Revenge for its late afternoon snack. With the trail run over it was time to regroup and prepare for the week.
Monday morning we joined the crews of Yukon Gear and Axle, Dynatrac and Rockstar Garage for a run of Kane Creek. We all quickly found out how much water was flowing through this section of Moab with some spots swallowing Rockstar Garage's Rokbuggy's 44 inch tall Mickey Thompsons. The main obstacle of this trail comes down to Hamburger Hill. Not easily bypassable, I chose to take it head on. With a little momentum the JT popped right up. The rest of the trail had us in and out of the creek again going through beautiful slot canyons. The drive out was equally as beautiful and we found ourselves back in town to rest up for what was set to be the most challenging day of the whole trip, Pritchett Canyon.
We joined up with Dirty Life Wheels and Rockstar Garage for Pritchett Canyon and with the new build working well thanks to the superstar efforts of Bender and Kurt, my spirits were high for the outcome. The JT was crushing it and with some expert line choices it was able to straight shot every major obstacle there. That's right, straight up Chewy and straight up Rock Knocker. This trail was able to put our products to the test as I was all over the sliders and belly skids. The bobbed bed allowed me to take more direct lines without worry of dragging my tail or getting hung up. The JT build had me constantly thinking, what's next? 
That brings me to our third day as we jumped on Metal Masher with Rockstar Garage and Mickey Thompson. Unfortunately, due to the extra long wheelbase of the JT this would mean some of the ledges on this trail would be extremely difficult. But this didn't mean I couldn't at least put tires on them and do some more testing. Our skids took a lot of abuse that day but kept the underside in one piece.
Thursday I found myself leading a night run of Hell's Revenge with our friends over at Northridge 4x4, BOAR Offroad and experienced wheelers throughout the Western US, primarily in Utah. Even with and estimated 40+ Jeeps, we made a great pace as we conquered Hell's Gate, Escalator and the Devil's Staircase. The Baja Designs lights really helped set the pace and cut through the dark helping to light up the obstacles for the group. We were out before the unfortunate new cutoff time.
On Friday and Saturday I was joined by friends, fans and dealers of Motobilt where we did Potato Salad Hill, the difficult optional obstacles on Hell's Revenge, The Pickle, and Moab Rim. We found ourselves taking our time and collected a bunch of media to document our time at EJS.
With EJS at a close I found myself thankful for the effort Bender and Kurt put into the build as it survived and conquered a 2000+ mile trip to Moab that included some intense wheeling. Our build partners went above and beyond to ensure we had the parts we needed to build this JT in such a short timeframe. Be sure to check out our content feed on this trip and for upcoming videos from our friends over at Rockstar Garage as you will find the JT putting in work.
---