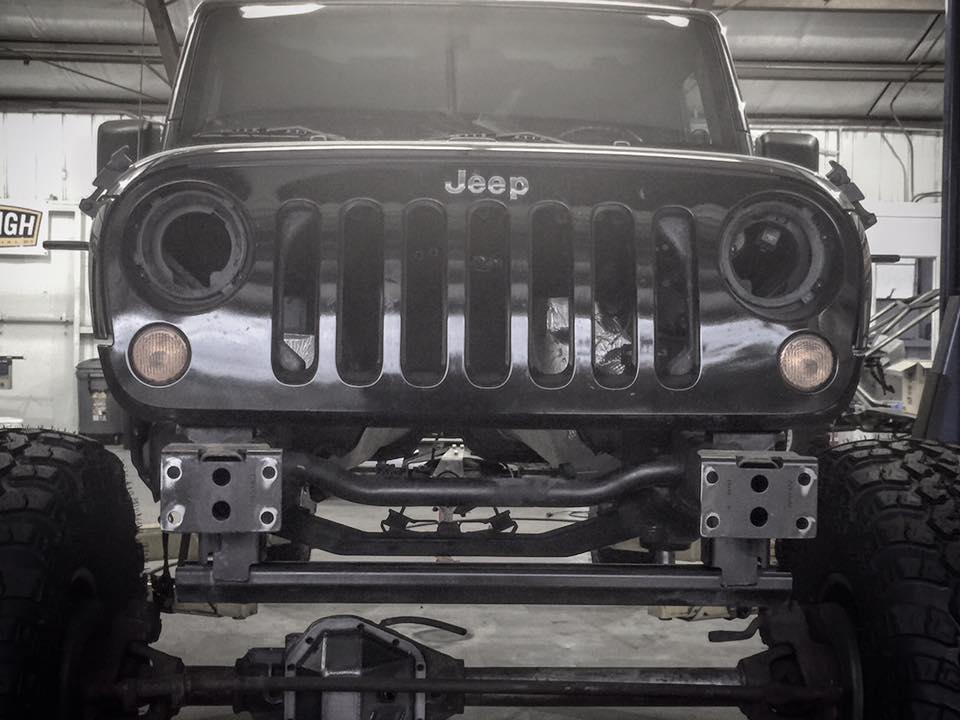 This Jeep Wrangler JKU build is starting to evolv into a beast. When we were first approached about building a new JKU we started looking at the big picture. The customer wanted an all out Jeep build with custom axles, huge tires, and lots of power. We realized most of the Jeep Wrangler would not be used so why spend an enormous amount of money on a newer 4x4 JKU. We instructed him to purchase an early model JKU that was only 2wd. Since the 2wd models are undesirable as are the motors they are a tremendously more cost effective So as the search began it didn't take long for a good deal to show up and the build you see below began its new life. Lets make this easy and start with a bit of the build list.
Turnkey Engine Supply LS1 410 hp Street package
Complete TH400 built to the hilt
Atlas 2 Transfer case
1 ton axles
41.5" Irok Radials on 17x8.5 Trail Ready beadlocks.
Now if that's not enough to get you excited then just hold on for the ride. All new Motobilt bumpers, body armor, suspension, skid plates, and much more to come! We started disassembly of the Jeep by pulling the body off of the frame.
Once the frame was separated from the body stock drive train was next.

All of the factory suspension brackets and engine mounts were cut off.

Every cut bracket was then cleaned up with a grinder.

A quick call to Turnkey Engine Supply and LS1 410 HP Street Package engine was on order.
Specs
Cubic Inch / LTR's: 346 / 5.7
Rods: Forged Powdered Metal
Valve Springs: GM Beehive
Horsepower: 410
Pistons: Mahle Forged
Retainers: Steel
Ft. Lbs. Torque: 420
Heads: Cast Aluminum
Rockers: 1.7:1
Compression: 10.25:1
Chamber CC: 62cc
Pushrods: 5/16" x 7.400"
Aspiration: Normal
Intake Port CC: 200cc
Lifters: Delphi Hydraulic Roller
Rev Limit RPM: 6000
Intake Port Style: Cathedral
Camshaft: Hydraulic Roller
Block: Cast Aluminum
Intake Valves: 1.890"
Timing Chain Set: Single HD Roller
Bore x Stroke: 3.90" x 3.62"
Exhaust Valves: 1.550"
Intake Manifold:Composite
Crankshaft: Nodular Iron
In order to lift the GM LS engine into the Jeep we designed a set of LS Motor Lifting eyes since the GM block doesn't have mounting locations from the factory. We also angled the mounts so that they would clear the firewall when placing the motor. This JKU will be the platform for many new Motobilt parts to come. One of them is our new Jeep JKU Rocker Guards.
Ample room is provided to step in our out of the Jeep.
These slots are used as hi lift jack points.
The JKU rockers provide complete protection while maintaining the most ground clearance possible.
You can find more information on the new Motobilt Jeep Wrangler JKU rocker guards by clicking here! Trail Ready 17x8.5 HD beadlocks on 41.5" Irok Radials were chosen to roll this beast around. A GM 14 bolt rear axle in back handles these massive meats. A Motobilt GM 14 bolt rear race truss, diff cover, and disc brake kit were added to finish up this bullet proof axle.

GM 14 bolt race truss, diff cover, and disc brake brackets

Motobilt Race truss and pinion guard

41.5 Irok Radials on 17x8.5 Trail Ready HD Beadlocks

Race truss mocked up. You can also see the disc brake cit and rear diff cover
We will update this post so keep coming back. Update 9/27/2017 The LS1 conversion requires you to remove the factory mounts from the frame before a new set of mounts can be installed. Instead of trying to reinvent the wheel with a one off set of mounts we contacted some of the best in the business over at Novak Adapters. A simple phone call and a couple days later we had a set of GM Generation III & IV V8 Engine Mounts at our door.

Each set contains left and right frame mounts, two sets of urethane bushings, two engine plates, along with the necessary installation hardware and instructions. We were able to position the engine into the frame rails using our new Motobilt LS lifting eye's quite easily. Once the engine was in place everything was bolted in and positioned for welding. The Novak mounts are placed so that gaining access to weld is quite simple. We laid down a few beads to hold the mounts in place and once we were confident in its location the motor was pulled back out to finish weld.
Project update 8/17/2018
We have been working on a first of its kind back half kit for the Jeep JKU and Jeep JK. This new back half kit allows room for coil overs, a true 4 link suspension, and a new fuel cell in the back section of the frame. Below you can see some of the progress pics as we are developing and testing out this one of a kind product.
The frame is cut off just underneath the back doors and a new frame section piece is inserted of the ends. As you can see the body mounts are already welded onto the new frame rails.
The new frame rails come in pre-welded sections. They are angled up and in so that there will be room for coil overs outside of the frame rails. The frame rails are made out of 3/16" laser cut steel plate that are CNC bent then fully welded.
We made a set of LS lifting eyes to place the motor in the Jeep
The frame rails move inward 5"s per side to allow room for the coil overs. The fender well section of the tub will have to be modified to allow room for the coil overs.

The back half kit includes a heavy duty rear cross member which is located with the factory body mount holes then welded in place. We made sure the Antirock Sway bar would fit also.
The factory body mount bolts locate the new heavy duty cross member so that it can be welded to the frame rails.
We have threaded bungs to mount the new Frame chop rear bumper already installed. Also the high clearance ends allow the maximum amount of ground clearance possible.
The new Motobilt Frame Chop Rear Bumper works with the Motobilt back half kit your factory frame. It comes with the bumper and the heavy duty cross member shown above.
The new bumper allows fro 5"s of additional ground clearance over the factory receiver hitch.
On the bottom of the bumper there are multiple mounting holes that tie it into the new heavy duty steel cross member.
The Jeep is receiving a 2005+ Ford Super Duty dana 60 front axle courtesy of the Motobilt JK 1 ton front axle swap kit. This kit allows you to bolt the massive dana 60 into any Jeep JK.
The axle swap kit comes with a heavy duty steel diff cover that integrates into the truss. This allows for the whole kit to be installed with out fail as every part ties in perfectly together.
---