Prototyping the Motobilt Roll Cage for Jeep JKU - PART ONE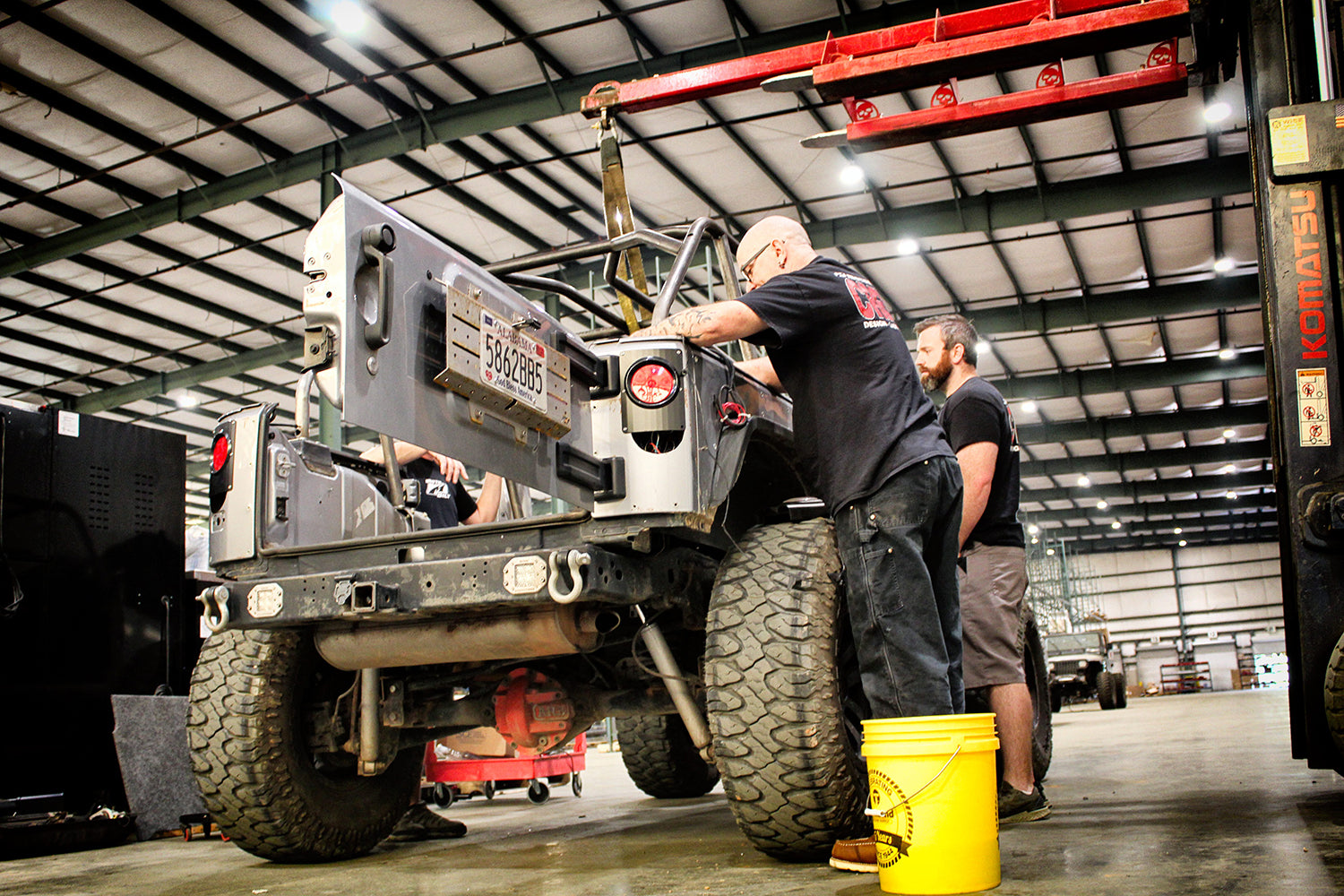 We have built quite a few cages over the years for previous Motobilt projects & now the time has come to finalize our JKU roll cage design & to ensure all of our welding fixtures are ready to go into production when the time comes. Bruce donated his personal vehicle to be the test mule. Well, he's just that kinda guy that Bruce. Canadians are after all polite, eh? 
So today, Part One in a two-part series on prototyping the upcoming Motobilt roll cage kit for Jeep JKU. 
Years ago, Bruce had installed a Synergy Manufacturing Weld-In DIY Sport Cage Kit. This kit was welded to the factory JKU cage, including A, B & C pillars.  All of this had to be removed to make room for the new Motobilt JKU Fully Welded Cage.
This is the factory JKU roll cage D Pilllar on the driver side.  It will be cut off to make room for a base mounting plate for the new D pillar mount which will be much more substantial and stronger. 
The factory cage was cut out in sections, which I always enjoy watching. MORE SPARKS, as they say. 
With the factory cage & all of the interior removed we are now ready to begin fitting the base plates that make the Motobilt JKU Cage a true "bolt-in" unit.
How do you move a vehicle with no interior? We have a solution for that. Steal Rob "Bender" Park's shop seat. Problem solved! 
 Once the factory cage had been cut out, the A, B & C pillar base plates were installed. The kit will include preinstalled threaded weld nuts in certain areas to make final assembly a breeze. Again, those Canadians: so polite (and talented). 
Please note: we are not releasing this cage for Jeep JKU at this time. There are a few steps ahead before going into production but, as you can see, progress is most certainly forward. 
There is some drilling required.  We locate the base plates using factory tie in locating points.
The D pillar base plates were welded in & painted.  They are placed over the factory D pillar & fully welded all around. Another fine example of beeficity. This roll cage for Jeep JKU will be anything but weak. 
With the factory carpet & seats removed, and with all of the base plates test fitted, Bruce decided now was a good time to go ahead & apply bed liner on the complete interior of the tub to make it easy to clean & wash down the interior later (sure he's polite and all that but he's not dumb). We picked up Rust-Oleum #323529 Professional Grade Bed Liner Kit in black at our local parts store & completely coated the interior surfaces.
We test fitted the roll cage numerous times throughout the build.  We have the right tools for the job here at Motobilt!  This made the numerous test fits go fast & smoothly.
Tomorrow we'll bring you Part Two in this series and show you the final results of this initial prototype of a roll cage for Jeep JKU. (Here's a hint: the final product looks fantastic)
Be sure to check out our collection of Motobilt products for Jeep JK/JKU while you're here! 
---
1 comment
---
---