Prototyping the Motobilt Roll Cage for Jeep JKU - PART TWO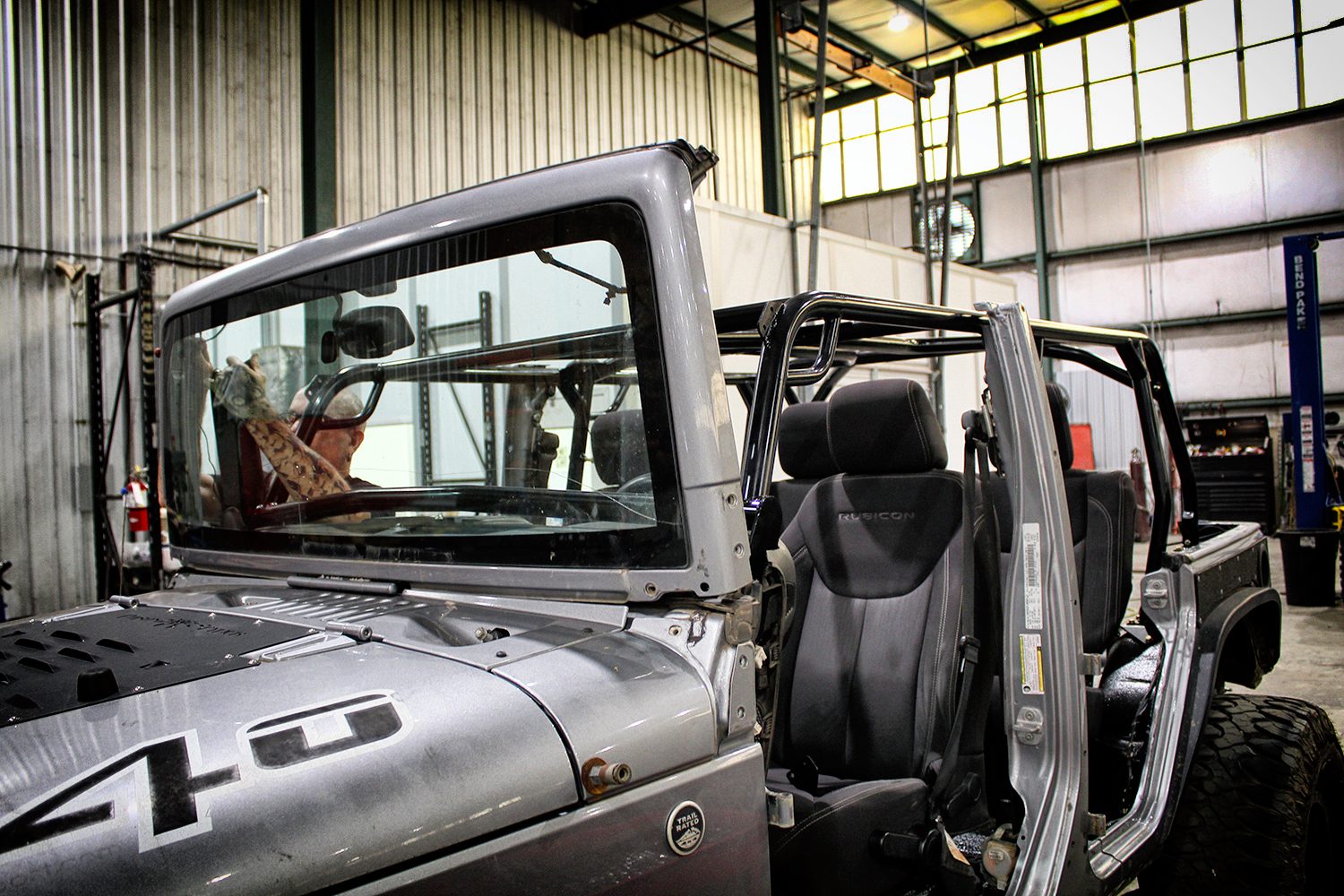 The JKU roll cage was completely manufactured in a welding fixture that we designed and built in-house.  After numerous test fits, we made all of the final tweaks to the welding fixture and fully welded the cage. We sanded and  cleaned the cage and then applied several coats of quality paint which we allowed to cure overnight.
C pillar passenger side after install. The photo didn't turn out as well as I'd hoped but hey, the craftsmanship of that mount speaks Motobilt, thus it speaks for itself:
Check out the fit of the A pillar once installed on the driver's side:
Rear factory seats installed:
C & D pillars on driver side after install. 
Windshield mounting brackets installed.
Factory hardtop installed.  We added a couple of flat plates on the tube that joins the B pillars. These allow you to run your factory freedom panels without having the rear portion of the hardtop installed. Well we wanted to take away your weak JKU roll cage, NOT YOUR FREEDOM! 
One of the major design features we included with this JKU cage is the ability to easily and completely remove your factory windshield while still making the front of the vehicle look great. 
The ability to remove your factory windshield for trail riding is a great option for the more hard core rock crawlers out there. You can't break your windshield in a roll over or flop on the trail if it isn't attached to your vehicle!  A couple of quick brackets to unbolt at the top and a few factory bolts at the bottom of the windshield and presto: it's removed for trail riding. Man, those Canadians (and Benders): polite and thoughtful to the end! And pretty dang smart. 
And below you see the final result of the Motobilt roll cage for Jeep JKU. When these kinds of projects are highlighted, of course our Design Team is one of the best, but it's the entire Motobilt team that makes it come together. Without them none of us can do this. And we can't do any of it without you, our Motobilt customers, fans and followers. 
While we will not be releasing the JKU cage at this time, we are working hard to get everything in place to move to production in the near future so stay tuned! 
---
2 comments