The Dale County Youth Leadership Program Visits the Motodome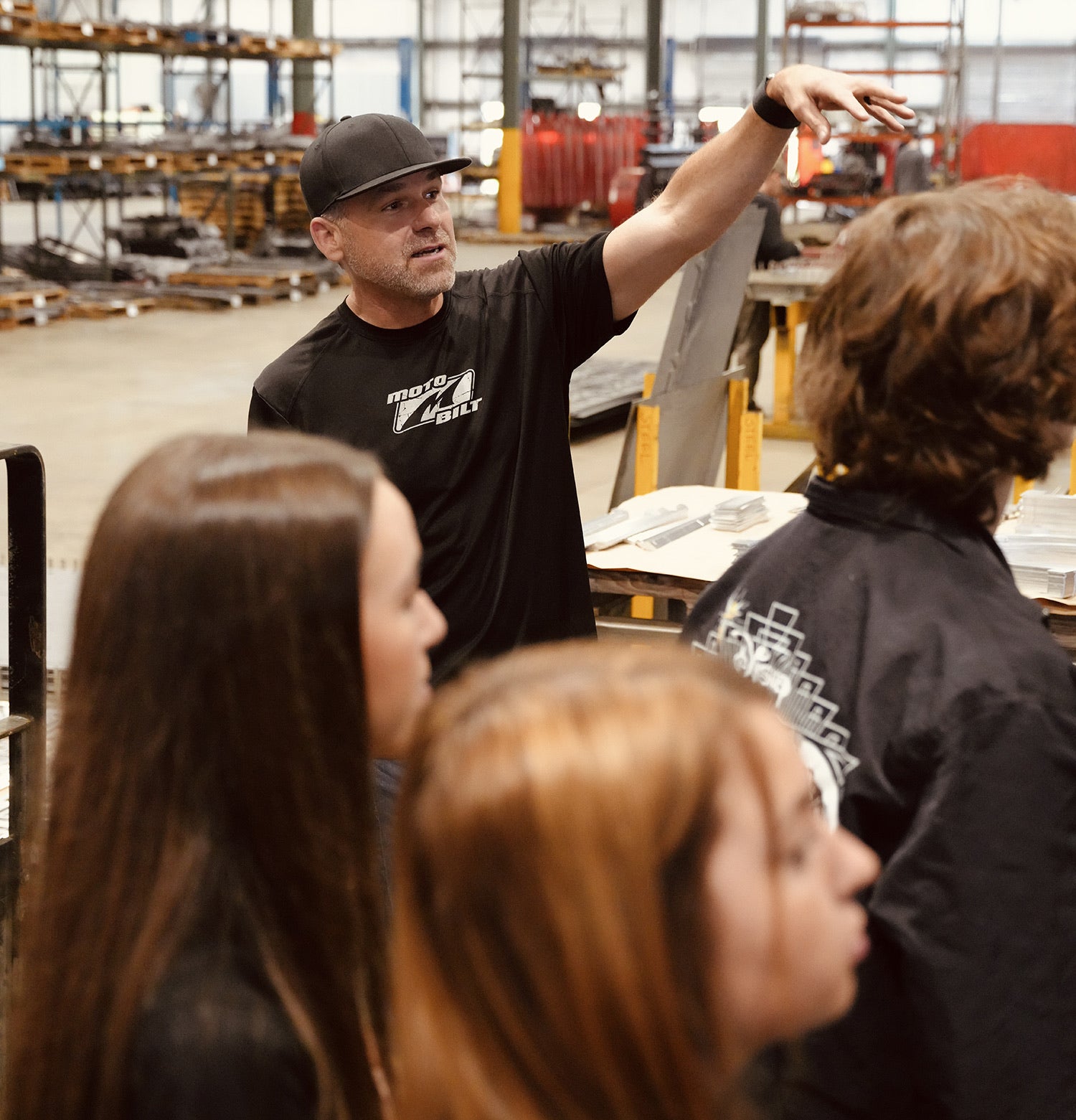 We were honored to host the Dale County Youth Leadership Program today at the Motodome. The DCYLP is a local non-profit and tax exempt corporation with the mission of building leadership among selected juniors in five high schools in the area. It is most excellent to see young minds looking toward not only their future, but the one they'll help build for the rest of us to enjoy. 
We started off with a short meet and greet in the Motodome break room, where Founder/CEO Dan DuBose and COO Hunter DuBose shared a bit of history about the company, our origins and how far the Motobilt Team has brought this company since its inception. 

After a few questions, Dan and Hunter took the group out into the Motodome for the full, grand tour. We began on the Anvil Industrial side. Dan explained the differences between large, industrial projects compared to the Motobilt manufacturing side of things:
 The next stop on the tour is always a hit: the 10kw Fiber Laser cutter. It's a fascinating piece of machinery and, as Dan DuBose noted, after seeing it daily working here, it's still easy to be mesmerized. While the Motobilt Team is the human heart and soul of this company, it could be said that the laser cutter is the mechanical heart and soul, keeping the product components moving and onto the production floor. 

On to the press brakes! 



Dan and Hunter explained to the group the precision required to operate these machines. It's not a matter of simply plugging in numbers and going on autopilot, being a press brake operator requires skill and know-how to make certain each product component that leaves the laser is correctly formed to move down the production line. 
The last stop on the tour was the R&D and Prototyping area. You've all seen this section of the Motodome on social media. This is where Dan, Rob 'Bender' Park and the Design Team build the killer builds and prototype the latest rad Motobilt products. As always, the Motobilt YJ build, currently underway, was a hit. There's something about this build that appeals to almost anyone. 



We hope the visit to the Motodome gave some of these young people a spark to pursue new challenges in whatever career paths they undertake. The entrepreneurial spirit is what drives companies like Motobilt to go from dream to reality. Perhaps seeing the fascinating process of manufacturing in the Motodome put ideas in their minds to try something they'd never imagined.

The Motobilt Team wishes them all the best. We are glad they stopped by. 
---