The JT Gladiator Skid Plate System pre-launch contest turned out to be a lot of fun!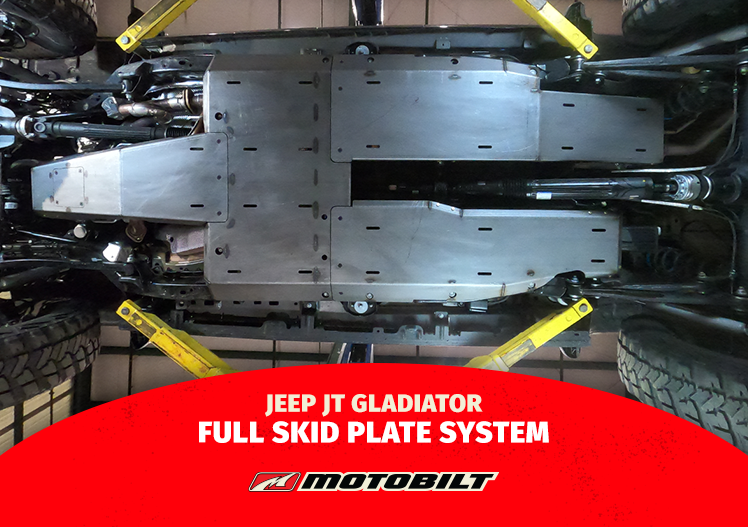 The JT Gladiator Skid Plate System pre-launch contest turned out to be a lot of fun! We'd like to first congratulate our winners for working so hard to earn points and win a fantastic deal on yet another quality Motobilt product. 
Dan Dubose went live on Facebook to announce the winners, along with showing out and showing off the latest Motobilt parts that our folks have been working hard to build. You can watch the video below:
 
Click here if you cannot see the above video
In the video above, you can see the Motobilt TJ-LJ FRONT HALF FRAME KIT, and it is a hot item. This kit is an innovative weld-on front steel frame replacement/upgrade for the hard core builder who wants to transform their Jeep TJ-LJ into a true off-road beast. You can also see the Jeep TJ back half kit installed. Rob "Bender" Park and Garret Johnson have been working hard on both Jeep builds you see in the video, adding killer Motobilt products and transforming them into Off-road ready machines. The Black JK build is packed full of Motobilt parts, like our Jeep JK-JKU High Clear Rear Inner Fenders, the Dual Rear Shock Towers, and the JL-JK Tail Gate Accessory Mount just to name a few. There'll be lots more to come on both these Jeep builds!
And then there's the Gladiator, and are you not entertained? Motobilt has been hard at work for quite some time to design and produce products for the Gladiator owner who demands the absolute best, and it's all coming together! Lots of new products coming, like the JT Gladiator Rocker Armor and Rocker Steps. Along with the brand new Skid Plate System, you'll see another new product, the Trail Rail Bracket kit. The Motobilt MB5022 Trail Rail Bracket kit easily adapts the Motobilt Cargo Rack MB5017 or the MB5018 to securely mount to the factory Trail Rail system in any Jeep JT Gladiator truck bed to provide you with an additional 5.6 to 7.9 square feet of raised cargo storage space in the bed. You can't beat that kind of innovation, and you surely can't beat the quality. 
We released the Motobilt MB1119 Jeep JT Gladiator MOLLE Bed Rack System some time back, but if you watch the video above, you can see how with a little customization you can turn the bed of your JT Gladiator into a practical, durable, and gorgeous space for all your Off-roading experiences. 
There's so much more in the video above that we'd be here all day if we tried to cover it all, so watch it. If for some reason you can't see the video above, go to our Facebook page to view it. 
We'd like to thank our Motobilt customers, followers, and fans for making this contest such a success. Congratulations again to our top ten winners, including Brett, Clay, Matthew, Brian, and the rest. You will receive a confirmation email soon giving you instructions on how to claim your prize. We know you're going to love your new JT Gladiator Skid Plate System, and we hope you'll hit us up on Facebook and Instagram with install photos! 
---