The Motobilt Bobbed Gladiator Finds a New Home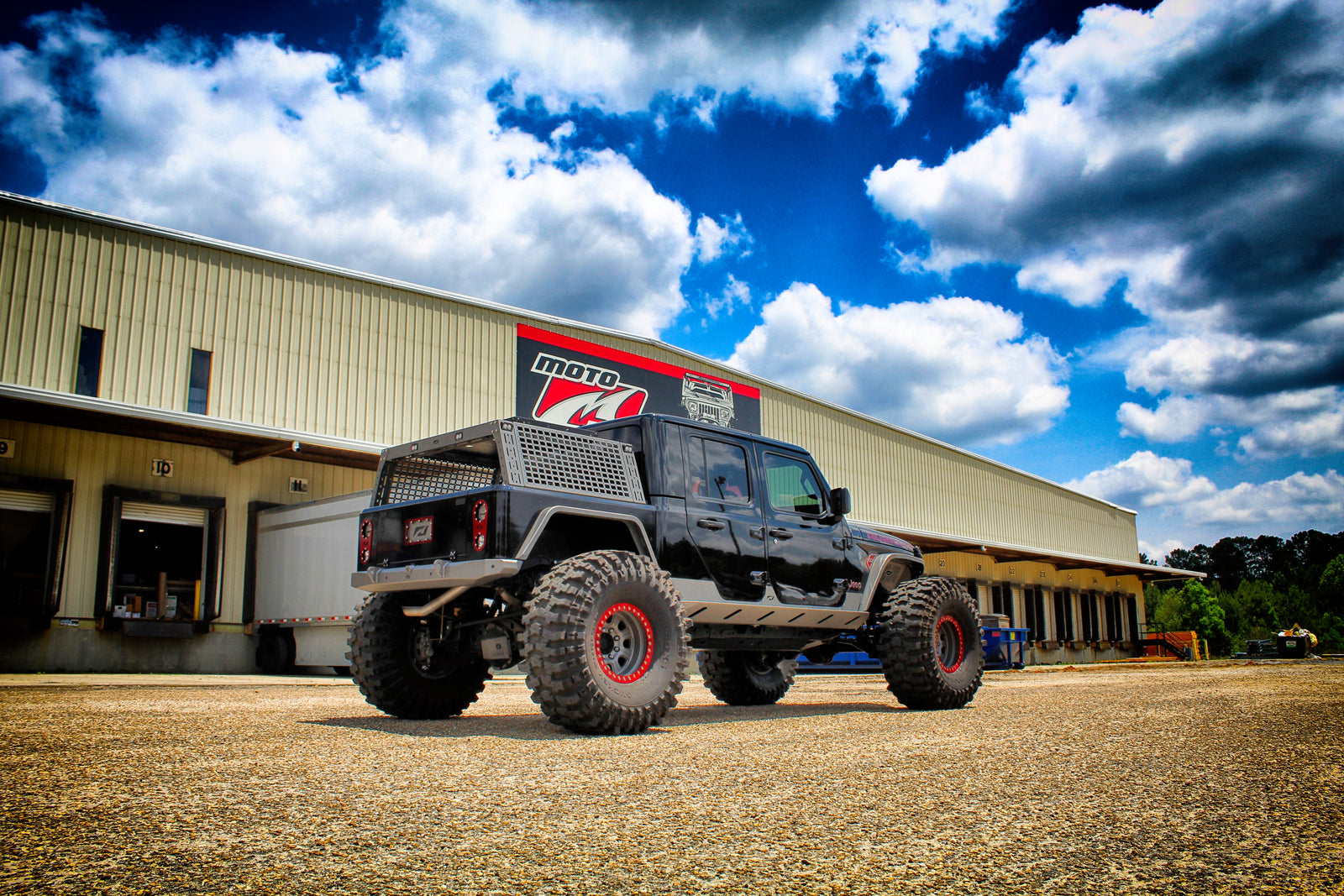 It just isn't going to be the same around here without seeing that wide stance, bobbed bed and gigantic, knobby tires, but the Motobilt Gladiator has found a new home with Lt Col Sean Wilson. Sean was excited to pick her up, to say the least, and we are excited for Sean as well.  He certainly has a one-of-a-kind Gladiator build with some serious social media traction, already.  The Bobbed Jeep Gladiator has been at its new home in Florida for only a few days and we are getting tagged by people taking pics of it. 
According to Sean, "[I] started a conversation with Hunter DuBose at the Florida Jeep Jam vendor stand.  She jokingly asked if I wanted to buy my girlfriend a Gladiator with my tshirt purchase.  She then joked about buying a really expensive Motobilt wine cup and they'd throw the Gladiator in for free.  I told her and Dan I was retiring from the military on that very day, after serving 33 years in the Marine Corps and Air Force.  After several conversations with Dan, we both realized we had been in Iraq working in same area! Next thing you know, Dan and I agreed on a deal - and rest is history!"
Dan DuBose stated, "When Hunter first mentioned selling the newly Bobbed Jeep Gladiator I really wasn't interested.  But... Sean seemed EXCITED and we felt he would really appreciate our Gladiator as much as we did. After all, Motobilt is not in the business to collect Jeeps.  After much thought, I (finally) agreed to the Gladiator's new home. Sean was so excited, that we stayed in the field after Florida Jeep Jam closed and he initiated the wire transfer and closed the deal."
It is history, and there is a lot of history built into Sean's new Gladiator. The Motobilt Bobbed Bed Jeep Gladiator was purchased the first week the Jeep JT's hit dealership showrooms from Chuck Stevens Automotive group in Alabama.  Motobilt was right in the middle of relocating to our new manufacturing facility to Ozark, AL when the Gladiator arrived at the shop. The first part to be prototyped was the Motobilt Ultimate Dana 60 Axle Truss and from there, many products were prototyped and put into production. There's the Crusher Rear Bumper for Jeep JT Gladiator, as well as the Gladius Rear Bumper, our MOLLE Panel storage panels for Jeep Gladiator and don't forget the most recent: the Bobbed Replacement Bed for Jeep Gladiator, which is currently making waves out in the social media world. 
We hope Sean enjoys the Bobbed Beast as much as Motobilt has, because we're going to miss seeing it around the Motodome. 
Now onto new things, new challenges and new, innovative products from Motobilt. Stay with us this year, some very rad things are going to happen. 
---
1 comment
---
---