Introducing the Ultimate Fender Upgrade: Unveiling Motobilt's New Product Release!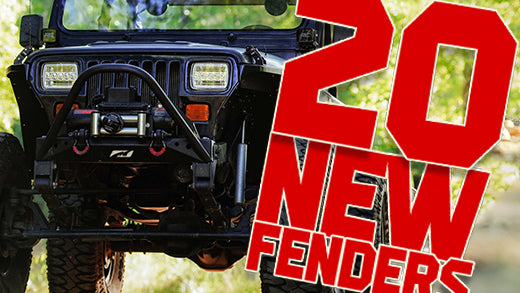 Get ready, off-road enthusiasts! Motobilt is thrilled to announce an exciting new product release that's set to revolutionize your ride. On September 1, 2023, we're rolling out 12 different updated fender options designed to take your Jeep YJ, TJ, or LJ to the next level. Buckle up as we take you through the highlights of this much-anticipated release!
Enhanced Vent Design for TJ Fenders
We've heard your feedback, and we're excited to share that our TJ fenders now feature an updated vent design. This enhancement not only adds a touch of style but also improves ventilation to keep your engine running cool under the most demanding off-road conditions. It's all about achieving peak performance while turning heads on the trails!
Perfect Fitment for TJ High Line Fenders
We believe in continuous improvement, and that's why we've made some slight design changes to our TJ High Line Fenders. These refinements translate into better fitment, ensuring that your fender installation is seamless and hassle-free. Your ride deserves nothing less than perfection, and that's exactly what our TJ High Line Fenders deliver!
Introducing Jeep YJ High Line Fenders
Hold onto your seats, YJ enthusiasts! We're thrilled to unveil the all-new Jeep YJ High Line Fenders. These fenders are designed to elevate your off-road experience while maintaining that classic Jeep aesthetic. With a design that allows for larger tires and improved clearance, our YJ High Line Fenders are the ultimate upgrade you've been waiting for.
Optional Aluminum Inner Fenders
Want to take your fender game even further? We've got you covered! As part of this release, we're introducing optional aluminum inner fenders. These inner fenders not only enhance the overall look but also offer durability and protection. It's the perfect combination of style and function for your off-road beast.
Choices Galore: Aluminum and Steel Options
At Motobilt, we understand that every off-road journey is unique. That's why we're offering all our new fenders in both aluminum and steel options. Whether you're looking for lightweight agility or rugged durability, we've got the material that suits your needs. The choice is yours!
As we gear up for this exciting release, mark your calendars for September 1, 2023. It's a date that will redefine your off-road adventures. Get ready to upgrade, customize, and conquer with Motobilt's new fender options.
Stay tuned for more updates, and keep the off-road spirit alive!
For the latest news, products, and all things off-road, follow us on Instagram and Facebook.
Got questions or need assistance? Reach out to our expert team at info@motobilt.com or call 334-219-2333
---