New! Motobilt Jeep JL Front Bumper With Fog Lights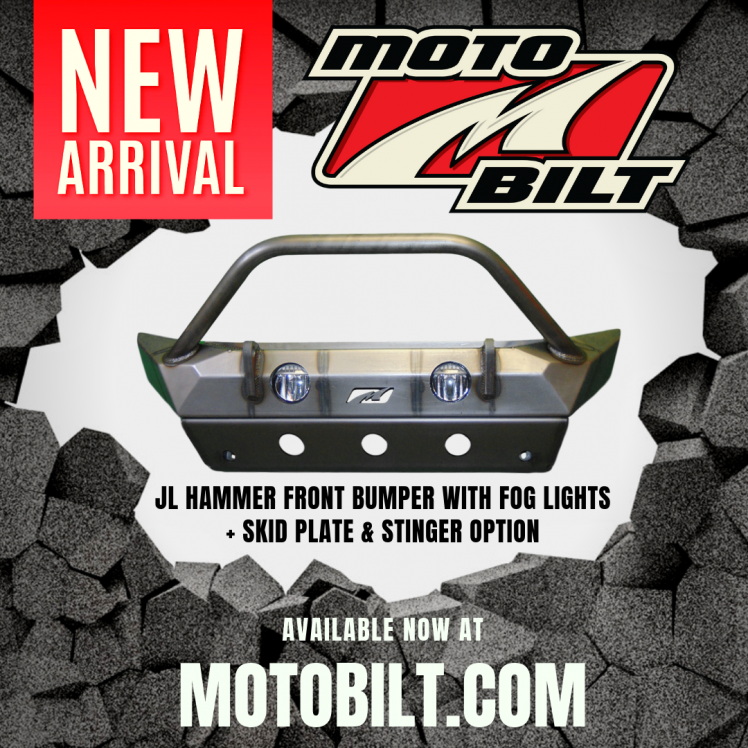 You asked for it and we have delivered!  Motobilt is proud to announce the Hammer line of front bumpers is now available for the Jeep Wrangler JL.  Not only is this one of the best looking bumpers out for a Jeep JL it also has provisions to use your factory fog lights or aftermarket units!  The Motobilt Jeep JL Hammer front bumper offers you more then just fog light mounts as we have 4 different versions to choose from to meet your specific needs!
First up is the base model Hammer front bumper.  Part number MB1090F.  This is the platform that the entire Hammer series is based upon.  This bumper is made from 3/16" laser cut steel plate and welded by the expert fabricators in house here in Dothan, Alabama.  Each bumper provides 2 massive 3/4" thick cut steel D-rings that pass through the bumper so that the can be welded inside and out.  Unlike other bumpers on the market we mount our D-rings on at least 2 seperate surface planes. ie. We do NOT simply weld it to a flat plate surface.  Besides looking great we mount it on two planes to increase the structural rigidity of the mounts.  Click here for more information.
We thought what could be better then an all new JL Hammer bumper?  An all new JL Hammer front bumper with skid plate that's what!  The skid plate version bolts to the bottom of the hammer bumper then down to the factory mounting locations on the crash bar.  This new skid plate offers further protection from rocks, road debris, and much more.  The skid plate also really looks amazing when tied together with the Hammer front bumper.  Click Here for more information.
No we did not stop with just 2 awesome bumpers but we stepped it up and offered 4 new Jeep JL bumpers!  The next two choice that we offer include a steel tube stinger that is fully welded and gusseted to the bumper.  No cheap flimsy bolt on crud here!  We used the same tubing used in our roll cages or in many off road tube buggies.  (1.75" x 0.120" DOM)  We CNC cut, bend, and notch each tube so that it fits and looks perfect.  Next we laser cut a 3/16" formed steel gusset to strengthen the mounting of the stinger and weld it to the bumper.  Click here for more information. 
This bumper is ready so no need to wait.  Order yours today by clicking here!
---