New Product: Jeep JL Crusher rear bumper works with spare tire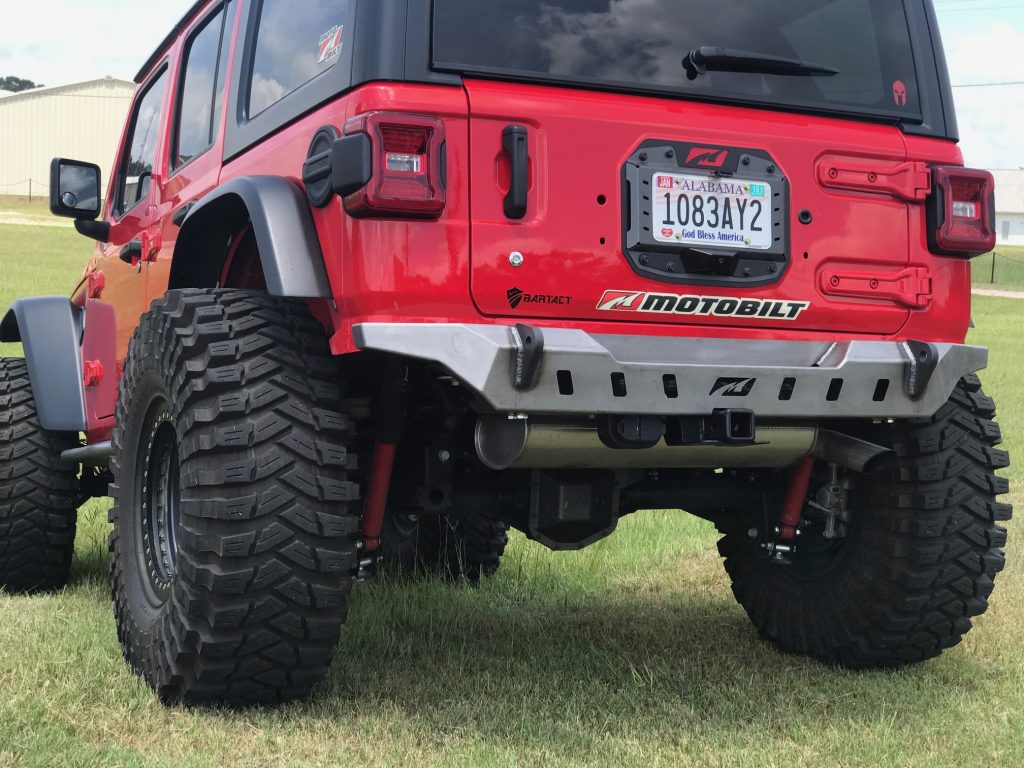 The brand new Jeep Wrangler JL Crusher rear bumper allows you to run a spare tire with the cutout built into the bumper. Whether your using a factory spare tire carrier or an aftermarket carrier there will be plenty of clearance for those larger tires! This ultra heavy duty Jeep bumper is laser cut, CNC bent, and welded right here in Dothan, Alabama. We design, manufacture, and distribute all of our parts right here in America. You can rest assured your bumper will not only look and perform flawlessly but also fit perfectly.
The new Wrangler JL Crusher rear bumper features our high clearance ends that protect the vulnerable corners of the Jeep JL. These allow you to have full protection but also vital clearance for those serious off road trails. The bumper mounts securely with a total 8 bolts.
The Jeep Wrangler JL towing capacity remains the same as the factory receiver hitch is retained. No worries if your setup will work with this setup! Like all of our Motobilt bumpers this one ships bare metal so that you can paint or powder coat it to match your preference. This way your bumper looks exactly how you want it and it will not be scratched up during shipping.
When building the Crusher rear bumper we designed to maintain the best possible departure angles by keeping it tight and close to the body. Your able to have full protection without sacrificing ground clearance. Also in case you do get stuck the massive 3/4" thick steel d rings provide safe and secure recovery points.
Another great design feature of the Wrangler JL Crusher rear bumper is the slotted holes in the bumper. These not only look awesome they serve as a lifting point for a high lift jack. When using a high lift jack you need a secure point to lift front that will not allow the Jack to slip or slide off. Another nice feature is we provide 6 different holes so you can place your jack in the safest possible position. If you have any questions you can contact us at
info@motobilt.com
or call us at 334-219-2333
---