Custom Build Jeep YJ 4 Link Suspension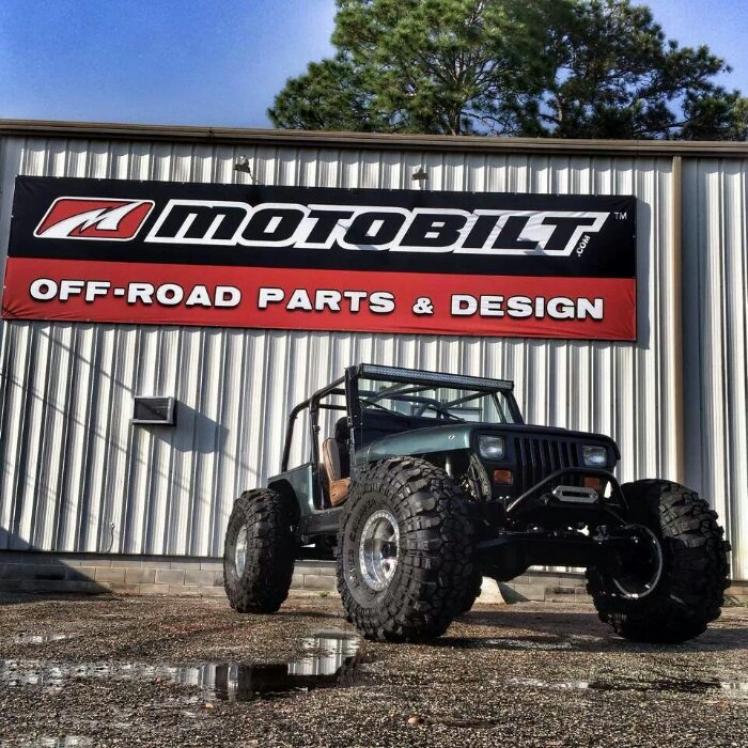 Years ago I built a lot of full width axle Jeep YJ's while starting another company. Oddly enough one of the first builds I am putting together as I start a new company is a built Jeep YJ. In years past the builds took on a different form. In those days the hot thing was 1/4 elliptic suspension or buggy springs.
This Jeep YJ build is going to feature many new Motobilt parts you guys/girls will be able to purchase in kit form. We are going to 4 link the Jeep front and rear and install KING Coilovers front and rear. The suspension is something I have been thinking about for a long time. If everything goes as planned it will produce a kit that will be easier to install and set up for at home builders. The rear section of the frame has already been cut off. The plan there is to build a back half kit to make room for coilover shocks.
The Jeep has a Chevy Dana 60 front and 14 bolt rear. The tires are Super Swamper SX 43″ on 17″ Allied Beadlocks. The engine is the stock 6 cyl, stock auto tranny, and a Atlas t-case. I am not sure if the customer will change out the engine and tranny but I have a feeling he will at some point in the future. (Update: the customer has installed a chevy LS series motor and it does fit!)
I will do my best to update this post all along with pictures of the progress and parts used.
| | | | |
| --- | --- | --- | --- |
| The Build begins | This is how the Jeep first showed up | The YJ back half kit layed out | YJ back half kit installed |
| Birds eye view | Chevy 60 front mocked into place | 3D model of the YJ back half kit | |
| The YJ back half kit in 3D | GM 14 bolt race truss installed | GM 14 bolt race truss spans the width of the axle | Pinion guard is built into the truss kit |
| Upper link mount shown on the YJ 4 link kit | Complete YJ 4 link kit shown | YJ 4 link frame rail sections | YJ 4 link frame rail sections welded up |
| YJ skid plate built into 4 link kit | Before we weld the 4 link kit | Nice smooth belly pan | Nothing to get hung up on with this skid plate. |
| YJ 4 link mocked into place | 4 link kit modeled in 3D | PSC 2.5″ double ended ram for the Chevy dana 60 front | Back half kit and GM 14 bolt race truss shown |
| Made in the USA Tube adapters at Motobilt | YJ back half kit gives room for the big axles and coil overs. | Check out the rear end on this beast | GYJU upper coil over mounts used with fender tops |
| | CJ/YJ Fender tops shown | Fender tops give you another 4″s of clearance | Fender tops shown with YJ behind the seat fuel cell |
| Motobilt Stubby MB1000 front bumper shown | The YJ behind the seat fuel cell | We no longer weld the mounts to the fuel cell | Mounts are no longer welded to the fuel cell |
| | | | |
| | | | |
| | | | |
| | | | |
---