Dirt Road Cred reviews the MOTOBILT Spare Tire Carrier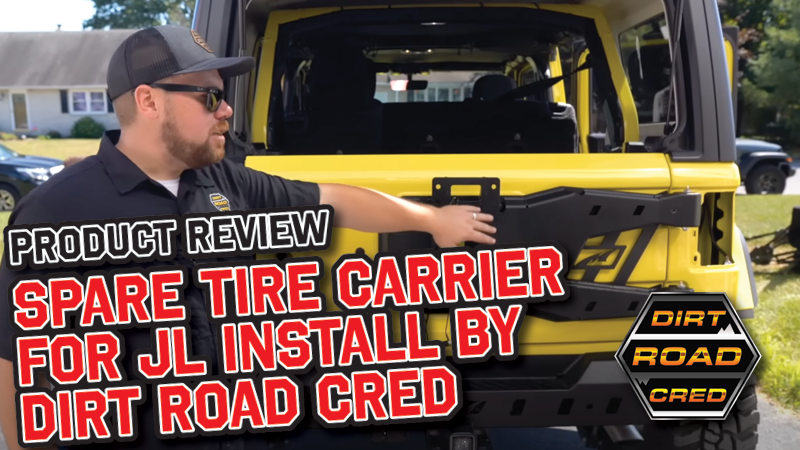 The Best Spare Tire Carrier for the Jeep JL? A Review by Dirt Road Cred
Jeep enthusiasts, if you're on the hunt for the perfect spare tire carrier for your Jeep Wrangler JL, look no further. The Motobilt JL Tire Carrier is the solution you've been waiting for, especially if you're planning to install larger tires. But don't just take our word for it; Dirt Road Cred, a premier off-road content channel, has given it a thorough review in their installation video.
Dirt Road Cred's Take on the Motobilt JL Tire Carrier
In their YouTube video, Dirt Road Cred dives into their need for a tire carrier replacement, highlighting the Motobilt tire carrier. They discuss its benefits, including its DIY installation process, and share their hands-on experience with the product. If you're curious about how it performs, this review is a must-watch. Check out the full video here: The Best Spare Tire Carrier for the Jeep Wrangler JL?
Why Choose the Motobilt JL Tire Carrier?
The Motobilt JL Tire Carrier stands out for its robust construction and user-friendly design. Unlike many aftermarket carriers that require multiple pieces and frequent adjustments, this tire carrier is a solid unit. It's a straightforward bolt-on solution, making it a breeze to install even if you're not a seasoned mechanic. It's ideal for Jeep owners who want to fit larger tires, especially those 35" and above, but it's versatile enough to accommodate smaller sizes like 33".
Shop here: Spare Tire Carrier for Jeep JL
Key Features:
Solid Construction: One-piece design eliminates the need for additional parts.
Durability: Bumper-mounted carriers can wear out quickly due to limited support. The Motobilt JL Tire Carrier offers the strength and reliability you need without the fuss of complicated rod systems.
Easy Installation: Get your tire carrier up and running in just a couple of hours.
Things to Keep in Mind:
The carrier ships in bare metal, so you'll need to paint or powder coat it.
You'll have to remove the factory tailgate catch.
Some aftermarket tail light covers might interfere when the carrier is fully opened.
High lift jacks might not fit the accessory mounting holes as they could hit the tail light when fully opened.
About Dirt Road Cred
Founded in 2022, Dirt Road Cred is your go-to source for top-notch off-road content. They're dedicated to delivering the latest and best off-road lifestyle content on the internet. If you're passionate about off-roading, Dirt Road Cred is the channel for you.
In conclusion, if you're looking to upgrade your Jeep Wrangler JL with a reliable and durable spare tire carrier, the Motobilt JL Tire Carrier is the only logical answer. With its solid construction, easy installation, and stamp of approval from Dirt Road Cred, it's a worthy addition to any Jeep JL.
---