5 Essential Upgrades for Your Jeep Wrangler JK / JKU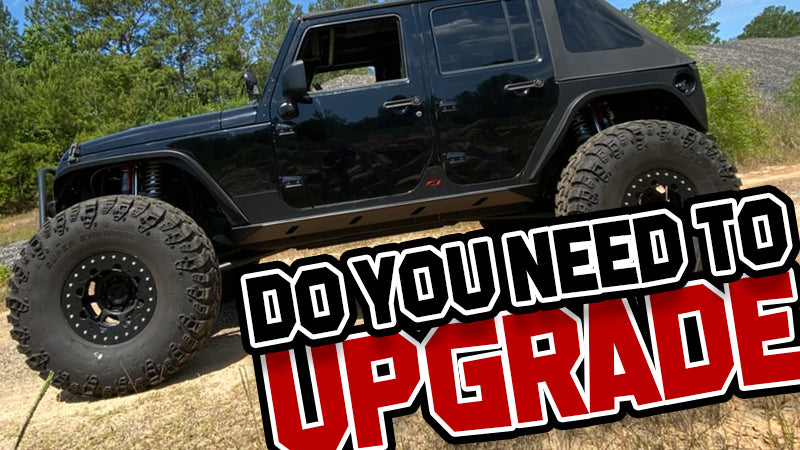 If you own a JK Wrangler, you know the urge to immediately start modding and upgrading your rig. The Jeep JK / JKU platform offers so many possibilities to take your Wrangler's capability, protection and style to the next level. After all who wants to show up to the trail or next Jeep meet in a basic Jeep? 

In this article, we'll cover 5 of the most popular upgrades Jeep JK / JKU owners can make to elevate from the normal basic Jeep. Whether you use your Wrangler for overlanding, rock crawling, or daily driving, these modifications will help maximize your JK's performance and move you away from basic status.

1. FRONT BUMPER UPGRADE 

One of the first things many JK owners change is the factory front bumper. Swapping in an aftermarket front bumper provides a tougher look while offering more protection on the trails. Additionally a platform suitable for a recovery winch.

Popular choices include stubby bumpers for greater approach angle or stinger bumpers with integrated skid plates to shield vital components from rocks and debris.

Motobilt offers several front bumper options for the JK including their Crusher Series and Tomahawk bumpers.


2. SUSPENSION LIFT KIT

Lifting your Jeep JK opens up more possibilities for larger tires while improving ground clearance for off-road terrain. A suspension lift kit lifts the body and chassis rather than just cranking up the springs.

High quality lift kits retain proper suspension geometry and ride comfort while providing lift. A suspension lift allows room for larger diameter tires. 
If you are looking for a bolt on suspension system option we highly recommend Rock Krawler Suspension for your Jeep needs.  They offer many different options suitable for both the street and trails. 
If you are wanting a more hardcore approach to the suspension Motobilt offers a number of DIY Builder Products.  We have products ranging from simple brackets and tabs to 4 link Systems for the Jeep YJ, TJ, LJ, JKU, JLU and more to come.  The builder items do require a little more skill and welding to install. However, if hardcore and the baddest Jeep on the trailer is what you are after it would be worth checking out. 

3. ROCKER GUARDS

Installing heavy duty rocker guards (also called rock sliders or side armor) protects the vulnerable side sills of your Jeep JK from trail damage.

They also provide a convenient step for entering the vehicle. Motobilt's Crusher Series rocker guards are made from thick 3/16" steel plate and feature a step.
If you are into wheeling hard and hitting rocks with a passion you should check out the frame mounted rockers we offer for the JK and JKU Wrangler.  They are manufactured from heavy duty 2" DOM tubing and feature larger mounts to spread the load out on the frame. Keep in mind this option does require the installer to weld them to the frame. 
SHOP JK / JKU ROCKER GUARDS


4. INNER FENDER KIT

Upgrading to an aftermarket inner fender kit allows you to run larger tires without rubbing or cutting up your wheel wells. With that said we do offer a different inner fender set for those running larger diameter tires that do require trimming the body some. 

Motobilt's JK inner fender kits are made of durable aluminum and designed specifically for the JK body lines.

5. REAR BUMPER

Finally, an aftermarket rear bumper improves both form and function on your Wrangler JK or JKU. Heavy duty rear bumpers add style and protection while allowing you to integrate accessories like recovery points, LED lights and more.

Motobilt offers the Crusher Series rear bumper for the JK and JKU both with and without a cut-out for the spare. For those looking for more clearance Motobilt offers a rear "frame chop" bumper.  This kit in a little more involved but the benefits off-road are worth the added time to install a frame chop bumper. 

NO MORE BASIC

Those are 5 of our picks for the best Jeep JK upgrades to transform your Wrangler from basic to amazing. For more ideas and product details, browse our full selection of aftermarket parts engineered specifically for the JK platform.

SHOP JK / JKU PRODUCTS
If you need assistance determining what parts would be best suited for your build please feel free to contact us at info@motobilt.com or call during normal business hours at 334-219-2333. Our experienced sale and tech support team will be happy to assist as you build your dream Jeep. 
---