Motobilt Tech Thursday "Windshield Light bar mounts"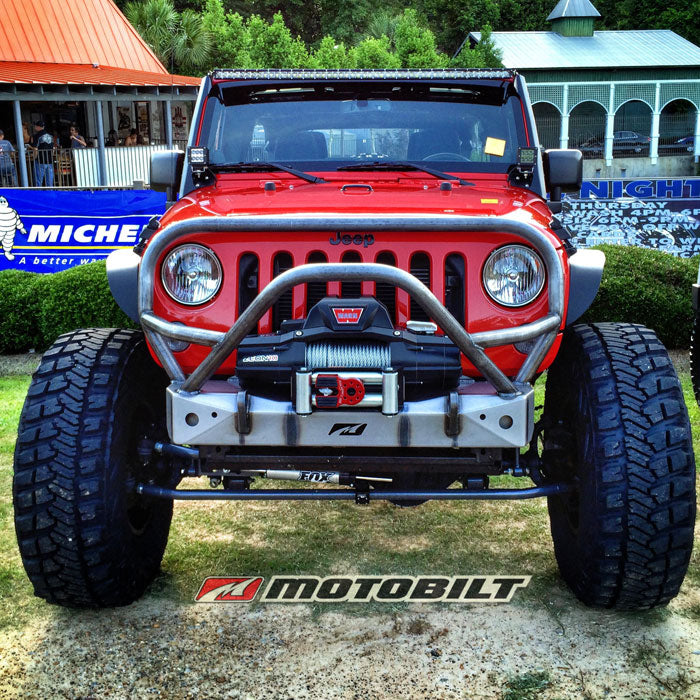 Anyone can see how the popularity of LED light bars has grown astronomically in the past 5 years. It seems every truck or Jeep on the road now has a light bar across the windshield. Off road lighting has been popular for many decades but with the advancements in LED technology it has recently exploded. While the popularity of the LED light bar across the windshield is quite impressive there is one major area that many people overlook, and that is the mounts. Many people buy a light bar then go to get mounts afterwards only to find out that mounts are not available in the size or application that they need. Another issue is they find a mount and install it, only realize they have a lot of wind noise, the bracket mounts the light in a terrible position, or the wiring doesn't have a clean install within the mount. Motobilt has worked diligently to address many of these issues with their line of Jeep windshield mounts. There are several sizes available for the Jeep JK, TJ, YJ, and CJ so that you can find a mounting solution for your light bar. Ex ( 50", 51 3/8", 52") Many mounts often do not travel the length of the windshield frame and this leaves the top corner unprotected. You may wonder why that is so important. When you are off road, you often encounter off camber situations such as traversing a ditch or side hill. This will cause the Jeep to lean over and rub a tree or embankment. The Motobilt mounts travel to the top of the windshield to protect the Jeep body and are made of thick 3/16" p&o steel.
Another failure point of the cheap overseas brackets is that they often place the light bar above the roof line or way in front of the windshield frame. This not only looks terrible, but it creates wind noise and leaves the expensive light bar more vulnerable. The Motobilt light bar mounts keep the light bar below the roof line and tight against the windshield which helps to protect the bar, looks great, and reduces wind noise.

One of the best features of the Motobilt light bar mounts is that they contour to the shape of the frame and maintain a space behind the bracket to hide all of your wiring. This provides a super clean and professional install. Bottom line: Motobilt parts are manufactured with a higher standard. We wouldn't sell you anything that we wouldn't put on our personal Jeeps. We are Jeep Freaks. We eat, sleep and breathe our work and take pride in each part we manufacture. When you purchase a Motobilt part, you are supporting a small American business with a focus on quality. We proudly stand behind our parts and service and hope to earn your business one bracket or tab at a time. If you ever have any questions about a part, please give us a call at 334-219-2333.
---