Jeep YJ Full Width Axle Swap on 44 inch Super Swampers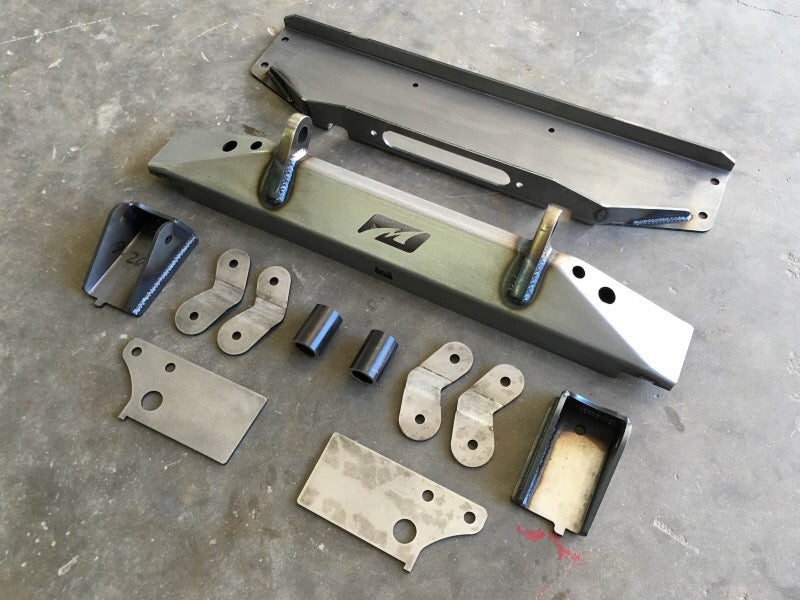 Motobilt is in the process of installing the prototype full width axle conversion kit designed for the Jeep YJ. It is fitting that this kit is being installed in this shop. Many years ago Dan DuBose prototyped another full width axle conversion kit in the same shop. This time all of the things learned were put into this kit. One of the main goals was to lower the overall ride height by a couple inches. Be sure to follow along as we post more pics of this build. This is an old school build and is proving to be a lot of fun. Charles Bode from The Swamp (Mobile Swamp) outside Chipley, FL has been working hard on this build along with our team at Motobilt. Once the front and rear Motobilt suspension products are installed this full width axle beast of a YJ will be headed back to the Swamp for an engine swamp and other modifications.
We also installed out Jeep YJ rear stretch kit on this Jeep YJ with a Corp 14 Bolt Full Floater. The rear axle was outfitted with our new u-bolt eliminator spring perches.
The rear brake drums on the 14 bolt axle were removed and Motobilt disk brake brackets were installed with 3/4 Chevy front rotors and calipers. The axle will receive traction link brackets soon.
---