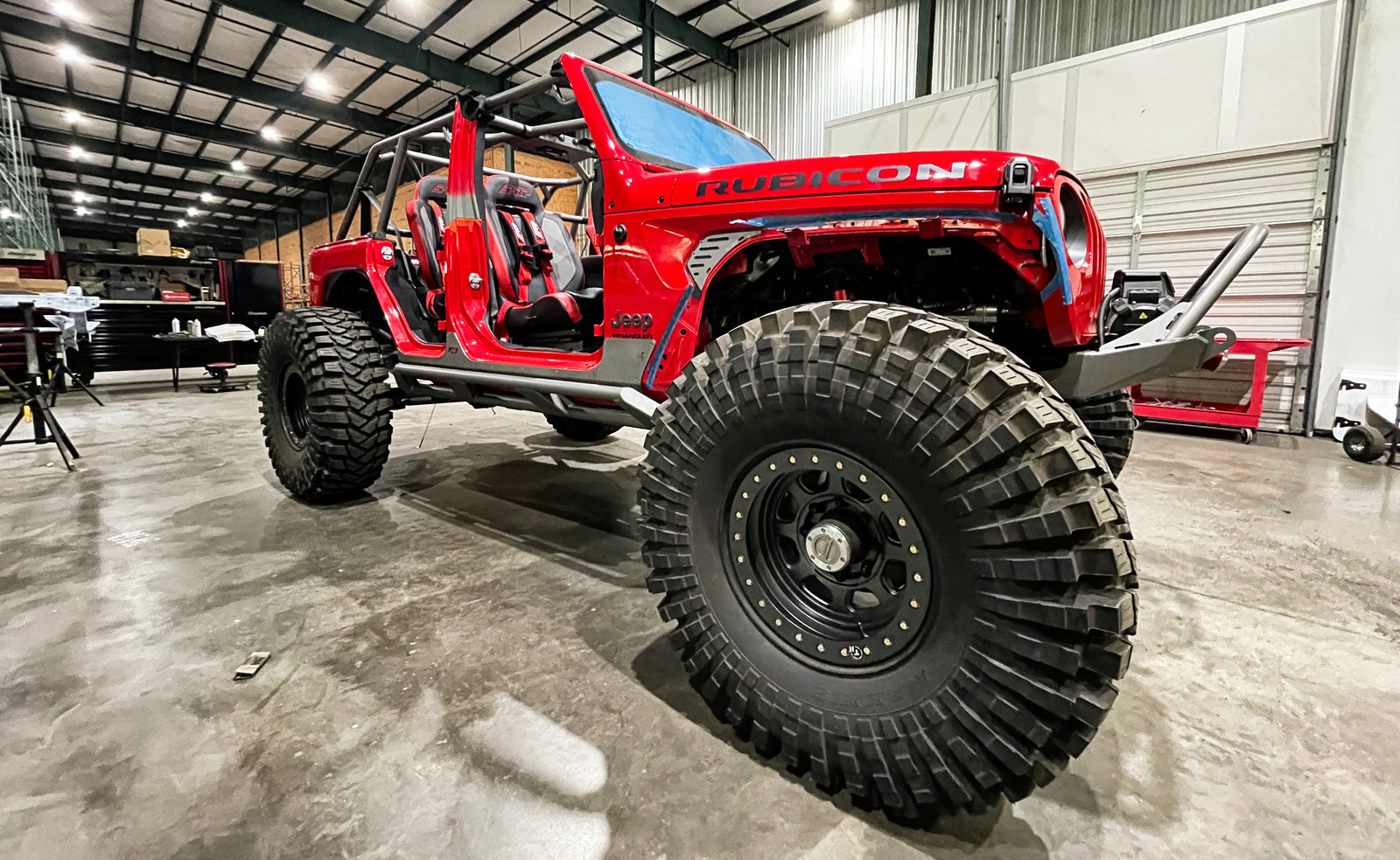 We've been rolling out the products here at the Motodome as of late. The Design Team, Fabrication Team, the Production Team and heck, the entire Motobilt Team has been kicking butt getting everything set up and ready to head out the door. 
We've added an all-new Jeep YJ stretch tank fuel cell, complete with skid plate, massive frame-mounted rocker guards for Jeep JL, LED light mounts for the Motobilt Tomahawk Frame Chop Bumper and, if you somehow missed the news, LED light mounts for the new Ford Bronco. 
First up: the all-new Motobilt YJ Rear Stretch Tank with Skid plate.
If you're looking to stretch the wheelbase on your Jeep YJ, this is the replacement fuel cell you want. Gain upwards of 8" of stretch depending on your axle and ride height / bump height. Installation is easy and straight forward.  You can also see the install instructions here.  You simply drop the factory Jeep YJ gas tank and the Motobilt Jeep YJ Stretch tank bolts into the factory bolt locations.  The Motobilt Jeep YJ Stretch Tank is designed to work with the factory frame. It will NOT work with the Motobilt Back Half Frame Kit. This kit comes with what you need to stretch that frame and get that rock crawler build underway. 
 Up Next: The Motobilt 
Frame Mounted Rocker Guards for Jeep JL 4 Door
'Beeficity.' It's a word that myself and Rob 'Bender' Park have used in several Motobilt videos on YouTube. If you're looking for a set of rocker guards that can take all kinds of punishment, these are the ones. 
The key phrase here is: frame mounted. These rocker guards are weld-on, not simply bolt-on. They're so strong you can use them as a highlift jack point. Take a look at the surface area of the welding surface:
Approximately 9"x4", these welding points, made from 3/16" steel, provide ample area for a fitment and strength that surpasses many other similar products on the market. Given the fact there are three welding points on each rocker, well these things aren't going anywhere once mounted.
On the tubing side of the frame mount the surface area is spread out to 3 times what tube to tube would offer. The Motobilt Frame Mounted Rockers are the ultimate in strength and durability. Get your 4-door JLU ready for just about anything with these rockers. 
We've got more new products in our collection, so check them all out here. 
And stay tuned next week for more new product releases. Sign up for our newsletter below. If you haven't signed up, do so and you'll receive an email with a 10% discount on your first Motobilt purchase. 
Thank you for being a Motobilt customer, fan or follower!
---