The New Motobilt 'Jerry Can' and Gas Can Mounts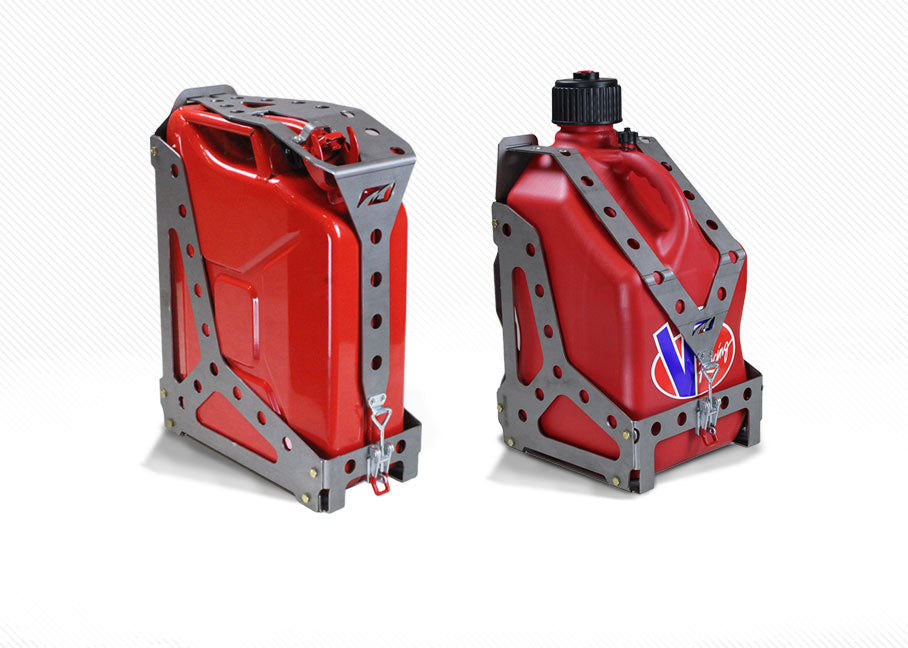 Quick Glance: 
Securing the Cans | Plenty Of Options | Ability to Link Mounts
There are myriad options these days to mount 'Jerry Can' style and other gas cans. In fact there are so many options to mount gas cans on the market, making a decision can be tough. Sometimes it comes down to pure personal preference. 
So why choose the new Motobilt options?
Well, for one thing they look fantastic. But you've come to expect that with Motobilt products. Sleek, clean lines and style that do not take away from the functionality of our Jeep and off-roading products. So now that we've gotten that out in the open, we'll move on to the features of both of our new gas can mounts. 
Securing the Gas Cans
First and foremost is securing the gas cans. Many Jerry Can mounts out there require extra metal or ratchet straps to fully secure the can inside of a blocky, bulky apparatus. The Motobilt mounts have all you need in one package to secure your gas cans from both theft and rattling around on the trail. 
Plenty of Options 
The Motobilt Jerry Can Mount for Wavian and Harbor Freight NATO Gas Cans is the option to choose for the 'NATO' style Wavian and Harbor Freight 'Jerry Cans'. This mount is extremely useful and versatile, and allows you to choose the Jerry Can you want to mount. Whether you use the Wavian can with or without the optional spout, or the Harbor Freight can, this mount will allow you to secure either (or link them and use both types if you want). This is accomplished by including with this mount a block off plate for Harbor Freight cans and Wavian cans without the spout. We also include a small bracket (not shown below) that will clamp down on the Harbor Freight can to keep it secure and from rattling. 
If you're wanting to mount the VP Racing style gas can, you'll want our Motobilt Race Gas Jug Mount for VP Racing 5 Gallon Fuel Cans. This mount is just as secure as our Jerry Can mount and, like both mounts, there are any number of applications from lawn care trailers to race trailers. 
 Just like the Motobilt Jerry Can Mount for Wavian and Harbor Freight Cans, this mount is sleek, very secure, and once assembled, both mounts make it easy and convenient to place and remove the gas cans. 
Do you need more than one gas can mounted? Both the Jerry Can and Race Fuel Jug mounts are linkable. This is covered in detail in the assembly instructions provided with both mount models. 
Not only do you have the options to link the mounts side-to-side, but you can also mount them back-to-back. Find that feature elsewhere! 
Pick Up Yours Today
To state it again, these mounts are versatile, secure and stylish. There are so many applications for either mount. Out on the trail with your Jeep, overlanding, race car trailers, lawn care trailers, personal water craft and the list goes on. Get yourself a couple and tell your friends who might not be into Jeeps or off-roading about them. 
---