ComandoJK's 1 ton axle swap kits from Motobilt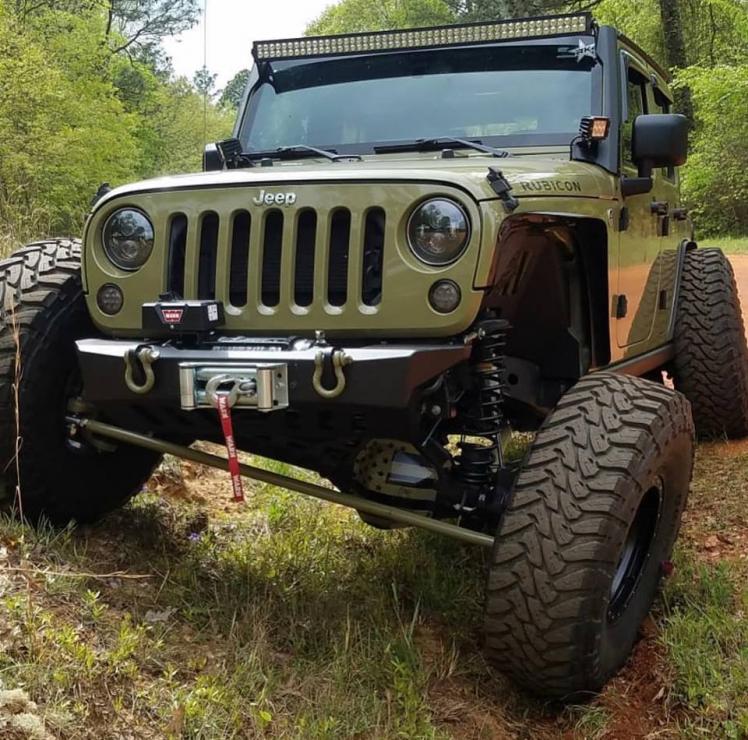 You may have seen this green 4 door JK on instagram as ComandoJK.  This beast of a Jeep is rolling on 40″ Toyo MT's with only a 2.5″ lift kit with custom made control arms from Hitlist Offroad.
The foundation for these massive tires and low COG build is a 1 ton axle swap using the Motobilt kits.
In front ComandoJK is using a 2005 and up Ford Dana 60 Super duty axle.   This kit includes a low profile diff cover that is integrated into the axle truss.  This means the kit is easy to install and only goes on way for a fool proof install.  You can find this kit at by clicking here. 
JEEP JK 1 TON SWAP TRUSS KIT SUPER DUTY DANA 60
In back a GM 14 bolt rear axle from a 1999-2006 2500 or 3500 SRW axle was used.  The correct axle axle must come from a truck and will have a "WMS" measurement of at least 68″s.
This rear axle is used instead of the sterling 10.25 rear to avoid drive shaft interference with the stock gas tank.  
Typically you can drill out the rotors and hubs on the front axle to match the 8.65 rear axle pattern or you can run adapters.
JK REAR 1 TON AXLE SWAP WITH GM 14 BOLT
---