Jeep® Introduces the Latest Jeep Wrangler JL/JLU for 2024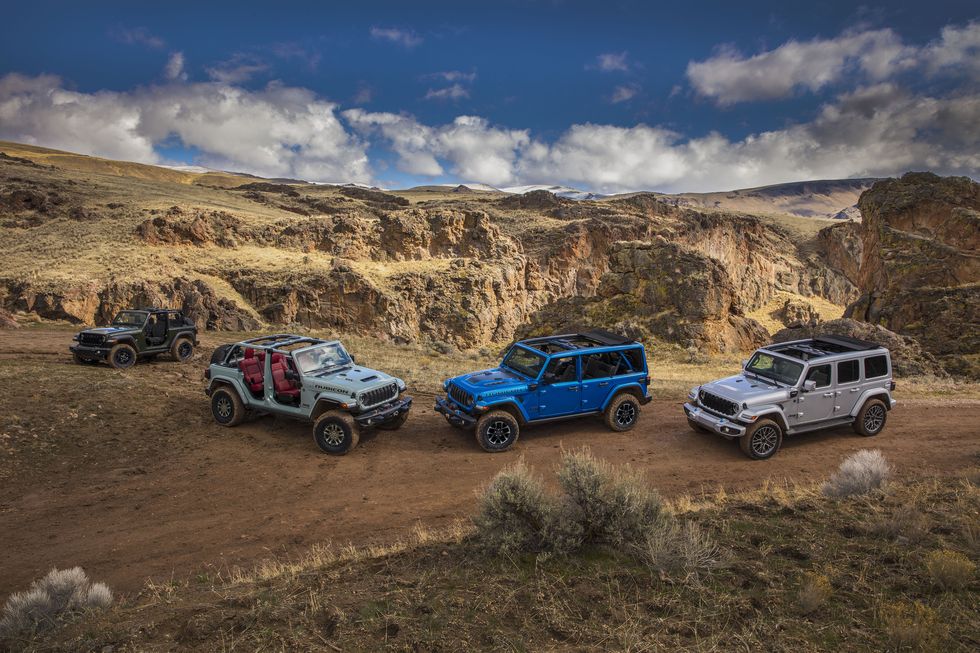 For some people, the Jeep Wrangler is a hobby, for others it's an entire way of life, representing freedom and independence. Around here, the Motobilt team eat, sleep and breathe Jeeps, from old school to new school. So when Jeep introduces major new upgrades to the Wrangler, of course we're paying attention. 
And Jeep has done just that with the 2024 Wrangler (JL/JLU) upgrades. Let's see what all's happened with the new Jeep Wrangler, shall we?
"[T]he Jeep brand is taking the Wrangler capability game to new heights with its first full-float Dana rear axle, available 100:1 crawl ratio, new factory Warn winch and increased 5,000-pound tow capability. Inside, customers get to experience more comfort and safety, with a new interior featuring available power front seats, standard 12.3-inch Uconnect 5 touchscreen radio and standard side curtain airbags in the first and second rows." [1]
"The new 2024 Jeep Wrangler is an illustration of how powerful the Jeep community is and how they keep driving improvements based on their expectations of greater capability, advanced technology and more refinement," said Jim Morrison, senior vice president and head of Jeep brand North America. "With the plug-in 4xe playing a lead role in the lineup, the new Wrangler takes the best and makes it better, with even more legendary 4x4 capability, thanks to our first full-float Dana rear axle that makes it possible for Wrangler owners to easily upsize tires..." [2]
"[T]he EcoDiesel V6 is toast. For 2024, standard Wrangler buyers can choose from either the Pentastar V6, the 2.0-liter turbocharged four or the 6.2-liter "392" Hemi V8. Only the V6 can be mated to a six-speed manual now; the turbo-four and V8 are available exclusively with an eight-speed automatic." [3]
And the changes are just with the drivetrain. The grille has undergone some aesthetic changes as well:
"A quick glance at the refreshed front end shows exactly what you would expect: the same broad-nosed Wrangler face we've all grown so accustomed to over the previous decades. Under more scrutinizing eyes, you can see each slot of the grille is now more distinct, and the mesh behind the slots has been opened up. The normally flat bodywork beneath each headlight has been replaced and instead incorporated into the mesh backing. The 2024 Rubicon models may look even more distinct, as buyers now also have the option to add a factory-backed Warn winch with an 8000-pound capacity." [4]
"Inside, the most drastic change comes from Jeep dropping the old infotainment options in favor of a newly standard 12.3-inch center touchscreen that uses Uconnect 5 software. It also features standard wireless Apple CarPlay and Android Auto. Trails Offroad software is integrated directly into the center screen, giving access to guides for Jeep's 62 Badge of Honor trails (or the option to subscribe for access to over 3000 trail guides). Soft-touch fabrics with contrast stitching now wrap the instrument panel and round out the minor interior updates." [4]
Love it or hate it, there's something for just about every Jeep lover in the new upgrades and Jeep has definitely taken a risk by daring to tweak the grille design. 
What are your thoughts? Drop a comment below! 
Images belong to respective sources below
[1] JL Wrangler Forums: Jeep® Brand Introduces New 2024 Wrangler
[2] Autoweek: Jeep unveils 2024 Wrangler at New York Auto Show
[3] autoblog: 2024 Jeep Wrangler reveals more tech, refinement — and a cheaper 4xe
[4] Car and Driver: 2024 Jeep Wrangler Risks It All with Change to Iconic Grille, But It Works
---
1 comment
---
---