Motobilt Introduces the JK 1 ton axle swap kit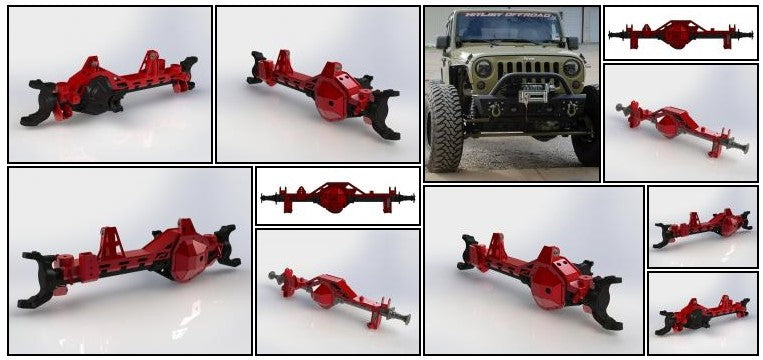 Motobilt is proud to introduce its new 1 ton axle swap kits for the Jeep JK. These kits were designed around the 2005 and up Ford Super Duty Dana 60 front axle and the 1999-2006 GM 14 bolt rear axle. We wanted to make a kit that would set itself apart from the rest and we believe we have accomplished that.
Truss that spans the majority of the axle
Indexed system for easy no measure install
Front integrates diff cover with upper link mount
Front includes frame mounted track bar bracket
Low profile design.
By spanning the length of the housings with our truss we are able to tie the coil spring mounts, control arm mounts, and track bar brackets all together. This means it all fits together and eliminates mounting mistakes. Our front truss includes a low profile extreme duty diff cover that has an integrated upper link mount. The rear 14 bolt kit ties into the front pinion support to index everything properly and adding more strength. The front Ford Super Duty 05+ kit includes Currie Johnny Joints and the lower link mounts are 3-D formed to fit the axle tube and angle inwards to help align the lower control arms. The front also includes a frame mounted track bar bracket. We also included holes in the top of the truss for Air locker fitting access.
---