An entire MONTH of savings at Motobilt!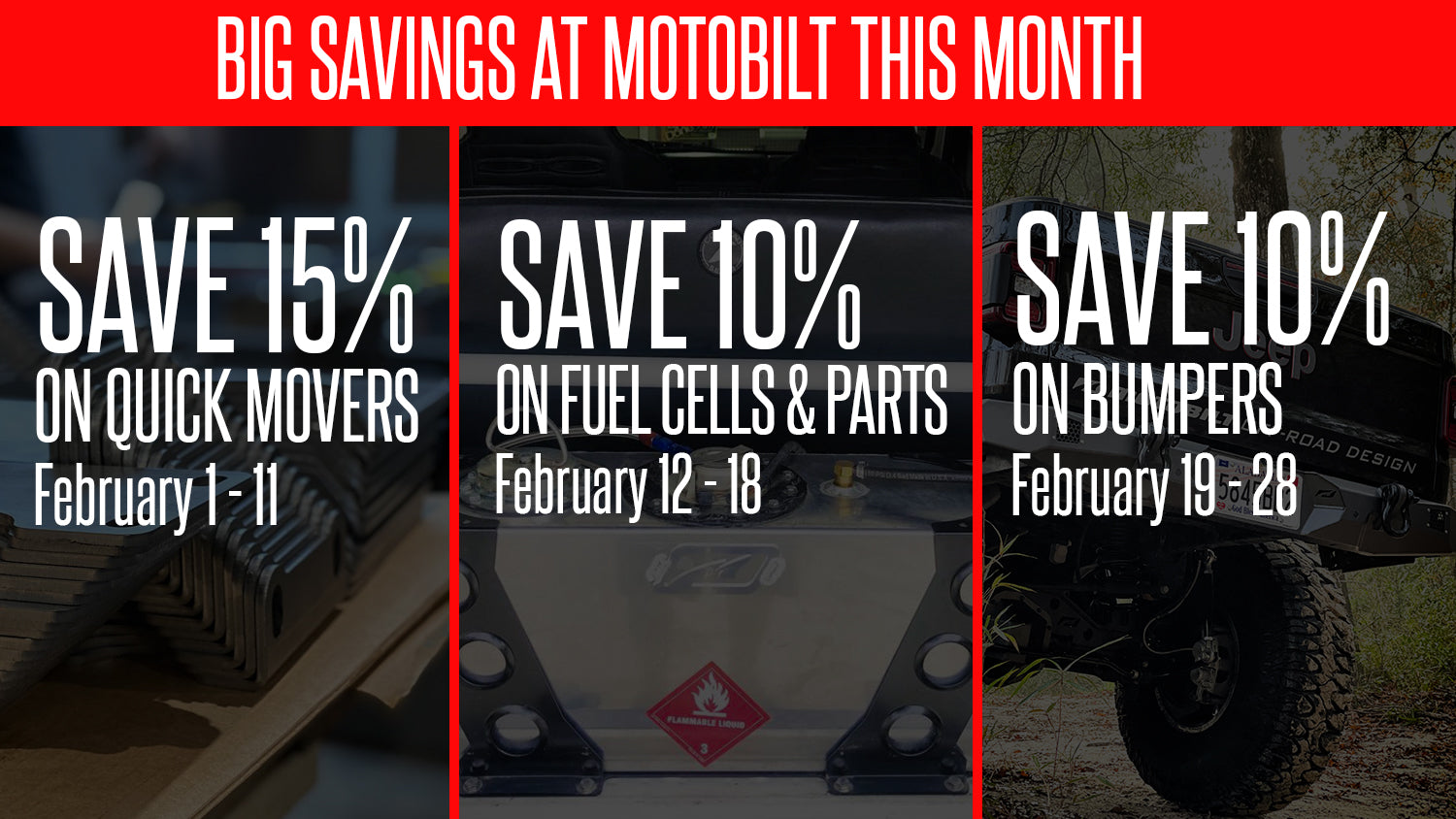 Save Big at Motobilt throughout the month of February!
So right now save 15% on our Quick Movers collection. What in the world are Quick Movers, you ask? The products in our Quick Movers selection require no in-house welding, meaning they can move through production quickly and end up at your door faster. Page after page of builder parts for the DIY fabricator, like shock tabs, gussets, axle truss kits and more. But it the selection doesn't stop there. 
Within the Quick Movers collection you can find Jeep body armor for many Jeep models, such as body tub armor, inner fenders, aluminum armor, to name a few. We've got license plate mount options, aluminum fuel cell mounts, battery boxes and coilover shock towers. So many products to choose from, all at 15% off. No discount code needed, either. Load up your shopping cart, hit checkout and get deals. 
And the savings don't stop when this sale ends
Beginning February 12th, get 10% off our fuel cells and fuel cell products. Motobilt off-road aluminum fuel cells are tig welded right here in our warehouse, and fit a variety of applications beyond Jeeps. From buggies to hot rods, Motobilt aluminum fuel cells are the perfect tool for the DIY fabricator to solve fuel tank placement issues. It doesn't stop with merely fuel cells, either. We've got both small and large remote filler mounts that can be modified to suit the needs of fabricators after moving their stock fuel tank. 
You won't need a code for this sale, either. So be sure to come back to Motobilt.com February 12th to take advantage of the savings. 
Save on Motobilt Bumpers
Motobilt bumpers are seen on social media around the world, from the US to Australia. Jeepers know the deal: Motobilt bumpers are strong, extremely well crafted, and can enhance the look of a ride, taking it from cool to rad with a few hours work and some elbow grease. Beginning February 19th, get a killer deal! Our bumpers cover Jeep models such as JK/JL/TJ/YJ/LJ and CJ. Hit the #motobilt hashtag on Instagram to see Motobilt bumpers and how fantastic they look, and imagine your ride going from cool to rad. 
We love our customers, fans and followers, and are excited about offering you these great deals. So stick around, February is cold and these savings will warm you up. 
---