Motobilt's Operation Recon Jeep JK Build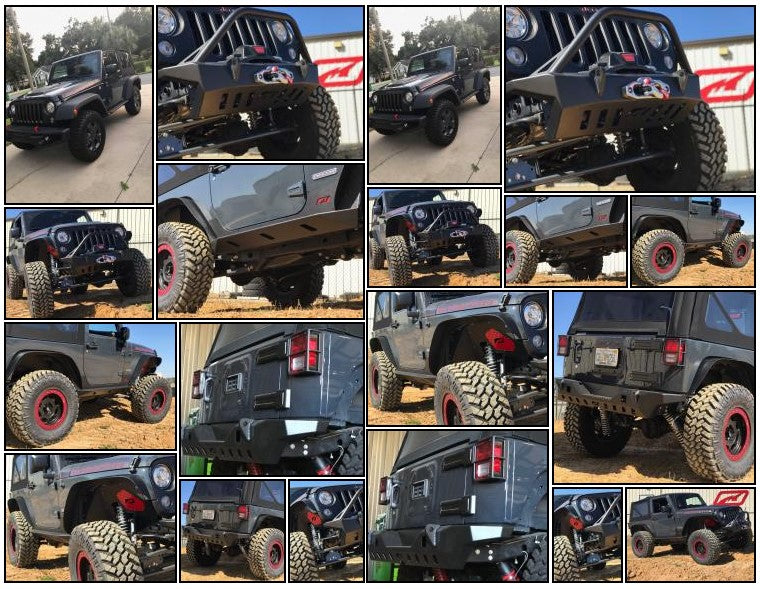 Tim bought a 2017 Jeep JK Rubicon Recon with a mission in mind. Build one bad-to-the-bone Wrangler that would conquer any obstacle and still get him home afterwards. If your an avid Jeep enthusiast, then you know that the Rubicon models come with lower gears in the axles, transfer case, selectable lockers, and quick disconnect sway bars from the factory. The factory Rubicons are plagued with thin wall axle tubes, weak inner knuckles and paper thin diff covers. However, the Recon edition has much beefier axle tubes, knuckles, and HD diff covers from the factory. This makes for one stout platform to build a seriously capable Jeep.
The factory steel bumpers that come on the Rubicon Recon are pretty nice for a stock Jeep but no where near what this Jeep deserved. Tim's first decision was to remove the factory front and rear bumpers in lieu of some HD Motobilt Crusher series bumpers. Tim not only chose the new Crusher series of bumpers for its quality and strength but it's many features. The first was the ability to recess the winch down into between the frame rails yet keep it safe with a built in skid plate. Besides the killer look the recessed winch design allows for the grill to remain unobstructed and thus can help keep cool.
The cut out slots on the lower portion of the bumper not only look great they also function as lifting points for use with a high lift jack. With the multiple slots you can rest assured you will have a stable and safe location to use when you do need the assistance of a high lift jack. Tim also opted for the stinger version of the Crusher front bumper to help protect the front grill of his Jeep.

As any experienced wheeler knows it doesn't matter how capable your Jeep is you will eventually either get stuck or need to make a repair. With the use of a Warn Zeon 10,000lb winch with synthetic rope not only will Operation Recon keep moving forward it will do so safely. Tim and his wife who has a JKU her self like to adventure into the back woods quite often. Having a secure step to get in and out of a lifted Jeep is great but quite often is a sacrifice to ground clearance as they drop down and act as a grapple hook for the rocks and ground to hook onto. Tim new he needed a step for those slippery situations on the trail but didn't want to loose any ground clearance or body protection. Therefore a set of Motobilt Jeep JK rocker guards with built in steps were installed. The Motobilt steps/guards provide complete protection from the side panels all the way underneath to the side of the frame. Just like the front Crusher bumper there are 3 lifting points for a high lift jack.
One key aspect of the build was the choice of tires and wheels. Tim new this recon needed some 35" tall tires in order to tackle the types of trails he likes to hit. So he chose a set of 35" Nitto Trail Grapplers for the excellent ride on the highway with plenty of off road capability. Operation Recon like any good mission has to be well planned out, so we knew a set of tires were no good if you had a flat. Therefore a set of American made Trail Ready HD beadlock wheels were chosen. These wheels are a 17x8.5 with 4.5"s of back spacing. The use of a true beadlock will ensure this Recon stays on mission. In order to clear 35" tires and be able to have room to fit with them off road a 3.5" lift was necessary. Tim also knew that one day he would eventually upgrade to a set of 37" tires so a set of aftermarket fenders were installed to give that extra clearance needed. The only major issue with any aftermarket flare for the Jeep JK is that they leave the inside wheel wells in a less then desirable shape. Either the factory plastic liners have to be modified or completely removed leaving the engine compartment open. In order to combat this a set of custom Motobilt inner fenders were installed front and rear on Tim's Recon.
To finish out the protection and recovery aspects of Operation Recon a brand new Motobilt Jeep JK Crusher rear bumper was installed. The first of its lineage this Crusher not only matches the clean off road lines of the front bumper. The rear Crusher also wraps around and protects the full corner of the JK while maintaining the most ground clearance possible with its unique bumper ends.
In order to clear the 35"s tires, have a terrific on road ride, and flex like no other then a full on Synergy long arm lift kit was installed with a set of Fox 2.0 remote reservoir DC coil overs front and back. The Synergy long arm kit provides a smooth and quite on road ride with the use of its Dual Durometer Bushings (DDB) with Teflon® bearing surface. The Synergy full steering kit was installed to keep Operation Recon on the straight and narrow. The Fox racing coil overs were supplemented with a set of their 2.0 bump stops. Custom mounts were built by Motobilt for the front and rear of the JK.
As to many Jeepers are well aware, no Jeep is ever truly finished. Tim plans on out fitting Operation Recon with a set of new Motobilt JK steel fenders and body mounted tire carrier as soon as they are released. So be sure to stay tuned and email us with any questions about this build at
info@motobilt.com
---