Motobilt Prototype Jeep JK Stubby Front Bumper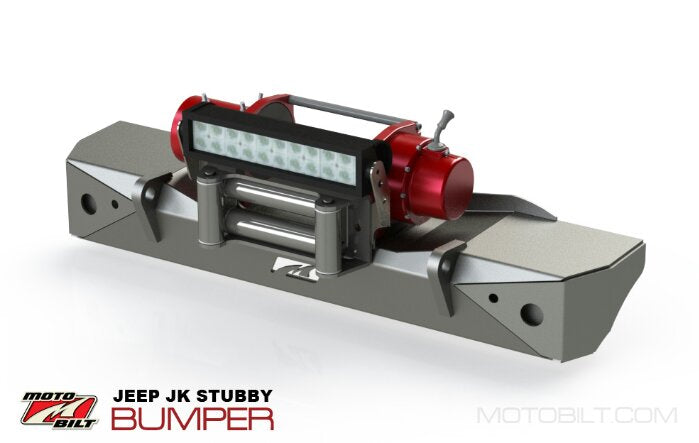 We have been very busy in the shop and have put off finishing the Jeep JK front Stubby Bumper long enough. The new Motobilt Jeep JK Stubby Front Bumper will be fabricated from 3/16" high strength steel plate. It features internal gusseting and additional brackets to brace the integrated winch plate. This rendered pictured also shows the Motobilt 12" Fairlead LED Light Bar Mount. We hope to have this new bumper test and ready for sale very soon but no later than March 1, 2014 for an official release date.

A quick update on the Jeep JK Front Stubby Bumper. We have it welded out and ready to install. We will be adding it to the website for sale very soon.
We installed the new bumper on a customer's Jeep from the Dothan, Alabama area. The bumper was completed with tube work.
Don't forget for those in the Dothan, AL area we can help with what ever Jeep accessories you may need including bumpers, winches, custom suspension lifts, roll cages, and much more. Feel free to call the shop at 334-699-6300.
---