New Product: Jeep JK Rear Frame Chop Bumper with Cross Member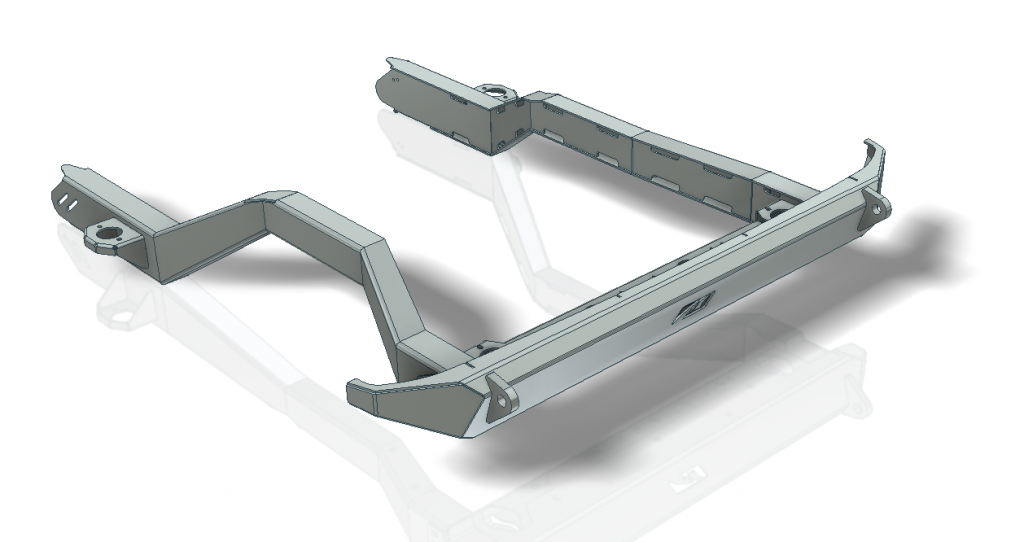 Motobilt is excited to announce the launch of the Jeep JK & JKU back half kit. This cutting edge design is the first of its kind for the Jeep JK. The kit replaces the entire back half of the frame from below the doors to the rear bumper. The Motobilt Jeep JK back half kit was 3 D cad designed by our legendary team of experts. The three main factors considered in the design were room for coil over shocks, a rear mounted fuel cell, and the ability to mount a true 4 link suspension. The kit includes: Passenger side frame rails. 2 pcs Driver side frame rails. 2 pcs Frame rail connecting plates 2 pcs Rear cross member 1 pcs Frame chop rear bumper 1 pcs
Features:
Works with both the 2 door JK or the 4 door JKU Frame rails above axle center line are moved inwards 5"s per side allowing room for coil overs. Room for single or dual shocks. Main frame rails include 2 new body mounts that are matched to the OEM specifications for precision. Two of the factory body mounts over the axle are removed. 4 frame cross members are removed allowing room for more axle travel upward. This allows a lower center of gravity. The new 3/16" thick steel frame rails provide a much stronger mounting point for link mounts then the thin weak factory frame rails. An optional cross member to mount 4 link mounts will be available soon. An optional aluminum fuel cell with 3/16" thick steel plate skid plate will be available soon. An OEM sending unit will be compatible with the new cell. Precise easy to locate points for cutting the factory frame rails are provided and alignment holes are in place to make the install fool proof. The install requires the frame to be cut with a saw and not a torch. This makes for a clean, quick, and precise install. The rear frame rails are shortened 2.5"s over stock and moved up 1 1/8"s. Will work with Antirock sway bar kit for JK
Notes:
Your stock exhaust will have to be modified. Requires cutting and welding.
The rails move inward 5"s and the mounts for the antirock are visible also.
The frame rails are moved back and up for more ground clearance. You can see the heavy duty cross member in this photo also.
Frame chop bumper MB1081 is included with the back half kit
The rear bumper is up tight and close to the body for maximum ground clearance. Also you can see the massive 3/4" laser cut d rings.
---