Jeep Wrangler Differential Fluid Capacity Chart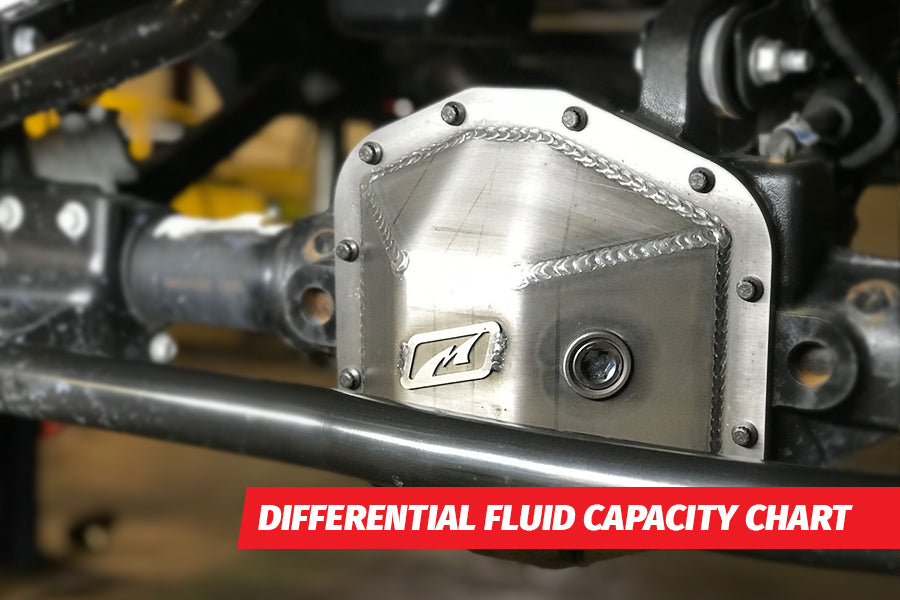 Here at Motobilt we get technical questions all the time from simple questions to in-depth discussions.  One question that comes up often is how much differential fluid should be purchased to fill up a diff.  Well the general rule of thumb is to fill your diff up until the fluid starts to run out the fill hole.  This does not estimate how much gear oil you should purchase.  Since Motobilt is in the business manufacturing 1000's of heavy duty diff covers every month we get asked all the time how much should be purchased.  We put together this capacity chart to help answer the question.  With the after market covers we make you may find that they hold slightly more than the factory specs listed below. 
Be sure to check out the heavy duty diff covers we manufacture.  We have them for many different axle models.  
Jeep Wrangler JL Differential Fluid Capacity

Axle: 186 - Front Axle Non Rubicon
Capacity: 1.82 Pints
Fluid Type: 80w-90
Axle: 210 - Front Axle- Rubicon
Capacity: 2.18 Pints
Fluid Type: 80w-90
Axle: 200 - Rear Axle- Sport
Capacity: 2.43 Pints
Fluid Type: 80w-90 or 75w-140 if towing
Axle: 220 - Rear Axle w/ EDL Rubicon
Capacity: 3.06 Pints
Fluid Type: 80w-90 or 75w-140 if towing
Axle: 220 - Rear Axle w/ T/L Sahara
Capacity: 3.02 Pints
Fluid Type: 80w-90 or 75w-140 if towing
 
 
 

Jeep Wrangler JK Differential Fluid Capacity

Axle: Dana 30 Axle
Capacity: 2.1 Pints / 1 Liter
Fluid Type(ALL LISTED JK AXLES): 80w-90 or 75w-140 If towing Axles w/ Trac-lok differential must add 3.4 oz. of limited slip additiv
Axle: Dana 35 Axle
Capacity: 3.5 Pints / 1.7 Liters
Axle: Dana 44 Front Axle 
Capacity: 2.7 Pints / 1.3 Liters
Axle: Dana 44 Rear Axle
Capacity: 4.75 / 2.25 Pints
 
 
 

Jeep Wrangler TJ Differential Fluid Capacity

Axle: Dana 30 Axle
Capacity: 1.3 Quarts / 1.2 Liters
Fluid Type (ALL LISTED TJ AXLES): 80w-90 or 75w-140 If towing Axles w/ Trac-lok differential must add 4 oz. of limited slip additiv
Axle: Dana 35 Axle
Capacity: 1.8 Quarts / 1.7 Liters
Axle: Dana 44 Axle
Capacity: 2.0 Quarts / 1.9 Liters
 
 

Jeep Wrangler YJ Differential Fluid Capacity

Axle: Dana 30 Axle
Capacity: 1.7 Quarts /1.6 Liters
Fluid Type (ALL LISTED YJ AXLES): 80w-90 or 75w-140 If towing Axles w/ Trac-lok differential must add 2 oz. of limited slip additive
Axle: Dana 35 Axle
Capacity: 1.7 Quarts /1.7 Liters
---